On Election Day in New Hampshire, nine cities will have the opportunity to vote in favor of in-person sports betting. Voters in Concord, Berlin, Claremont, Dover, Laconia, Manchester, Nashua, Rochester, and Somersworth can expect to see the following question on their ballots this Tuesday: Shall we allow the operation of sportsbook retail locations within the city? The question focuses solely on the introduction of physical sportsbook retailers, after mobile sports betting was legalized under House Bill 480 in July. As it stands, anyone over the age of 18 is allowed to participate in online sports betting, excluding a select number of people affiliated with the events being bet on. The new ballot question would likely extend this law to include physical sports betting retailers.
What the Ballot Question Means
Under the new law, the New Hampshire Lottery would be responsible for conducting all sports betting, which would be allowed as many as 10 physical sportsbook locations. Potential sites for sports betting retail locations include convenience stores or anywhere Lottery tickets are sold. Like other states who have adopted online and in-person sports betting, New Hampshire is exploring options for establishing contracts with prominent leaders in the industry. The state recently announced that they have entered contract negotiations with DraftKings and Intralot, in order to launch both online and retail sports betting services. Before these contracts are solidified, they must first be approved by the state's Executive Council. While online betting is set to be available before the end of the NFL season, in-person sportsbooks are still riding on a favorable vote during Tuesday's elections.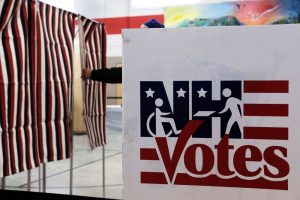 As it stands, bettors would be barred from placing wagers on any collegiate sporting events that involve teams from the state of New Hampshire. Additional restrictions would be placed on commissioners from the Lottery Commission or immediate family members' employees of the agents running the sportsbooks; the players, teams, referees, and other officials associated with the games being bet on; and anyone who is acting as a proxy for the previously mentioned people or groups. Aside from these limitations, bettors can expect to have an array of bets available for all of their favorite sports and leagues. The addition of in-person sportsbooks would include familiar betting options for single games, teasers, parlays, over-under bets, as well as prop bets.
What's at Stake
Unsurprisingly, money is an important factor when considering the legalization of sports betting in a state. Residents want to know that winnings will be taxed in some way to help bring in revenue and benefit those who live there. Currently, no concrete revenue projections have been released in relation to the potential legalization of in-person sports betting retailers. This is due in part to the fact that no contract has been met between the state and a vendor. That being said, DraftKings has offered 50% of its gross gaming revenue from mobile and retail betting to the state, and it is expected that a deal could be finalized soon. On the other hand, Intralot has offered 19,25% of revenues to the state for any lotter-style sports bets.
What to Expect from the Vote
Even if voters approve sports betting locations in their respective cities, it does not necessarily guarantee that these structures will be put in place. The Commission has the final say in where the 10 locations will be established throughout the state, and of course city officials will also have a say in the matter. If voters are against the establishment of in-person sports betting locations, online operations will continue to operate without interruption. Additionally, the Lottery has other games that offer sports betting at convenience stores, grocery stores, and any establishment where lottery tickets are sold. Tuesday's ballot represents the ongoing growth of sports betting throughout the nation, and voters now have to decide whether they will follow suit.