Located on the outermost south end of Las Vegas Blvd., in modern times to some degree Mandalay Bay is where Las Vegas begins. Still a popular tourist destination, it also provides easy access to locals. More especially in light of the 2017 shooting, Mandalay Bay seems a bit underrated and that also holds true for its sportsbook.
Mandalay Bay Sportsbook
Many sportsbooks are aimed primarily at sports, and the racebook is sort of an afterthought. Occupying only a small piece of the space with limited seating and/or small TVs. Well at Mandalay Bay there is a clear distinction between the two books. The right side has plenty of TVs including giant screens for sports, and the left side equals that for the horses.
The racebook understandably does not have nearly as much seating, but there are 6 long counter desks each with three TVs. Pamphlets for all of that day's racing information is available to the left of the cashier, with the sports' to its right along with upcoming events, futures, and props. Each of the pamphlets are also enclosed in a glass case. Normally it's nice to see them all stuck together to avoid having to walk to see each one but given how much space is allocated to each book it makes sense to do it this way.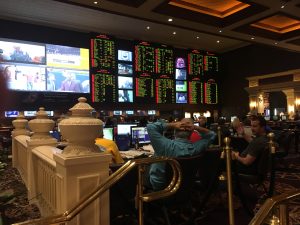 The day to day sports lines are consistent to what you would find elsewhere. Moneylines and point lines always vary a bit depending on which side is generating the most action, but the opening lines are always similar. If you are looking to bet futures, friendlier payouts are found at local casinos often well off the strip. The reason for that is many strip bettors are tourists who don't necessarily care about getting an optimal payout, they just want to have a sweat once they go home. No smoking is allowed anywhere in the sportsbook and there is a nearby bathroom just outside of it.
Size and Location
Mandalay Bay as a whole is a very large casino with a lot of walking space. MB's sportsbook is also enormous and probably accommodates the most viewing space in Las Vegas. The betting board is huge. It's so huge there are even many lines electronically posted in the racebook. Normally that is never the case.
The sportsbook has well over 100 desk chairs to sit at. The chairs themselves though made for one of the few letdowns. Instead of being the now standard big and spacious leather that might swivel or recline, they were the old style kinds from school wedged in with that small desk space to write in. It looks silly and on top of that, none of them could accommodate lefties.
You might prefer to sit behind those as there is a row of about 25 spacious microfiber chairs that do swivel, just before you enter up one step into the huge VIP area. The VIP area is only going to be treated as such on especially busy days like NFL Sunday or any big playoff game. Otherwise you can go up there first come first serve and there is no drink minimum. Up there you'll also find some additional counter desk space seating with small TVs.
To access the sportsbook, it's a short walk from the parking garage just past the big headless statue. Make a left, and you'll find it adjacent to its moderately small poker room. You can also enter it walking through the poker room. Since the sportsbook has sort of a grand entrance to it, this gives the luxury of no casino noise distractions. You won't hear any slots chirping or chatter from other patrons passing by.
Traffic and Viewing Ability
Given how big it is and how high up all the TVs are, you can see just about anything from anywhere. Even with all the people, it can fit in standing or sitting since there is so much space you won't have to worry about people blocking your vision passing by or falling over each other.
Since the VIP/extra seating section goes so far back to where you can hear casino noise again, this means you would have to walk a long way to one of the 15 windows at the betting counter. This gives you an extra motive to open an account at MB and download the PlayMGM sports betting app. Signing up is a simple paperwork process. Once it is complete, you can bet every game like normal. The only difference is the maximum bet allowed is much smaller, but it also allows for a smaller minimum bet.
If you are interested in live betting, then this app is for you because live betting is offered on every game. Live betting is betting on games currently in progress. It is not yet available over the counter, but this is expected to change sooner before later.
Drinks at Mandalay Bay Sportsbook
It used to be you could walk into a sportsbook, hang out for a few minutes, and before long a cocktail server would come take a drink order. Now you have to make a bet just to obtain a single drink ticket and the betting requirement is usually no less than 5x its normal price at the bar and in many sportsbooks, it's at least 10x. At MB sportsbook, the hands-down biggest drawback is you must bet a whopping $500 on sports to receive one throw-in drink ticket. However, if you are betting the horses you must only bet $10. They won't give you a drink ticket, just show your betting slip to a cocktail server.
There is one exception to this crazy drinking rule at the sportsbook. If you are staying at the hotel, present your room key and this will also earn you a drink. It isn't much, but it's better than nothing. Regarding how courteous the staff is, it's always hit or miss at sportsbooks. Today these guys were nice, so, if you can get a friendly chat going with either them or the cocktail servers, talking your way into an extra drink or two shouldn't be too difficult.
Casino at Mandalay Bay
As mentioned, the casino space is large and there are plenty of table games occupying it. You will find all your classic table betting options along with a ton of slot machines. The minimum bet was $10 or higher at most games. The only possibility of it ever being lower than that is likeliest to occur during the wee hours of the morning.
Dining and Bars
Betting or not, it's nice to eat something fun during the game. Inside the sportsbook is a grill serving all your typical munchies and also has its own eating space. Towards the back of the VIP section is a video poker bar, but only some of the seating faces the sportsbook.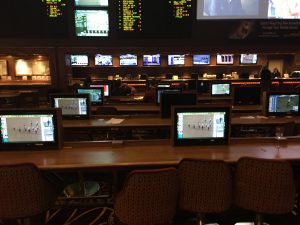 Just outside the sportsbook is a frozen daiquiri shop which also has a full bar, and a short walk from there is a Starbucks and a yogurt stand. That constitutes all the nearby food and drink. There are many other bars are lounges spread around the casino some of which have live music. There is also a large section of upscale fine dining restaurants and steakhouses. These are located near the parking garage.
Hotel at Mandalay Bay
You can probably get a better than normal rate these days since a lot of people are spooked by the horrific 2017 shooting. But the standard rooms are very nice with ample space and the bathrooms are beautifully modern. Depending on how much you want to spend your hotel can have a jacuzzi, and if you really want to dial it up we suggest you check out their penthouses.
Mandalay Bay Sportsbook Rewards
The best way to rack up points and status is playing table games or slots. Most sportsbooks give you very little reward and MB gives you none. But if you accumulate $2,000 in bets at the racebook they will give you 4% ($80) back in food comps.
It is still a good idea to swipe your card when betting because this maintains a record of the bet. Meaning should a winning ticket somehow fall out of your pocket you will still be paid out if no one finds it and cashes it in first.
Wrap-Up
Overall, we were very impressed. The only two drawbacks were the goofy looking school seats for the sports watchers and the ridiculous $500 to get a drink ticket. Otherwise, it nails everything else. Tons of space, you can see everything, it's not too noisy, no smoking, and there are enough nearby food options. Going to Mandalay Bay is always going to be a little out of the way but if you don't care about that or drinking, this is a great place to watch a game.
Current 2020 Sports Betting Grade: A
Click Here for Our TOP 2023 USA Sports Betting Site!