Located on Las Vegas Blvd. and just a few miles south of the strip, the South Point serves as a local casino and a tourist spot for those trying to get more mileage out of their dollar without having to abandon the strip entirely. Its casino as a whole may not be the most spectacular, but it certainly delivers one of the most underrated race and sportsbooks.
South Point Sportsbook
The first thing to point out is the race and sportsbook, though they are right near each other, are totally separate. This unique design will be a disappointment for those who want to watch both, but for most bettors, this will be a convenience.
The sportsbook has good sound and picture quality featuring four big screen TVs with 12 small ones above it, and eight more on the left side wall. Pamphlets are also provided every day showing the lines for that day, upcoming events, futures, and any props that might be offered.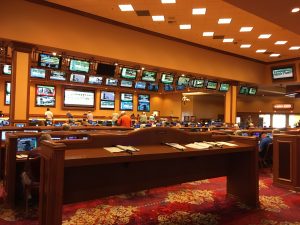 Since South Point is a local casino, the daily lines will be equal to or better than any strip casino and the same can be said for its futures. As strip bettors are mainly tourists who either don't know or care what their payout is since they just want action, local bettors never feel like they have to settle for an unfair payout because they can always just search for a better one. Not all local sportsbooks offer better odds on futures as this depends on who owns their sportsbook, but in general off strip books are the way to go with the Westgate as the best option.
The racebook also provides good sound quality and a lot of TVs, with over 20 on display up front including a big screen, and 16 more on the side walls. The best part is every row desk seat has its own TV. There is no smoking in the racebook area, but you may in the sportsbook except for cigars.
Size and Location
Each book is large. The sportsbook's regular seating is close to 200, while the racebook's is around 160 not including its standing counter space in the back. The sportsbook's chairs are nothing fancy, but they suffice and have a small right-handed desk writing space. Each book has plenty of cashiers so that lines will never get too long, bathrooms are nearby, and there is also an entrance to each book from the free outdoor parking lot.
The books are located near the poker room and hotel lobby but are as far as can be from the parking garage. The sportsbook is very close to the casino floor, but very little noise from it seeps in. At the racebook, it was easier to overhear slots and other casino activity.
Traffic and Viewing Ability
Each book is built symmetrically like a square, so any TV is easy to look at. The sportsbook's betting board is also easy to see from anywhere as it is directly in the middle behind the cashiers. In addition to the betting board, all the scores from that day are running left to right on a narrow board directly above it.
It should never be hard to get a seat at either book, but both books seemed to be regularly active and should fill up during any huge sports game or major event like The Triple Crown.
If you can't get to the book on time or just don't feel like waiting in line to bet, you can also download the Nevada Sportsbook app. To use the app, you must open an account which is free and easy to do, but after you have you may access all the same lines. The maximum bet allowed is much lower, but the minimum bet is too. Unlike most other books, the race and sportsbook apps are separate, meaning you will need an account for each if you are planning to bet both.
If you are interested in live betting, which is betting on games while they are happening, the South Point offers it but rather scarcely. It is not available on the app and not at the sportsbook every day. When it is, it will be only for the most popular game of the day.
Drinks at South Point Sportsbook
Drinking at sportsbooks is not the free giveaway it once was. Now you must bet to obtain a drink ticket. $20 is required per ticket for sports betting. That may sound high, but that is drastically lower than what nearly ever strip book offers. Of course, if you can get friendly with either a cashier or a cocktail server, nobody is going to stop either one from hooking you up.
The racebook is lenient. You don't have to get a drink ticket, just show a cocktail server a betting slip for any amount and she'll take care of you.
Casino at South Point
South Point's casino floor has tons of slots and $5 limits for its table games, but the selection is relatively limited. Thus, the casino floor's output is nowhere close to as strong as the sportsbook's.
Dining and Bars
Food and drink options are where South Point's sportsbook delivers the most. Located directly behind the sportsbook is the Del Mar Lounge. It faces the sportsbook and has many round tables and chairs as well as a video poker bar with plenty more TVs. The bar does not face the sportsbook, but there is a cocktail menu, and in between the back row of the sportsbook and the lounge are multiple leather booths for VIPs.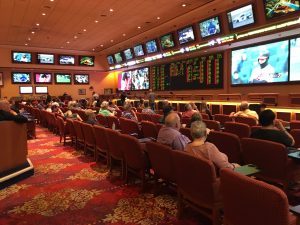 Also, right outside the sportsbook is the nearest food option in the Del Mar Deli, and depending on where you are sitting you can still see inside the sportsbook.
The racebook also has a full-service video poker right nearby, but it is not facing the action. Other food options close by are a hot dog stand, Steak 'n Shake, and Kate's Korner Ice Cream Parlor.
Hotel at South Point
South Point's hotel and spa offer very reasonably priced rooms, none of which are smaller than 500 square feet. Since there is a bowling alley, arcade, movie theater, and complimentary shuttle bus to and from the strip and airport, the South Point hotel offers a great value to locals and tourists who want to get away but not that far.
South Point Sportsbook Rewards
To play in the race and sportsbook, you will need to open a separate player's card from the regular casino. Sportsbook rewards are hardly ever worth anything, and racebook's are only so much better. In each book, there is a pamphlet breaking down how its entire reward point system works.
The biggest reason why a bettor would want to swipe their player's card every time they bet is to protect themselves. As sometimes winning tickets fall out of people's pockets, by swiping your card now your bet is tracked which guarantees all winning tickets will be paid.
Wrap-Up
If each book could be situated in one space, then there is no way anybody would miss something they wanted to see. Otherwise, the South Point very quietly delivers a great race and sportsbook. Each has plenty of seating and viewing ability, there is little to no noise distraction, ample food options are nearby, one way or another it's easy to get a drink, and each book is simple to get in and out of with its own entrance. There is nothing fancy or glitzy here, but it greatly satisfies our checklist.
Current 2020 Sports Betting Grade: A-
Click Here for Our TOP 2023 USA Sports Betting Site!