Open since 2001, Tuscany Suites and Casino is a very short drive east of the strip on Flamingo Road. Given how close it is, this isn't really a local's casino. Tuscany is for the tourists who want easy strip access and a nice room, but to also conserve their hotel expenses by staying off the strip.
Tuscany Sportsbook
You can certainly get all your sports betting done here, but Tuscany does not take any action on horse racing. This sportsbook is tiny and is one of many books in town operated by William Hill. This is primarily a drop-in sportsbook, and, like all William Hill sportsbooks, there is a 24 hour betting kiosk available.
The main advantage to attending a sportsbook this small is if you are into live betting, which is betting on games while they are in progress. Most sportsbooks either don't offer live betting, or only offer it occasionally if say there is a huge game that day. William Hill sportsbooks specialize in live betting, and it will be offered on most games. One thing to know is if you bet upwards of $1,000 on a typical pre-game bet, or at least $500 on a live bet, you will need to open a William Hill account. It's an easy process, and if you do it you will also be able to place bets on the William Hill sports betting app from your smart phone.
Size and Location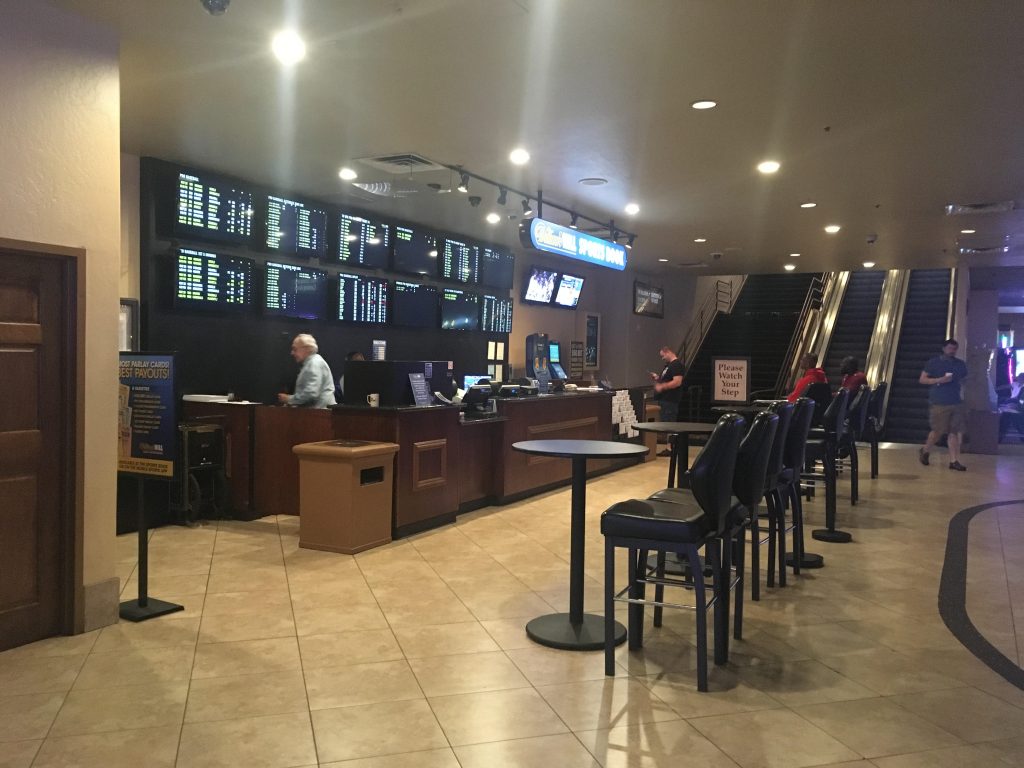 You can't miss it. Once you come in through the main entrance, the sportsbook is immediately on your left. It's not secluded at all with slots and restaurants being right nearby.
Traffic and Viewing Ability
There are a few tables and chairs. You don't have to worry about anything or anyone obstructing your view, but there's also almost nothing to look at. There are only three TVs, none of which are big. However, since there is a good chance you'll be the only one there, you can probably watch whatever game you're interested in.
The betting board is right behind the cashier and is spaced across several TVs.
Drinks at Tuscany Sportsbook

If you want to drink, modern day sportsbooks now require you to bet a certain amount of money to obtain a voucher. However, since Tuscany's sportsbook isn't designed to be a gaudy attraction, drink tickets are not offered.
Casino at Tuscany
Most off strip casinos are a bit funky, smoky, and accompanied by a degenerative vibe, but not Tuscany. It is a clean and classy environment. Like all Vegas casinos, Tuscany's floor is overrun with slot machines, but there aren't too many table games to choose from. However, the minimum bet at roulette is $4, and if you are into blackjack, they have $3 minimum tables with a $300 max while also giving you the option to surrender.
Dining and Bars
There isn't any video poker or food options right near the sportsbook, but the American food eatery Pub 365 is directly across from it. Tuscany is a relatively small casino, so there's only a few food options. Most of them are run of the mill, but if you want fine dining, the award winning Italian restaurant Tuscany Gardens will satisfy.
Hotel at Tuscany
There are 716 rooms in this all suite hotel. The standard suites start at 650 square feet, and they get up to 1,325 square feet if you stay in 2-bedroom luxury suite. Amenities include a fitness center, spa, laundry and dry cleaning, a pool, and cabanas for rental at the pool. We were hoping for a substantially reduced resort fee since it is off the strip, but that is not the case. It's about $33 if you book directly through Tuscany, and over $36 if you go through a third party.
Tuscany Sportsbook Rewards
Nobody really thinks about comps when it comes to sports betting because they always pay next to nothing. With William Hill, you get one point for every dollar you bet, and after 5,000 points are earned you get a $5 free-play. The main motive for swiping your player's card for a sports bet is so that you are protected in case you misplace your ticket.
Wrap-Up
For what it is, which isn't intended to be much, Tuscany's sportsbook is adequate. Our only complaints are you can't get a drink ticket or bet horses. Otherwise it is easy to access, and if you want to do live betting you can do so without the app. It's a pleasant environment, so if you're staying here and want to drop by for a few minutes, you won't feel like an idiot.
Current 2020 Sports Betting Grade: B

Click Here for Our TOP 2023 USA Sports Betting Site!