If you enjoy watching over 500 pre-pubescent teens compete in a battle of wits against each other for a $50,000 grand prize while simultaneously making every adult in the room feel like a dolt, look no further than the Scripps National Spelling Bee. This is by far the biggest stage in the U.S. for those who are looking to show off their spelling prowess and any serious competitors will train for this event year-round.
In case you have never witnessed a spelling bee, each child is required to go up to the microphone and spell a word that is verbalized for them by one of the judges. If they spell the word correctly they make it to the next round and if they do not spell the word correctly then they are instantly eliminated from the contest. There are usually a few days of preliminary rounds and then ESPN televises the rest of the competition starting on day two.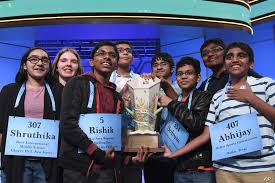 These events are known to involve fierce competition with the contestants seemingly getting smarter every year that goes by. In the 2019 competition, a winner was still not decided after 20 rounds and eight kids had to split the title as co-champions for the first time ever after the organizers scrambled to find words that were difficult enough to stump them.
Basic Info for Spelling Bee Betting
Much like Christmas, this humbling event comes but once a year and the best present you can give yourself while watching it on TV is to place some bets on the outcome at any online sportsbook that offers action. All of the brick-and-mortar sportsbooks in the U.S. will not permit any bets on these spelling competitions, but there are many online sportsbooks such as BetOnline that do so every year.
You should never be betting on a spelling bee with the mentality that you are going to try and make enough money to live off of for a year until the next one kicks off. In fact, the size of your bets will be dramatically limited compared to other betting markets since there are a bunch of young kids involved and Vegas does not have a decisive edge.
This market differs greatly from other betting markets because there are limited bet types, the events happen rarely, and the players are completely unknown to the public. However, it can still be a great event to participate in as long as you are just trying to have some fun or to motivate yourself to get smarter. Speaking of bet types, let's now take a peek at what type of bets you can expect to see in a sportsbook when betting on a spelling bee.
Prop Bets in Spelling Bee Betting
As you probably expected, the only type of bet that you can make on a spelling bee is a prop bet since you cannot bet on the outright winner of the event. There are also no moneyline bets or spread bets available that are pertaining to who will win as you will find in other major sports. One of the main reasons for this is that the contestants are a bunch of unknown children from around the nation and they are much too young of an age to deal with pressure from bettors who wagered a ton of money on them to individually win the championship.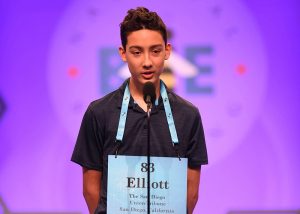 Since there is only one bet type available, you can be sure that sportsbooks have put a lot of effort into offering a lot of various types of prop bets with a lot of fun topics to choose from. We will now go through some popular examples of spelling bee prop bets you might come across and what sort of conclusions our research has led us to believe about each one.
Will The Winner Be Male or Female?
Some people like to claim that one sex is smarter than the other in certain areas of expertise, but when it comes to spelling it appears that things are quite evenly matched. Including last year's eight-way tie that featured six males and two females sharing the title, there have been a total of 53 male winners and 51 female outright winners of the competition.
Even though there have been a couple more male champions than female champions throughout history, there are also slightly more total male entrants which makes things extremely even. When making a prop bet that does not have a very large edge for either side, you want to pay close attention to the odds that are being offered. Once you determine which side has the best odds being offered, you should probably take that side in the bet to give yourself the best payout on this coinflip situation.
For example, if a male winning the whole spelling bee is set at -120 odds then this means that you will have to wager $120 in order to make $100 profit. However, if the odds for a female winning the competition are set at -110 then you would only have to wager $110 in order to win $100 profit which makes it a better bet in our eyes.
Will The Winner Be Wearing Glasses?
One of the most interesting prop bets you will come across will ask you whether or not the eventual champion will wear glasses while dominating their spelling competition. Many people like to think that the smartest people on the planet all wear glasses, which is probably the main reason why the "Yes" option will always get the most bets and therefore will be seen as the favorite in any sportsbook's eyes.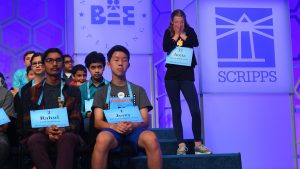 However, using stereotypes to make your betting decisions is not recommended so we decided to look at some statistics from previous years. Major changes in glasses and contacts technology, as well as the recent emergence of Lasik eye surgery, has greatly changed the scene when it comes to this prop bet, so we will only look at recent results data to try and find an edge.
Over the last 12 years of spelling bees (ties included), 13 of the champions or co-champions were wearing spectacles while six of them were not. This means that betting "No" for this prop bet will yield a profit around 31% of the time if we use this very small sample as a guide. In order for us to be tempted by a bet with such a small success rate, we would like to see the moneyline odds set between +200 to +300 so that we know it is a good bet to make.
Over/Under On Length Of Winning Word
Last year's over/under line for the length of the winning word was set at 9.5 letters. However, we suspect this line could creep up to 10.5 letters given the insanely high level of intelligence the kids have shown in recent competitions. This prop bet is great for those who do not want to watch the entire spelling bee broadcast since the only thing you are rooting for involves the last word of the last round.
As an example, if you bet the over for this prop bet and the winning word is 12 letters long you will win your bet. Conversely, if you bet the under and the winning word is eight letters then you will also win your bet.
The odds seem to indicate that the under is considered the favorite choice for this bet, which might stem from the fact that most people don't know how to spell many nine-letter words and they bet the under out of denial that a bunch of children can spell better than they can. However, it's more likely that the "under 9.5 letters" option is considered a favorite by the books because it has noticeably better results with a 58% success rate over the 93-year history of the event.
Click Here for Our TOP 2023 USA Sports Betting Site!