Located in the heart of downtown Las Vegas, the Four Queens has been a Fremont Street mainstay since 1966. The short version is there is nothing captivating about it. It's got some nostalgia because it's been there for so long, but otherwise, it doesn't go above and beyond in any memorable way. Its main appeal is going to be for locals and tourists that want to eat, gamble, and sleep on the cheap. You can bet sports too, but their sportsbook is barely one at all.
Four Queens Sportsbook
There are places to sit, but this sportsbook is more of a drop-in and there is no action on horse racing. You can bet at the cashier counter or you can do it at the kiosk right next to it. Seating consists of only a few high tables and chairs. They face four small TVs and the cashier is behind them.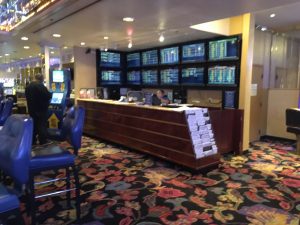 You don't get any breaks on either the day to day or futures lines because, like many downtown sportsbooks, the Four Queens is run by William Hill. Meaning their lines are the same no matter where you are. Pamphlets are also available with the lines including those on upcoming events and props.
If you don't have the time or the interest in going to the sportsbook, you can open an account at any William Hill operator for free and download their sports betting app. With the app, you have access to all the same lines.
If you like live betting, which is betting on games after they started, William Hill obliges. There is plenty of it available inside the sportsbook and even more so on the app. Note that you are required to open an account if you place a live bet at the sportsbook for at least $500, and the same goes if you place a pre-game bet upwards of $2,000.
Size and Location
It's very small and kind of just appears out of nowhere. If you were distracted you could walk right through it without realizing it. It's just in the middle of the casino right next to the keno lounge, and since it's right by the slots that means it is noisy and that smoking is allowed.
Traffic and Viewing Ability
Technically the view of the TVs is great since there is not much surrounding them. Since there is little seating it can be full at any time, but there's never a reason to expect seating to be at capacity. Not even for the Super Bowl.
At the very least, it would be nice if the betting board was visibly nearby the TVs, but they are not. As they are behind the cashier, you have to turn around and look every time you want to see them.
Drinks at Four Queens Sportsbook
These days it is standard to have to bet a certain amount to obtain drink tickets, but it wasn't that long ago you could just hang out in the sportsbook and get them for free. Some William Hill books give away drink tickets if you make a hefty enough bet, but the Four Queens is not one of them. If you want a cocktail server to bring you a drink, walk a few steps away and start playing some slots.
Casino at Four Queens
The gaming floor presents over 1,000 slots many of which are of the newest variety. There are also eight different types of table games including Blackjack Switch, Mississippi Stud, and Let It Ride. Like all downtown books, Four Queens is friendly on its minimum bets allowing $5 bets for all.
Dining and Bars
Though there is no video poker in the vicinity of the sportsbook, Four Queens advertises itself for having the best video poker downtown. In addition to the casino floor, video poker is commonly found at bars.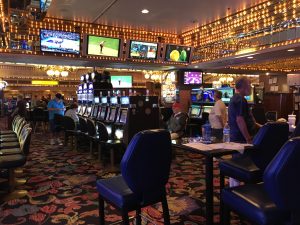 The Four Queen's most notable bar is the Patio Bar which seats indoors and outdoors next to the Fremont Street Experience concert stage.
If you want to eat while watching the game there is a large food court nearby, but you will have to leave the sportsbook. If you want fine dining, Hugo's Cellar brings a wide selection of beef and seafood.
Hotel at Four Queens
It should be stated right away that unlike most Las Vegas hotels on and off the strip, the Four Queens does not charge a resort fee. This is great because even though the Internet isn't free, you still save around $30 to not use stuff you probably weren't going to use anyway. The hotel has updated its rooms and they start at 290 square feet. Suites are also available and go up to more than two times the size.
Four Queens Sportsbook Rewards
The sportsbook's edge is not great enough to be that generous on rewards. There are no food comps, you only earn one point for every $1 you wager, and you must earn 5,000 points before receiving a $5 free play.
We suggest you swipe your card anyhow every time you bet because now your bet is tracked, so you can still get paid your winnings even if you lose a winning ticket.
Wrap-Up
The Four Queens would probably make more money by having just the kiosk and replacing the rest of the space with more slots, but we figure they just like saying they have a sportsbook even though it's next to nothing.
We hate to be so hard on this sportsbook, but it wouldn't be fair to the others if we weren't. Besides giving you a betting counter and kiosk, the Four Queens sportsbook provides the absolute bare minimum. Between the noise, the smoke, no nearby food, drink tickets, or video poker to play for comped drinks, why would you even consider coming here?
Current 2020 Sports Betting Grade: D-
Click Here for Our TOP 2023 USA Sports Betting Site!