Owned by the Stamis family, Jerry's Nugget has been open since 1964. There is no hotel at present, but plans are being established to have one in the future. The casino is located on Las Vegas Blvd. in an old section of North Las Vegas. Parts of North Las Vegas are actually new and shiny, but most of it is blech. Its sportsbook isn't a total dungeon, but we were still underwhelmed.
Jerry's Nugget Sportsbook
Run by William Hill, the sportsbook at Jerry's Nugget is among the larger ones you'll find in north town. Horizontally built, the majority of this book is for horse players. However, since this is a William Hill sportsbook, that means their most notable offering is a plethora of live betting. Live betting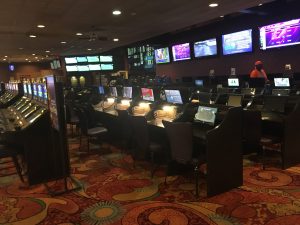 is wagering on games after they have begun. The line is created based on what the opening line was, the current score, and how much time is left. Live betting is pretty hard to find. The most live betting you can expect to be able to do over the counter is for a major event like a Game 7.
Like all the other sportsbook's apps, you can also do live betting on the William Hill app. First, you'll have to create an account. This you can do fast and for free, right inside.
Size and Location
The parking lot is pretty big, but if you park near the valet entrance, the sportsbooks is just a short walk from there. The book isn't secluded in any kind of way. It's right next to the keno book, and you can also hear the music playing and the slot machines chirping.
Traffic and Viewing Ability
Most of the TVs showed horse racing, and there were 17 of them. Traditional racebook seating occurs in desk rows, with each seat having their own TV. At Jerry's Nugget though, only about half of the 40 or so seats had their own TV.
As far as sports watching goes, there were four rows of 20 desk seats on the left side, separated from the racebook. There was no sound, and the picture quality on the eight small TVs was nothing special. The cycling betting board was visible and right next to the TVs.
Considering how large this sportsbook is and how much activity was going on in the rest of the casino, we couldn't understand why there was no sound. Our only guess is because we didn't walk in during a peak hour. None of those day's games had started yet, so we "think" some sound will come on once they do.
It's pretty unlikely this sportsbook booms regularly, but we imagine it gets close to capacity during busier times look football season or March Madness.
Drinks at Jerry's Nugget Sportsbook
We got an interesting response as to how drink tickets are issued. Technically, you're not supposed to get one unless you bet at least $200. This may sound ridiculous, but believe it or not, that's actually pretty common—for a strip casino. For North Las Vegas? You gotta be kidding me.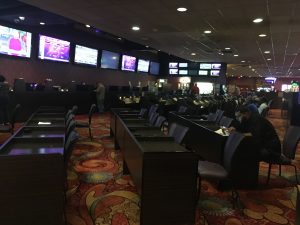 However, we did breathe a sign of relief to learn that this policy isn't really enforced. Slice off one of the zeros by betting $20-$30 and that'll be enough to get you a voucher anyway. As far as the horses go, $10 seems to be the going rate.
$20 is a pretty standard minimum for an off strip casino, but even $10 for the ponies is still a little high because a lot of off strip racebooks don't ask for a minimum at all. We advise you don't even worry about making a bet, at least not at first. Flag down a cocktail server as she goes by and see if she'll hook you up anyway.
Casino at Jerry's Nugget
There aren't a ton of table games to choose from at Jerry's Nugget, but compared to most North Las Vegas casinos there are. There were plenty of blackjack tables going and with minimums of $3-$5. The only mixed game we saw going was Heads Up Hold'em, also with a $5 minimum. You could play roulette for only 25 cents, but we were shocked to see they only offered 2x odds on craps. Almost every off strip craps table offers 10x odds, so really, 3-4-5 should be considered expensive. But 2x? Not cool. The only other place we can recall seeing that is at the Wynn, one of the most upscale casinos in the world.
Dining and Bars
You have to walk out of the sportsbook to get something to eat. There is a snack bar right by the valet entrance, and a bakery on the opposite side of the casino.
Video poker goes great with watching a game, especially if you want to drink without placing a bet. There is a big video poker bar right behind the sportsbook. It's perpendicular to it, but it has a bunch of TVs.
Jerry's Nugget Sportsbook Rewards
Swiping your card isn't worth that much in sportsbooks. The main thing it does is ensure your payout if you misplace a winning ticket. But you do get a point for every dollar you bet, and after running up 5,000 points you get a $5 free play.
Wrap-Up
Although we were not overly impressed, for a North Las Vegas sportsbook Jerry's Nugget was relatively impressive. It caters fairly well to the horse player, but not so much the sports bettor. There aren't that many TVs, none of them are large, and the picture quality offered nothing. You can do a lot worse than Jerry's Nugget, but it's nothing to write home about.
Current 2020 Sports Betting Grade: C-
Click Here for Our TOP 2023 USA Sports Betting Site!