Boxing has been an extremely popular sport ever since it peaked from the 1920s to 1950s. Even though its level of popularity has died down a bit over the last few decades, there are still millions of people who love to watch it instead of watching UFC/MMA. Most of the major boxing matches will require you to use Pay-Per-View if you want to watch the match without physically traveling to it and one of the best ways to offset this entertainment cost is to place some wagers on the fights you are watching.
However, before you venture off into the world of boxing wagers you should familiarize yourself with some of the terms and conditions that come along with all of them so that you do not make any big mistakes. We will now take a jab at explaining all of the various types of bets that a boxing bettor can make in sportsbooks around the globe and we invite you to step in the ring with us to learn a thing or two so that you don't get sucker-punched.
Moneyline Bets in Boxing
Moneyline bets are sometimes called "To-Win" bets because all you have to do is simply pick which fighter is going to win the boxing match. This is one of the simplest ways to bet on a fight and it is also the most popular bet type that people utilize when betting on boxing.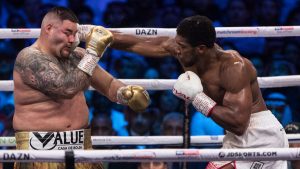 Each side of every boxing match will offer varying moneyline odds for each fighter and these odds will determine how much you get paid if you make the correct choice. When a fighter's odds are listed as a positive value the fighter is the underdog in the fight. Conversely, when the fighter's odds are listed as a negative value they are going to be the favorite and the bigger the number is the more of a favorite they are considered to be.
As an example, let's assume that we woke up this morning in the year 1990 and undefeated Mike Tyson is about to fight against Buster Douglas. The moneyline odds on this fight were set at +4500 for the underdog Buster Douglas, which means that if you bet $100 on him you will receive $4500 back if he wins. Mike Tyson ended up getting knocked out in the 10th round of this fight and Douglas bettors went home with giant piles of money which just goes to show you how fun moneyline bets can be in boxing.
Round Over/Under Bets in Boxing
If you are looking for a bet that does not involve picking the winning fighter then you might want to give round over/under bets a try. These bets simply require you to choose whether or not the fight in question will last more rounds than the over/under line is set at.
If you choose to bet the over and the fight goes longer than the round over/under line that Vegas proposed then you will win your bet. For example, if the over/under round line is set at 4.5 rounds and you bet the over then you need the fight to make it into the 5th round to win your bet.
The more lopsided the match-up is, the less the round line will be since the favorite usually makes quick work of a heavy underdog. For example, if Floyd Mayweather was going to box against Justin Bieber the over/under would probably be set at halfway through the first round. However, if Mayweather was about to fight against Manny Pacquiao the round over/under line would probably be set around 9.5 rounds.
One of the unique parts about these types of bets is that you will sometimes be able to find a ton of different round lines that all have different payout odds. The further away your bet moves from the number of rounds that Vegas thinks the fight will last, the more money you will receive if you are correct since it is less probably that that outcome will occur.
Sometimes you will also have the option of betting on the exact round that a boxing match will end and other times you will be able to wager on whether the fight goes the distance or not. All of these bets pertain to the length of the event and give you a nice breath of fresh air from trying to decide which fighter is going to be victorious.
Parlay Bets in Boxing
Often times whenever there is a big boxing event there will be numerous other fights happening right before it on that same day which are of lesser importance and these fights are collectively known as the undercard. One of the fun ways to go about wagering on these undercards is to make parlay bets where you pick multiple winners from that day's fights and try to get a big payday.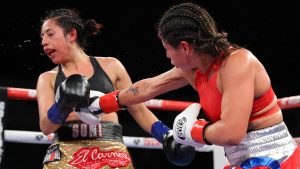 Parlay bets are notorious for being difficult because there is no room for error but if you happen to get every single selection correct the payouts can be massive. The more fights you choose to include in your parlay bets the higher your payout will be due to the added level of difficulty. The best part about boxing parlays is that you will know if you are the winner that same day which is not the case in some major sports that spread their contests throughout the week.
Double Chance Bets in Boxing
Double chance bets are somewhat similar to parlay bets because they require you to pick multiple selections and get them all correct. However, double chance bets are normally limited to just two legs with one leg being which fighter will win and the other leg being their method of victory.
For instance, if Mayweather really was going to fight Justin Bieber like in the silly aforementioned example then an extremely easy double chance bet to make would be Mayweather to win by TKO/KO. However, the payout odds might not be that great for bets that are extremely obvious like this and you will be lucky to make a 10% profit on your wager.
You will also be able to bet on whether the fight ends in a decision for each fighter which means that there will generally be four total double chance options to choose from for each fight. These four options include Fighter 1 by TKO/KO, Fighter 1 by decision, Fighter 2 by TKO/KO, and Fighter 2 by decision with each option paying out different amounts according to the corresponding moneyline odds.
Prop Bets in Boxing
Prop bets are wagers that ask you extremely specific questions about what will happen during a boxing match and they generally have nothing to do with who will win the match. Will there be a knockdown? Will a fighter lose a tooth? How many punches will a fighter land throughout the fight? Will there be any point deductions? These are just some of the questions that a sportsbook might as you to answer for a particular prop bet and they are a great way to diversify your betting exposure to a fight without hedging your other bets.
Not every sportsbook offers boxing prop bets but the bigger the fight is the better chance you have of coming across a list of prop bets that are available. You might also want to check on the live-betting portion of the sportsbook if they have one since prop bets can sometimes be found there as well.
When you decide to bet on boxing prop bets the wagers are generally capped at a small amount due to the casino's lack of confidence in the outcomes. These bets are meant to be for fun and if you find yourself taking them too seriously then you are doing it wrong. We recommend mixing in one or two prop bets with your to-win bets so that you have a backdoor chance of winning some money if you picked the winner of the fight incorrectly.
Click Here for Our TOP 2023 USA Sports Betting Site!