Still one of the newest establishments located on Las Vegas Blvd., the Aria is a stunning spectacle from the outside with an extremely decadent and futuristic look. The star of City Center, you can access the Aria by tram connecting from the Monte Carlo, the Crystals high-end shopping mall, or the Bellagio. It's got more of a flashy than classy feel on the inside to complement its aesthetics, and within its gigantic space is also a sportsbook.
Aria Sportsbook
Surprisingly, the Aria sportsbook is an overall letdown. It isn't a total bust, but its drawbacks are tough to ignore. The seating is all wide leather club chairs or couches and is plenty comfortable with tables to go with them. One interesting touch is a couple of the couches are against the main TV wall underneath the TVs facing the racebook, whose back is to the sportsbook.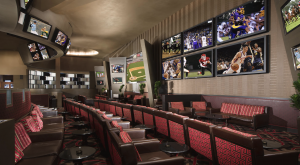 There is no shortage of TVs as they are spaced out across the main wall but also have a couple on the side. No TV is too small and a few of them, including the ones on the side, are extra large. The entire sportsbook is smoke-free and has a nearby bathroom.
Size and Location
Considering how big the Aria is, you would have figured its sportsbook to be larger. There's a VIP section on the far left, but its general seating space is fairly limited. It does, however, have a convenient location. It is tucked away in its own corner away from noisy people and slot machines although the music is still partially audible. If you park in the garage, it's only a short walk from there just past the poker room. If you valet your car, you'll have to walk across the casino.
Traffic and Viewing Ability
Since the Aria is a popular casino for tourists, it is guaranteed to fill up fast on its busiest days like NFL Sunday or during March Madness. If you're not planning to get there extra early, don't count on getting a seat. On most other nights it should never be too busy, nor will the staff be strict about letting you sit in the VIP section.
As you first enter the sportsbook, to the right is the cashier which only has about half a dozen betting windows. Directly in front of you are some tables and chairs, along with pamphlets of that day's betting action for sports and horses, as well as futures and other upcoming events. To your left and above your head, but before you enter the main seating area of the sportsbook are a row of TVs, but not to show games. This is the betting board. Not the usual huge betting board you're used to seeing, they're all spaced out on TVs in small lettering. Not only is that a problem, but if you're sitting inside the sportsbook that means you have to get up to go check the lines. You can't just look up anywhere or turn your head. This is very inconvenient for bettors.
Luckily, you can create an account and download the PlayMGM betting app. With the app, you can make all the same bets available in the sportsbook from your phone as well as live betting, which is betting on games already in progress. The Aria does not yet have live betting over the counter but is working on it. The only other major difference with the app is the max bet amount is much lower.
The racebook is on the other side with four rows of eight desk seats. If you're planning to bet on both, then you won't be able to watch both at the same time.
Regarding the lines themselves, the Aria is not going to rip you off on the day to day stuff. You may have to pay extra juice on certain lines here and there but depends more on what kind of action is coming in. What you want to be careful with are the future's bets. These tend to have a very small payout as most of its patrons are tourists who aren't going to persistently search for the best price.
Drinks at Aria Sportsbook
It's getting a lot harder to drink cheaply these days at casinos, and the Aria sportsbook requires a betting ticket to obtain one. You must bet $125 on sports per drink ticket and $20 for the horses, so, they're merely a throw-in. But, if you can get friendly with either a cashier or a cocktail waitress, it shouldn't be impossible to talk your way into an extra ticket or two.
Casino at Aria
The casino floor is very large and has multiple high limit sections providing food and drink. If you aren't looking to go big, you'll have a ton of slots to choose from along with every table game you can think of.
Since you're in a luxurious casino, the betting limits are never going to be cheaper than $10 and expect that there will be more $15 tables.
Dining and Bars
If you're looking for some grub during the game, Five50 Pizza is connected to the sportsbook and is the first thing you see before you walk in. Other than that, you'll have to leave the sportsbook for your next two best options which are the Burger Lounge which is a short walk and adjacent to the poker room, or Lemongrass, the excellent Thai and Chinese cuisine which does takeout. The Burger Lounge features grass-fed beef and the smell of Five50 Pizza is almost too memorably strong.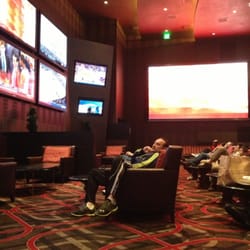 There is a video poker bar with plenty of TVs very close to the sportsbook but is outside of it. And all around the Aria are numerous other swanky bars and lounges. They're all pretty expensive, but that comes with the territory of being inside a top-level casino. The Aria has plenty of other fine dining restaurants including a Mexican place called Javier's. Its steakhouse is by Jean Georges, and if you want tapas, check out Julian Serrano.
Hotel at Aria
The Aria is a complete resort featuring a palatial spa and gym. There is a ton of hotel rooms, suites, and penthouses at the Aria. Just your standard room would feel like the master suite at a regular hotel. The furniture and bathrooms are gorgeous, the beds are comfortable, and multiple views of Las Vegas are available.
Aria Sportsbook Rewards
If you're hoping to rack up points using your player's card, you can only receive bonuses by betting the horses which credit 3% towards food comps for every wager. However, it's still recommended you swipe your player's card for every bet anyway because this links each bet to your name. That way, should you win a bet but lose your ticket you can still receive payout assuming no one has found it and already cashed it.
Wrap-Up
It's a cool and comfortable sportsbook despite its relatively small size, but without having the aesthetically pleasing big betting board to easily look at, it really loses something. Not just for the bettor, for the book itself. The whole point of having an easy to see the betting board is so you always know what lines are current, and what games are about to start. If casual bettors have to get up and see what the lines are every time they're interested in a game, the likelihood of them getting tempted by having a line staring them in the face is minimized. The other drawbacks are minor enough that you can live with them, but no betting board is unacceptable.
Current 2020 Sports Betting Grade: B-
Click Here for Our TOP 2023 USA Sports Betting Site!