The Plaza casino of downtown Las Vegas opened in 1971 and is across the street from the Fremont Street canopy. It will draw a mix of locals and tourists who want to see the old Vegas. Owned by the Tamares Group, it has one of the largest gaming floor spaces in downtown and within it is also downtown's largest sportsbook.
Plaza Sportsbook
Run by William Hill, this sportsbook has a rather odd design in that it's built into three separate sections, none of which can see anything but whatever TVs they are facing. There are two seating areas for sports which have their back to each other, and the racebook is perpendicular to them. It's basically a triangle.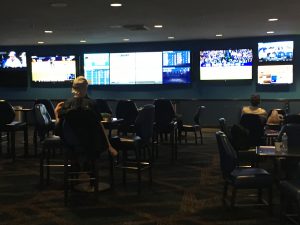 The Plaza race and sportsbook is the premier location for horse racing. Its large seating area is made up of all desk row seating. It accommodates 30 people, each of which will have their own TV and lamp to light up this otherwise dark sportsbook. In addition to their own TV are 16 average sized TVs.
Each side of the sports seating is informally set up with a dozen or so high tables and chairs. There are about eight TVs for each including a couple big ones. The picture quality is good, but the sound is not.
Since this is one of many William Hill books in Las Vegas, all their lines will be the same as any other book run by William Hill. You probably wouldn't see a difference in the day to day lines anyway, but lines for futures in independently owned downtown sportsbooks tend to offer a friendlier payout. Since every downtown casino is close together, they are certainly worth walking around to for comparison. Just grab one of the pamphlets by the cashier that show all the current lines for that day, upcoming events, and futures.
Size and Location
To access the sportsbook, it is conveniently located by the valet and self-park garage. If you are walking in, it is buried in one of the casino corners. Despite this, it is still near the gaming floor and overhears a fair amount of noise. It is no mystery that smoking is allowed in this noticeably smoky sportsbook, and the nearest bathroom requires just a short walk.
Traffic and Viewing Ability
We weren't under the impression that the sportsbook specifically brings in a lot of tourists as many people were seated alone. We expect this sportsbook to be active every day, and we also figure it will get close to capacity during busier events. You have to decide if you are going to watch sports or horse racing, but the view of everything is fine and given the size of the sportsbook you never have to worry about falling over anybody.
The betting board is one of the bigger letdowns. It is made up of a bunch of small TVs that are behind the cashier, requiring you to get up every time you want to look at it. This certainly provides an incentive to opening an account and downloading the William Hill sports betting app. It's a fast and free process, and upon completion, you have access to all the lines.
If you wish to do live betting, which is betting on games after they have begun, you can do it on the app or over the counter. It won't be available for every game, but certainly all the major events among others.
Note that with William Hill if you are going to bet at least $2,000 for any pre-game bet, or $500 for any live bet, they will not accept the bet until you create an account with them.
Drinks at Plaza Sportsbook
William Hill is not especially friendly regarding drink tickets. Since they aren't given away for free anymore, now you have to bet $200 just to get a voucher. Doesn't matter if it's sports or horse racing. It seems pretty fascist, but it's only a rule. Put on your best smile and it shouldn't be impossible to charm your way into an extra ticket or two, or at least get one when placing a smaller bet.
Casino at Plaza
The large casino floor has a relatively wide selection of table games compared to its neighbors. In addition to all the standard games and mass volume of slots, Plaza also offers blackjack and craps variations of Free Bet Blackjack and Crap-less Craps. They also have bingo, and inside the sportsbook is also a keno book. Downtown casinos want you to have a good time at whatever cost you decide, so $5 minimums are available on most of its games.
Dining and Bars
Video poker is one of the simplest and most common ways to get comped drinks. There is a video poker bar nearby with TVs, but it does not face the sportsbook. The Omaha Bar is Plaza's main bar. It is open 24 hours and has scheduled live entertainment.
Regarding food, your quick bite options are either Pop Up Pizza or the food court. However, neither is either inside or next to the sportsbook.
Hotel at Plaza
The hotel has over a thousand rooms, with its standard room starting at 325 square feet. Its junior suites start at 400 square feet and get up to 1,000. Penthouse suites are also available, but you must call. Standard room rates are inexpensive during the week, often staying between $30-$60 a night. Amenities include a fitness center, pool, and pickleball.
Plaza Sportsbook Rewards
Race and sportsbooks never have and never will offer especially juicy rewards. For sports, every dollar you bet earns you a point, and only after accumulating 5,000 points do you receive one $5 free play. The racebook though isn't so bad, giving you a $50 food comp after attaining 650 points.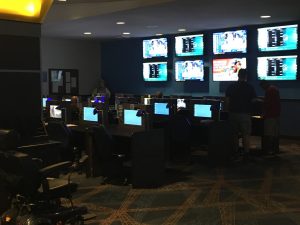 Regardless of the rewards, we still think it's a good idea to have an account and swipe your card every time you bet because this provides protection. In the event you place a winning bet and then lose the ticket, all you have to do is bring your player's card back to the sportsbook. They'll look up your bet and pay you out.
Wrap-Up
We had mixed feelings about this book. We like that it's large, and there's no better option for horse players. But it's smoky, a little too noisy, and you can't see the betting board. Drink tickets are merely a throw-in, and you can't watch everything all at once. You have to lower your sportsbook standards when going downtown, so we'll cut them a little slack. A little.
Current 2020 Sports Betting Grade: C+
Click Here for Our TOP 2023 USA Sports Betting Site!