Formerly known as Binion's Horseshoe, Binion's Gambling Hall is still one of the signature landmarks of downtown Las Vegas. It's a little behind on the times now, but it'll always have the nostalgia for having hosted the World Series of Poker for so many years. The hotel has recently closed, and since it has, Binion's business comes even more so from aging locals. Still, it will draw tourists seeking a different vibe from the uptown strip, and though its sportsbook beats out some of its competitors', there is no compelling reason to go to it.
Binion's Sportsbook
Run by William Hill, Binion's small sportsbook allows smoking and has 10 medium-sized TVs with standard picture and sound quality. Horse racing is unavailable.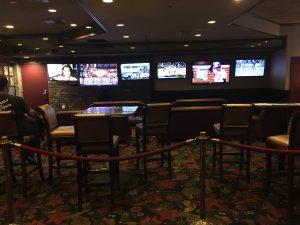 Some sportsbooks make better lines than others particularly on futures, but since William Hill is the operator, Binion's betting lines for all bet types will be the same as any William Hill sportsbook. In addition to the betting board, you can find pamphlets showing what all the lines are by the cashier.
Size and Location
There is no sign directing you to the sportsbook, but you will see the William Hill sign right outside of the sportsbook just past the café. This sportsbook is small, secluded, and adjacent to the newly located poker room. Its location is one of the best parts about it. As it is far from the casino and completely free of any of its noise.
Seating is made up of four leather couches along with some club chairs. Behind those are also some high tables and chairs.
Traffic and Viewing Ability
Though it is small, it is spacious with plenty of room to walking around in. We don't expect it to ever get too busy in here, but you have to figure it could during the busiest sporting events. There are no obstacles blocking any view of the TVs, but the betting boards are all on small TVs behind the cashiers. This is a nuisance because the lettering is too small to read from your seat.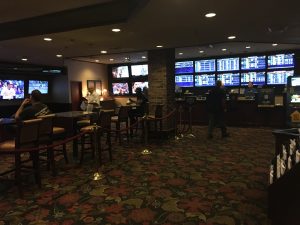 This makes it worthwhile to open an account at the sportsbook, so that you may download the William Hill sports betting app. Starting the account is fast and free, and once you have created one at the kiosk right inside the sportsbook you have access to all the lines. If you are planning to bet at least $2,000 before a game starts you are required to have a William Hill account, and the same goes for any live bets upwards of $500. Live betting is betting on games after they have started. It is relatively new to sports betting but has quickly gained lots of popularity. It isn't available for 100% of games, but you can for just about all of the major events.
Drinks at Binion's Sportsbook
The days of getting free drinks inside the sportsbook have passed and have been replaced by betting a required figure to receive drink tickets. Binion's mandates you bet $200 per drink ticket. Considering this sportsbook has nothing special going for it, we were displeased it wasn't at least $100 lower like it is at many strip sportsbooks. Nevertheless, this is only a rule, and if you can get friendly with either the cashiers or cocktail servers, talking your way into an extra drink ticket or two should be doable.
Casino at Binion's
The gaming floor offers a wide variety of popular slot machines to go with its table games which include all the standard favorites. Things to note are craps offers 5x odds, blackjack has cowgirl dealers, and like all the downtown casinos, each game can be played for a $5 minimum.
Dining and Bars
Located right behind the sportsbook is Benny's Smokin' BBQ & Brews. This energetic restaurant opens at 4 PM but shouldn't disturb the sportsbook with too much noise. Other choices are the café or the deli, but you have to leave the sportsbook for each.
Video poker is a commonly played by players for comped drinks. This would be ideal for this sportsbook, except all the video poker bars are away from it.
Binion's Sportsbook Rewards
Receiving great comps will never be a reason to bet on sports. Here you receive a point for every $1 you bet, but you must accumulate 5,000 points before receiving a $5 free play. No food comps are available.
The main reason for swiping your player's card every time you bet is because your bet will be tracked, thus preventing you from being left with nothing in case you place a winning bet and then somehow lose the ticket.
Wrap-Up
The less there is to say about a sportsbook typically means the less of a reason there is to go there. If all you care about is being able to watch the game someplace secluded and away from casino noise, you'll probably be happy here. But if you want any mix of friendly service on drinks, places to eat, or a large betting board to look at without a problem, Binion's gives none of that. It fails to fully meet even the bare minimum requirements for an average sportsbook.
Current 2020 Sports Betting Grade: C-
Click Here for Our TOP 2023 USA Sports Betting Site!