The highest quality out of all the off strip local casinos, The M Resort Spa Casino is located in Henderson, on the outermost south side of Las Vegas Blvd. If driving in using the I-15 North, it is the first casino you see and where Las Vegas begins. The M brings elegance at the fairest price. While it tailors mainly to Las Vegas' residents, it also serves as a great private spot for tourists who still want to enjoy the top level offerings the strip would provide. Among its attractions, The M features a fine sportsbook.
The M Sportsbook
The sportsbook is built symmetrically and is the only in sportsbook in Vegas that provides a desk space, swivel chair, lamp, and individual TV at all of its 100 seats in its 5×20 rows. The M is completely smoke-free and has a nearby bathroom.
TV wise, two big screens sit in the center although the picture quality is slightly faded in this moderately lit sportsbook. The sound quality suffices, and in between and next to each big screen are 11 additional TVs. On each side of the sportsbook are also four more TVs. The four on the right show all the horse racing as there is no separate seating for the racebook.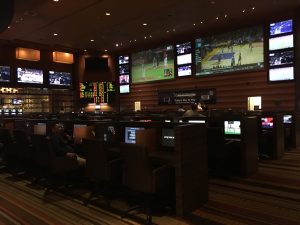 The pamphlets that show that day's sports lines, futures, upcoming events, and whatever props that might be offered are by the cashier, with the horse racing pamphlets in the back by the Vig Deli.
The M sportsbook is now run by Cantor Gaming. Their daily and futures lines are all going to be whatever Cantor has put out, which tends to be comparable to whatever else you would find at the strip. Strip bettors are mainly tourists who either don't know or don't care they're being taken advantage of by futures lines because regardless of the payout, they're happy just to have action when they leave. If you want to find the fairest futures payout, go to the Westgate.
Size and Location
The sportsbook is off the beaten path, located in the corner behind the 32 Degrees bar. To access this modestly large sportsbook, the best place to park would be in the outdoor lot as its side entrance takes you right to it. Despite not being right beside the main casino floor, you can still overhear a little slot chirping.
Traffic and Viewing Ability
Given the symmetrical design, there is no TV you will struggle to see. However, since the 11 TVs beside the big screens are somewhat small, you have to sit that much closer to see them well. And given that this is primarily a local casino, it is not going to pack in a large crowd every night. Most often it will be somewhat quiet, but it will definitely be at capacity when there is a huge event going on.
The M sportsbook has a VIP section that is highly distinct. It has its own entrance behind the regular sportsbook seating and you need a VIP card to sit there. Its seating includes 20 leather club chairs with three large leather seats behind them and facing them from above are their own row of TVs. The VIP section also has nine desk seats with their own TV.
The betting board is divided in two with one on each side of the sportsbook. The lettering is clear and easy to see from afar. There are up to eight cashiers for busy days, but if you don't feel like waiting on lines and/or getting up, you can open an account for free at the sportsbook and download the Cantor Gaming sports betting app. With the app, you have access to all the same lines as you would the sportsbook. One noteworthy difference is the maximum bet allowed is a lot smaller, but so too is the minimum.
The other notable difference is unlike the M sportsbook, the CG app offers live betting, which is betting on games after they have started. Live betting has grown in popularity very fast in just a few years and is expected to become available inside sportsbooks at some point. But for now, it is mostly just on the apps and CG does not offer it for every single game; mainly just the top sports.
Drinks at The M Sportsbook
Sportsbooks used to be very lenient on giving away drinks, but that is no longer the case. Now you must bet a certain amount to obtain a single drink ticket. As most local casinos require you bet a whole lot less than the strip, The M does not follow suit. A $300 bet on sports gets you a ticket, and it takes $50 for the horses. Though these rules seem ridiculous, they are not necessarily ironclad. Try to be cool with either the cashiers or the cocktail servers, and maybe you will be able to get yourself an extra drink ticket, or at the very least a drink ticket without meeting the stated minimum.
Casino at The M Resort
The M casino floor offers a solid variety of games and there are tons of modern slots scattered all throughout the casino. There is a high limit section for each and while most of the minimum bets for each game are around $10, $5 is always findable since this is a local casino.
Dining and Bars
The M has seven different restaurants, but most of them require you sit down. There is at least one nearby option and that is the Vig Deli. The deli is adjacent to the sportsbook, has plenty of seating that can still see inside the sportsbook, and also has plenty of its own TVs.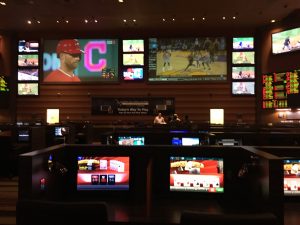 The M features numerous bars as well. Its most notable one is perhaps 32 Degrees which is located right behind the sportsbook. 32 Degrees offers 96 beers on tap all of which are served at what was probably your first guess, 32 degrees. Video poker is also available here, but it doesn't have an ideal view into the sportsbook. You can see some action through the windows, but that is by coincidence and not by design.
Hotel at The M Resort
The M is a boutique style hotel. Its rooms start at 550 square feet, and it includes a pool and spa. Generous discounts are available for locals, California residents, and veterans. Considering what is offered the rooms are all fairly priced. Other promotions and packages are offered each month, so keep up with their site to see what they are.
M Resort Sportsbook Rewards
Since the sportsbook's edge is relatively small, rewards are not so easy to come by. There is nothing to be gained by betting sports. If betting horses, 2% is given back for any win, place, or show bet, and 3% if betting the exotics like a Trifecta. Still, it is recommended you swipe your card whenever you bet because this provides you with protection. Meaning should you place a bet that wins and then you lose the ticket, all that is required you present your card to the sportsbook and you will be paid.
Wrap-Up
This sportsbook delivers a solid experience. Everything you need to see is mostly easy, you get your own TV, and there is food nearby. It would be nice if you didn't have to bet so big just to get a drink and the outside casino noise is a little annoying, but other than that this is a very comfortable place to watch the game.
Current 2020 Sports Betting Grade: A-
Click Here for Our TOP 2023 USA Sports Betting Site!