The LINQ, owned by Caesar's Entertainment, is a popular tourist destination due to its central strip location and outdoor shopping promenade. Since it's new it makes for one of the nicer looking lower-end casinos, appealing to those trying to max out their mileage for their dollar. Connected to O'Shea's bar and casino, it's a fun energetic place to hang out in. Unfortunately, this doesn't extend so much to its sportsbook.
The LINQ Sportsbook
There are dozens of sportsbooks in Las Vegas, most of which have at least one distinguishing characteristic. Something that either makes it memorable or appeals to a certain bettor's interest. The LINQ's doesn't quite do any of that. It's not that it's uncomfortable, but if you are going to spend awhile in a sportsbook with or without money on the line you may as well do it somewhere that offers you more than the bare minimum. We imagine most of its patrons are either hotel guests or those stopping by on a total whim because there is no reason to make a point to go here.
For starters, there is no VIP section for big bettors or preferred customers. The entire book is made up of around 40-50 leather club chairs which are spacious and comfortable, but there are no desk seats with their own TV. There are end tables for ashtrays as smoking is allowed, but we couldn't spot a nearby bathroom. Horse racing is shown on the side with just a few TVs, so you'd have to turn either your chair (which they probably don't want anyone doing) or your head to watch.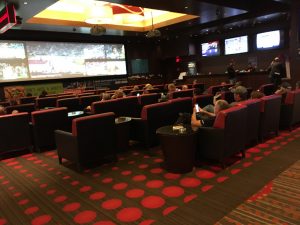 There are around ten TVs for sports including one big screen and the picture quality was just average. It wasn't sharp and clear. Maybe the somewhat bright lighting is why it almost seemed a bit faded. All in all, this sportsbook is more like a living room except you don't live in it.
There were only two betting windows granted that's probably all it needs. Next to the sports TVs were the pamphlets for that day's betting lines along with upcoming events, futures, and whatever props. The lines themselves aren't any cheaper than they would be anywhere else, nor are the future's lines any extra appealing as those are going to be found at the off-strip local casinos.
Size and Location
It's relatively small, and something you kind of just notice when walking by. It's not tucked away anywhere nor is it in the middle. It suddenly just appears but is right on the edge of the casino near slots and table games. This ongoing noise is another reason why you wouldn't want to come here.
To get to The LINQ, you can enter in through its promenade entrance. You go through O'Shea's and from there it's a short walk. If you're coming in from the Harrah's side of it, it's one of the first things you see after you walk in. If you are driving, valet parking and the garage is in the back of the casino which you access off Flamingo road.
Traffic and Viewing Ability
Like all sportsbooks, this one will fill up fast on popular betting days like NFL Sundays or big playoff games. Other than those times getting a seat should be easy enough.
The biggest drawback to this sportsbook is its "betting board". For some reason, someone thought it would be a good idea to put it behind everybody. Most sportsbooks have it either next to the TVs or on the side walls of the sportsbook which in either case is easy to see. Well The LINQ makes you turn around too look at not a traditionally large betting board, but instead a standard sized TV screen with the lines shown in small lettering. It is a joke, and if you are sitting towards the front don't forget your binoculars when trying to read the lines. It's also right next to the cashier, which doesn't serve any either as most bettors know what they're betting before they get to the window as opposed to deciding right when they get there.
This provides an incentive to open an account and download the Caesar's Entertainment betting app. It only takes a few minutes and with the app, you have access to all the lines. The app limits the maximum bet you can make but also allows for a smaller minimum.
If you are interested in live betting, which is betting on games already in progress, you won't be able to do it on the app or over the counter. However, since live betting is rapidly growing in popularity it's possible we see it expand to many of the strip casinos this year.
Drinks at The LINQ Sportsbook
Seeing as this sportsbook has nothing exceptional to offer, you would at least think maybe getting a drink is less than pulling teeth. Well, it isn't. Nothing unusual about that either as sportsbooks have really tightened up the last few years on giving away free alcohol. Almost all of them won't give you a drink ticket for betting less than $50 on sports, many of which are higher than that and so too is The LINQ requiring $100, and $20 for the horses. It's completely ridiculous, but, since it is a small sportsbook and the cashiers were friendly, perhaps it isn't hard to chat it up with either them or the cocktail servers and get yourself some extra tickets.
Casino at The LINQ
It's a nice little casino that still has dozens of table games spaced out with all the standard options. You will find what you need and can do it for cheap with the minimum bet starting at $5.
Dining and Bars
Video poker bars are great for saving money on alcohol. There is one nearby, but you can't see anything inside the sportsbook. Numerous other bars are dispersed throughout the casino and if you want to play some beer pong, head over to O'Shea's and there is plenty of tables available.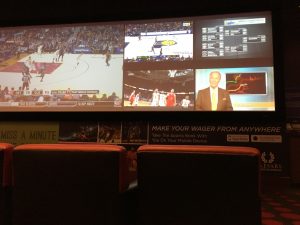 Regarding food, Guy Fieri's burger restaurant is right next to it. That at least gives you one solid option for takeout sports betting munchies. There are some other sandwich and fast food shops but are far away from the sportsbook. The only other nearby option is the wine and snack shop directly across from it. Those snacks are mostly what you'd find at a gas station, but we suppose it's better than nothing.
Hotel at The LINQ
You can usually find cheap rates and since The LINQ's location is as good as any it is a valuable place to stay. The standard rooms aren't bad either. Their bathrooms are modern and The LINQ's central location gives you a nice view of the strip.
LINQ Sportsbook Rewards
Unlike the slots and table games, you accumulate rewards at the sportsbook very slowly, earning only one tier credit per every $50 bet on sports or $20 on the horses. This too is also low compared to other sportsbooks. The main advantage to swiping your player's card is at least there is a record of you making the bet. Meaning if you win and then can't find your ticket, present your player's card and you will still get your money.
Wrap-Up
This is one of the most ordinary sportsbooks on the strip and offers next to nothing. The betting board is below average, the required bet amount for a drink ticket is way too high compared to other places, there are noisy distractions, the TV picture quality is average at best, and none of this made up for in any kind of way. The lines aren't any better and you barely receive any rewards for playing. If you saw none of the other sportsbooks you probably wouldn't think it's that bad but given what else is available, we recommend that you go to any other nearby sportsbook and you'll should have a better time.
Current 2020 Sports Betting Grade: C-
Click Here for Our TOP 2023 USA Sports Betting Site!