In business since just 2014, SLS replaced the former classic Sahara casino. It's a nice and fresh little venue but is out of place on the gray ghetto north side of Las Vegas Blvd because it belongs on the south side with all the other glamor and glitz. Like any strip casino its primary business will be gotten from the tourists but since its location is fairly lowkey, plenty of locals will be in there too.
SLS Sportsbook
This sportsbook, like a few others in town, is merely a bar/restaurant that includes sports betting. The operator is William Hill and you'll find the betting window inside Umami Burger. Around the restaurant are tables and chairs, booths, along with thick leather couches. There are plenty of TVs spread around, big and small with good sound and picture quality. By the cashier are pamphlets showing all the lines for that day's sports action along with whatever props currently available, upcoming events, and futures.
The lines are consistent with most any other sportsbook with the possible exception of futures. Betting futures on the strip is often a losing proposition since the bettors are mainly tourists and are willing to accept what is an unfair payout. If you are not, you will have to get off the strip into the local casinos and maybe, only maybe will any of them offer a substantially better payout.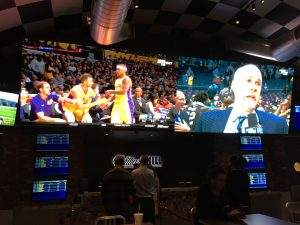 You cannot bet on horse racing here but sitting to the left of the cashier is a TV displaying lines for an upcoming horse race. You can make whatever horse bet you want, except it's not a real race. It's just CGI looking, and the outcome is a complete tossup. There is no skill involved nor does it feign the illusion that skill could possibly be involved. It's basically like watching eSports. You have to really want some action on anything to bet this because it's a combination of total silliness, randomness, and stupidity.
You can, however, do live betting, which is betting on games already in progress. William Hill does not offer live betting for every single event, but it will be available for most of the major ones. With William Hill anything you can bet in person you can also bet on its app. To download the app, first, you must create an account which is fast, easy, and free. If you are planning to bet $1,000 before a game starts or $500 in-game, William Hill requires that you have an account. One notable difference between the app and betting in person is the app lowers the minimum and maximum bet by a significant margin.
Size and Location
Umami Burger is spacious with plenty of seating and walking space around and is located centrally in the casino but off to the side. Whether you are parking in the garage or valeting the walk will be about the same.
Traffic and Viewing Ability
Since this is more of a restaurant than an all-out sports bar we wouldn't expect it to fill up for every major event, but it certainly could for the more popular events like NFL Sunday or March Madness. Getting a seat in here is going to be hit or miss no matter what is going on because most of the people who made a bet just walked right out. Given all the TVs spread around, the view of whatever game is on will be great. The only potential problem is if you can get near the TV showing the game you want.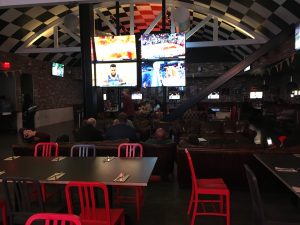 The betting boards cannot be seen unless you are sitting right in front of the cashier since all the lines are shown on a handful of small TVs by the cashier. This is a slight nuisance if you are sitting far away, but you can always download the app to negate this problem.
Drinks at SLS Sportsbook
Free drinks at the sportsbook used to be an everyday thing, but that is done with as sportsbooks now ask you bet a significant amount just to obtain one drink ticket. Except for none of that matters here because William Hill doesn't hand out drink tickets in the first place.
Casino at SLS
It's a fun casino with youthful energy. Anyone who goes here had to make a point to do it as this part of Las Vegas Blvd. features far fewer pedestrians. The casino floor is moderately small but there are plenty of slot machines and over 50 table games. There are many variations of blackjack including single deck, and since this is the north side of the strip $5 minimum bets are common.
Dining and Bars
Immediately adjacent to the Umami Burger is a video poker bar which also has a lot of TVs. If you are looking to drink for cheap, play video poker. If that doesn't interest you, there are other bars spread around SLS and if you are a beer drinker, stay right where you are in Umami is as they have a whole fleet of craft beers.
Food wise SLS also delivers. The burgers are gourmet but if you decide to eat elsewhere there are other diverse options like 800 Degrees Neapolitan Pizza and Bazaar Meat by José Andrés.
Hotel at SLS
This hotel is going to be one of the better value options because of its location, so keep an eye out for promotions which run frequently. The standard rooms are spacious and include some pretty exotic looking bathrooms. If you are looking to live above and beyond the Suites and Premier Suites are sure to satisfy. The amenities include a pool, fitness center, and spa.
SLS Sportsbook Rewards
Sportsbooks never have and probably never will be known for offering great rewards. William Hill follows suit by mandating every dollar wagered is worth one credit, and you must earn 5,000 credits before receiving a $5 free play. Not especially incentivizing to use your card, but it is smart to swipe it every time you bet anyway because now there is a record of your bet. This prevents you from getting screwed in the event you place a winning bet but lose the ticket. Just bring your card and you will be paid.
Wrap-Up
For what it is, this sportsbook is fine. Clearly, it mainly serves as a drop-in for bettors, but betting or not if what you care to do is simply watch the game, Umami Burger gets the job done. Nothing stands out about it either way, but that tends to be a good thing and it's nice that there is no smoking. Altogether, Umami Burger is an adequate experience.
Current 2020 Sports Betting Grade: B
Click Here for Our TOP 2023 USA Sports Betting Site!