Centrally located along Las Vegas Blvd., Paris Casino is an all the way tourist attraction bringing you Las Vegas' version of France. Owned by Caesar's Entertainment, it is a colorful and fun little place to walk around as its theme gives it some amusing personality. But, just because you're walking around in a Paris imitation doesn't mean a sportsbook is going to be left out.
Paris Sportsbook
Nobody ever talks about it, but this sportsbook is constructed very well and is very comfortable to watch a game in. It's dark and it's quiet, but there's plenty of TVs and they're all big enough. It also adds a very artistic touch with one continuous painting going around the border of the ceiling of jockeys riding horses. It's nice to look at but is ironic too because the sportsbook is aimed more at its sports bettors as none of the horse races are on the big screens.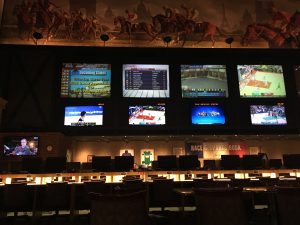 Smoking is allowed apart from the first three rows (presumably to give the cashiers a break) and it has its own bathroom. As far as the day to day lines go, they'll be comparable with its neighboring sportsbooks. It's rare to see a point or moneyline be drastically different from another's. Since Paris, like all Caesar's properties, does not blow you away with how fancy it is, you can probably get a better line on future's lines than you could at the very nicest places. However, the top future's lines are still usually found off strip since most strip bettors are tourists and aren't willing to bend over backward to find the best deal.
Peculiarly, the sports betting pamphlets which have all that day's information along with upcoming events and future's lines are located on the right side of the book, while the horse racing pamphlets are on the left. We thought it was odd that they were separated.
Size and Location
The Paris sportsbook is very close to one of its entrances right off the strip and tucked away in a corner, apart from noisy people and slot machines. I was expecting something small, but it's relatively big. There are up to about 15 cashier windows and plenty of walking space. The book is filled with comfortable leather sofas and chairs and along with that are about five or six rows of 15 booths each with their own TV. In between the sofas and the booths are multiple large square tables and chairs.
To get to the sportsbook, your quickest route would be to valet your car as its parking garage is stuffed towards the back forcing you to walk through its casual restaurants and shops before reaching the casino floor.
Traffic and Viewing Ability
You have a clear view of everything going on from anywhere in the sportsbook. On the right side wall is one large betting board. This is nice because the day's current betting options are always visible, unlike many sportsbooks who have a much smaller betting board in which the lines rotate periodically.
Seeing as how this sportsbook has always been understated, it's reasonable to think its crowds are usually relatively tame. But during popular betting events like college basketball March Madness, NFL Sundays, or any playoff game, expect there to be plenty of action.
If you don't feel like getting up to place a bet, you can now open an account at Paris to bet on your phone using its app Caesars Entertainment. The signup process is simple and fast, and once you're set up you can bet on anything that's on the board including. Live betting, which is betting on games already in progress is not yet available on this app but with it rising in fast in popularity, it could be available sooner before later.
Drinks at Paris Sportsbook
Unfortunately, getting free alcohol is harder than it used to be and the sportsbooks have really tightened up on it. Now they're just an added bonus, and you'll need a drink ticket first. To obtain one, you must bet at least $20 on the horses or $50 on sports. As ridiculous as that may sound, these are some of the cheaper requirements you'll find on the strip. Except at Paris, it gets infinitely more ridiculous.
What we were told next is the most bizarre and senseless thing we've ever heard of in a casino, or anywhere. We can't imagine this is actually enforced, but, instead of betting $40 on horses to get two drinks, (since $20 gets one) you must bet $50! And $200 on sports! We confirmed that we heard everything right and once we did we were speechless. Since when does buying in bulk cost more money instead of less? More shockingly, since when is Las Vegas trying this hard to deter its bettors from drinking at all? So, if you make a $50 sports bet now and another $50 in an hour the cashier is actually going to tell you that you can't have another drink. Why, you may ask? No wonder it's so quiet in there. Everybody is behaving soberly.
It may sound foolish but these rules must be easy to get around otherwise how would this sportsbook ever stay open. We would advise just don't go to the same cashier. Or do it the old-fashioned way and develop a good relationship with either the cashier, or better yet the cocktail server.
We don't know whose idea this was but to say the least squeezing out some drinks in a gambling establishment shouldn't be like pulling teeth the way Paris' sportsbook makes it.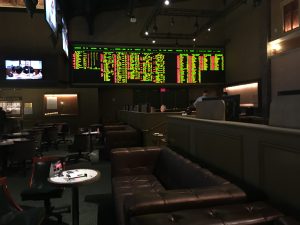 If you're understandably not up for trying to manipulate your way around this utter nonsense, you can always go slip a $20 bill into one of the video poker machines at the bar right behind the sportsbook called Le Bar Du Sport. That too has plenty of TVs and tables and chairs, but they are not on a swivel and not all of them face the sportsbook.
Casino at Paris
If you want to just get some gambling in, Paris can provide you with many of the standard table games and slot machines that come with any Vegas casino. They no longer have a poker room, but since Paris is not overly upscale, finding minimum bets of $10 or even $5 is very doable.
Dining and Bars
All around the casino you'll find plenty of unique drinking and eating establishments, but other than its silly drink ticket rules the sportsbook's biggest drawback is there's nothing quick and easy to eat that's close by. The French Steakhouse Mon Ami Gabi is adjacent to the sportsbook, but to get quality sports watching munchies you'd have to leave and go to the other side of the casino through its little shopping mall. It's surprising there aren't any food stands but I don't know, I've never been to Paris.
Hotel at Paris
Since Paris is not known for its swankiness, you can find very reasonable deals on its rooms. Its standard rooms aren't going to knock you out, but they're sizable and comfortable. Paris offers more in terms of drinkability and entertainment than it does its hotel, but if you raise the bar and go for its suites or penthouses you won't be disappointed.
Paris Sportsbook Rewards
You should bring your player's card to swipe every time you make a bet because this will document your wager. Meaning, should you somehow lose your ticket after it comes in as a winner, you can still get your payout as long as nobody already cashed your ticket in.
Regarding accumulating rewards points, there's not much to get excited about. Even though the sportsbook seems to tailor more to its sports bettors, it offers greater rewards to its horse players. You receive $1.15 in food comps and 32 tier credits for every $100 you bet, but only 22 cents in comps and six tier credits for sports.
Wrap-Up
We are kind of torn on how to rate this sportsbook. If you want quiet, comfortable, and convenient you are going to get every bit of that. At the same time, there's nothing to eat and there's almost nothing to drink when you consider you have to bet more to obtain less. We know not everybody needs to drink each time they watch a game, but it's off-putting just knowing what their drinking rules are.
So, it comes down to this. If you're into drinking and eating over the game with a nice big and energetic crowd, don't even consider watching the game here on principle. But if all you care to do is hang out a little while and maybe make a small bet, you'll enjoy yourself and won't notice these absurd offensive drawbacks.
Current 2020 Sports Betting Grade: B
Click Here for Our TOP 2023 USA Sports Betting Site!