Formerly the Barbary Coast and then the rather dumpy Bill's Gamblin' Hall and Saloon, The Cromwell is a nice and shiny little spot that sits right in the heart of Las Vegas Blvd. Given its prime location and that it's not enormous like some of its neighbors, it serves as a tourist destination for those who don't want to pay for big-name status. It mostly gets the job done on a smaller scale and that extends to its sportsbook as well.
The Cromwell Sportsbook
Unlike most strip sportsbooks, The Cromwell does not have a racebook. There are 20 TVs including four big ones, and the picture, sound quality, and lighting are all solid.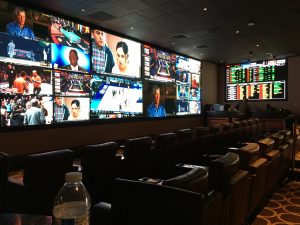 The pamphlets showing all that day's action along with lines for upcoming events, futures, and whatever props available are oddly on the opposite side of the cashier. Day to day lines here will be similar to whatever else is offered, and payouts on futures are not going to be generous as is the case for all strip sportsbooks.
The reason for that is strip bettors are usually tourists who aren't worried about getting the best payout as much as they are having a sweat after they leave town. If you really want to find a fair futures payout, your best bet will be the Westgate which is a little off strip, or possibly the local casinos located miles away.
Size and Location
Like The Cromwell, this is a small sportsbook with only two cashiers. The seating is comfortable and smoking is permitted, but there is no bathroom immediately nearby. Seating consists of 27 leather chairs along with some high tables and chairs to the side. Behind the main seating is a small VIP area.
To access the sportsbook, if you are entering off the strip it is quietly located in the back of the casino near the valet drop off. Since it is tucked away in the corner, you can only overhear a little bit of casino noise.
Traffic and Viewing Ability
Given its low-key location, chances are the only people in there are hotel guests or anybody that specifically wants to watch sports. We wouldn't expect that many people just walking to by to take a seat. We would figure this to be quiet most of the time but expect it to fill up when popular events are going like NFL Sunday or March Madness college basketball.
It isn't built too horizontally, so you have a perfect view of everything, and the rotating betting board is located off to the side of the cashier. If you do not feel like getting up to bet, you can always easily open an account for free at the sportsbook and then download the Caesar's Entertainment sports betting app. With the app, you have access to all the same lines including what's available for horse racing, with the only differences being the maximum and minimum bet allowed are substantially lower.
Unlike some other apps, unfortunately, Caesar's does not yet feature live betting and neither does The Cromwell. Live betting is betting on games already in progress. Since live betting has quickly become a popular option these last few years, it stands to reason it will be available soon.
Drinks at The Cromwell Sportsbook
Free drinks inside the sportsbook used to be easy, but these days they are just a throw-in for actual bettors, and you have to bet something significant to obtain a drink ticket. The Cromwell requires $100 bet per drink ticket and we were shocked to hear there is a four drink maximum. No other strip sportsbook puts a max on how much you can drink, and the thought of a casino doing that it in any aspect seems ludicrous considering they can only benefit off buzzed patrons.
Seeing that this sportsbook does not offer anything exceptional, $100 for a drink ticket is unfair when you consider other sportsbooks that are more serviceable only ask for $50. However, like records, rules were meant to be broken, so, it shouldn't be too hard to talk your way into an extra drink ticket or two by getting friendly with either the cashier or the cocktail server. Plus, who knows if that four drink rule is even enforced, but either way we were put off just to know it exists.
Casino at The Cromwell
The casino floor is small, but there are plenty of slots and $5 minimum bets are offered on the table games. Some of the table game standouts are commission free EZ baccarat, 3:2 payouts for double deck blackjack, single zero roulette, (normally only offered on high limit roulette) and 100x odds on craps.
Dining and Bars
Video poker is one of the best ways to get cheap drinks, but there is no video poker bar right near the sportsbook. A great sportsbook also has some nearby food options which The Cromwell does not have, but you can order food service at your seat by texting LVCROMWELL to a number.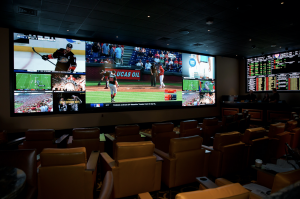 The Cromwell is most famously known for Drai's Beach and Nightclub and Drai's after hours. Otherwise, there only are a couple of other bars, and food wise there is little to pick from and Giada is its only upscale restaurant
Hotel at The Cromwell
The Cromwell provides the strip's first standalone boutique hotel with a Parisian-based influence. The rooms are luxurious and good deals are available. Add The Cromwell's perfect location on top of it and this can make for one of the better value deals around.
The Cromwell Sportsbook Rewards
Sportsbooks are never remembered for the number of points they give out to frequent players, and The Cromwell follows suit by giving out five tier points for every $100 bet. It doesn't matter though because it is still wise to swipe your card whenever bet so that your bet will be tracked. Meaning if you manage to lose a winning ticket, just present your card to the cashier and you will still collect if a scavenger hasn't already.
Wrap-Up
We wish we could give this sportsbook a better grade because it is very comfortable and pleasing to the eye. However, since there is so little about it that stands out you can't deny you can do a whole lot better. It is small, there's no horse racing, and they are unfriendly about drinks. It is probably a relaxing place to watch a game but getting bored seems too easy.
Current 2020 Sports Betting Grade: B-
Click Here for Our TOP 2023 USA Sports Betting Site!