The Venetian is among the very largest and finest hotels and casinos in Las Vegas. Going there is an experience as it gets as pumped up as any other casino in town. Independently owned and centrally located, its artistic theme of Italy remains a must see for its many tourists. However, since everything it has to offer is of the highest quality, plenty of locals tend to stop by as its sportsbook is one of the strongest in Vegas.
The Venetian Sportsbook
Run by Cantor gaming, like the rest of The Venetian the sportsbook is relatively dark. The many TVs bend around in the shape of an oval. The picture quality is great, and that day's top games are always featured on its two largest TVs in the center. On the left side is the racebook which occupies only a small piece of the entire book. To go with it are limited seating and only big TV out of the six to eight since clearly is aimed at sports bettors.
Almost every place to sit has a desk space with a premium leather swivel chair and its own TV that also includes multiple casino games. The only seats without a desk are a row of about 20 leather chairs behind the last row of desks. There is a VIP section off to the side by the racebook and another at the front and center of the sportsbook.
You can smoke but not in the sportsbook space. Only directly outside of it where there is a video poker bar and another counter space behind that, both of which can still see all the action.
Size and Location
The sportsbook is off in a corner and right across from the biggest poker room in Vegas. Immediately behind it are slots and table games, but the high-quality sound system keeps all the outer noise under control.
To access the sportsbook, the furthest walk is from the parking garage. If you're entering on foot off Las Vegas Blvd. the fastest route is behind the fountain. This takes you into the middle of the casino and the sportsbook will just be a short walk to your left.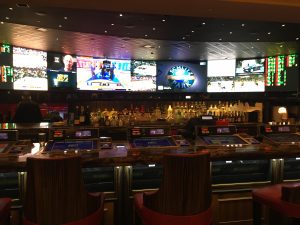 Since all the desk space seating is wide, the sportsbook covers a fair amount of space as you can easily fit 100 to120 people. Considering that, it's surprising there is only a handful of cashiers. We would have expected twice as many because the lines can get long especially on popular betting days like NFL Sundays, any playoff game, or March Madness college basketball.
Knowing this might encourage you to open an account at the sportsbook and download the Cantor Gaming mobile betting app. The app doesn't let you bet as much as the sportsbook will, but the account is fast and easy to create and has all the same lines.
Live betting, which is betting on games currently in progress, is unavailable at The Venetian but is offered on the app. It's not available for every game except during NFL and college football season.
Traffic and Viewing Ability
Since the book is off the beaten path, you don't have to worry about a ton of loud foot traffic going by. It's still a relatively noisy area but is by no means too noisy. Given the perfectly crafted shape of this sportsbook, every TV and betting board is easy to see from any seat including the racebook.
There is a betting board on the left of all the TVs, and one on the right. You'll also find a vertical standing betting board displaying futures odds behind the sportsbook, located right outside Black Tap Craft Burgers & Beer. All the lines for that day's games are also printed on pamphlets right next to the cashier. In addition, the pamphlets have lines as of whatever date is listed for upcoming games and futures.
Regarding the day to day lines, they typically won't be much different than anywhere else on the strip. It really all depends on what kind of action is coming in at that particular place. Futures though are a different story. Usually, those best lines are off the strip at the local casinos, but since most strip bettors are tourists looking for a quick fix, they end up settling for a much weaker payout.
Drinks at The Venetian Sportsbook
Casinos, in general, don't give away alcohol as easily as they used to and obtaining them in sportsbooks is now the hardest, particularly at The Venetian. Most of them require hefty wagering on sports (usually in the neighborhood or $50-$150 total) or $5-$20 on horse racing before handing out a drink ticket.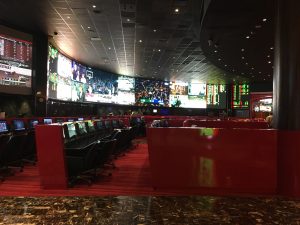 At The Venetian though, you must spread out no less than $300 on whatever you're betting to be allowed a simple complimentary drink. Nothing is etched in stone though, so if you can get in good with either one of the cashiers or better yet a cocktail waitress, there's no reason you can't talk your way into some extra alcohol.
If that doesn't work, you've still got the aforementioned video poker bar right behind you. Just slip a $20 in, take your time, and it should be worth at least two.
Casino at The Venetian
Once you leave the sportsbook you'll find yourself on the biggest casino floor in Vegas. Offering many varieties of slots and wheel games along with just about every table game you can think of, you should never have a problem finding a table with as many or as few other players as you want. Since The Venetian is a five-star venue, $10 or $15 is the typical minimum bet per game.
Dining and Bars
There are plenty of sports betting munchie options although not all of them are at close range. The most convenient options would be Noodle Asia which is right next to it and The Black Tap burger restaurant. There's also a great food court with pizza, gelato, and all the other goodies but you have to leave the sportsbook to get to it.
Apart from those places, there's numerous other bars and lounges with live music located throughout the casino, along with many other casual and fine dining restaurants.
Hotel at The Venetian
The Venetian ranks right at the top as this is an all-suite hotel. The smallest room still has lots of space with beautiful bathrooms, supremely comfortable beds, multiple TVs, and plenty of space to veg out. Along with a great spa and gym, it only gets better if you opt to check out any of its penthouses.
The Venetian Sportsbook Rewards
Swiping your player's card before you bet is a good idea regardless, as this way, there's a record of your bet. Meaning if you somehow misplace a winning ticket, you can still receive your payout. Considering the sportsbook was built to accommodate the sports watchers, it's a little odd there are no rewards points offered for sports bettors. But 3% of any Win, Place, or Show racebook bet is accumulated towards comps which you can apply to food or your hotel room, as are 5% for any exotic bets like a Trifecta or Superfecta.
Wrap-Up
This is a solid sports betting venue. The sound is great, it's spaciously comfortable, and the views of all the games and betting board are simple. There are certainly a couple potential hazards with so few cashiers and such a high minimum bet requirement just to get a drink ticket, but it's got everything else in spades. There are enough food options that are close enough and it's easy to avoid secondhand smoke.
Current 2020 Sports Betting Grade: A-
Click Here for Our TOP 2023 USA Sports Betting Site!