Hollywood Casino at Penn National Racecourse has been the home of a lot of "firsts" as it relates to gambling in Pennsylvania, and that holds true when it comes to the sportsbook as well. Hollywood was the first casino in PA to accept sports bets when they opened the sportsbook's doors during the latter stages of November 2018.
Though there have since been a few other PA casinos which have begun accepting sports wagers, those folks located far from Philadelphia or Pittsburgh will look at Hollywood as the only locale for placing sports bets outside of the major far east and far west metropolitan areas.
Located in the small town of Grantville, Pennsylvania, Hollywood is less than 10 miles from Hershey and the state capitol of Harrisburg. It sits just off Interstate 81, making it highly accessible to those who may just be passing by. The casino as a whole is one of the best in Pennsylvania in that it features a wide variety of slots and table games, and is set up in a way that will remind you of most of the top casinos on the Las Vegas Strip. Though we anticipated that almost all patrons would be heading straight for the sportsbook, the reality was that there was a heavy population in the sportsbook as well as on the casino floor.
Size and Location
The sportsbook at Hollywood is located on the second level and is sort of tucked away in the back from the main entrance. You will, upon entering the casino floor, immediately begin seeing signs for the sportsbook, but there is no indication that it exists on an entirely different floor. In fact, once you are underneath the point on the floor below which the sportsbook is located, you will see one of the signs indicate—with a downward pointing arrow—that you have arrived at your destination. In actuality, the sportsbook is located up an escalator. To make a long story short, the sportsbook's location is not immediately obvious, but once you find it the first time it will be impossible to miss.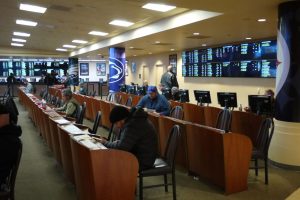 Upon ascending the escalator, you will see the sportsbook down a small corridor. The room is well-lit and has rows of desks/seats in front of a fairly large wall of TVs. There are a few large TVs in the center of the wall that are surrounded by a wide array of smaller TVs. The room itself is big enough, but feels more like a modified conference room than it does a sportsbook. On the far side of the room from where you enter exist the desks where bets are placed.
As for the overall size, it can best be described as adequate. The sportsbook is not massive by any stretch of the imagination, but it is not crowded nor small.
Traffic and Viewing Ability
If you venture to Hollywood Casino at Penn National to place a sports bet during the middle of the week or even on a weekend where there are no major sporting events taking place, there is a strong chance that you can walk immediately up to the counter and place your bet without having to wait. Even on weekends when there are major sporting events, you will find that the traffic, though steady, is not overwhelming. There will be a steady stream of people in and out, but you will be able to place the wagers of your choice without much trouble.
If you desire to sit in the sportsbook and sweat out a few of your picks, you should have no issues there either. There are many seats available and, in our experience, there is always free seats. Should you take a trip to Hollywood for the Super Bowl or NBA Finals, seating may be a bit more difficult to find. With that said, if you are not watching something on one of the main screens, you will want to sit closer to the wall of TVs as some of the screen sizes are such that viewing from the back rows might be a bit difficult.
What sports/games are shown on the TVs, as is the case elsewhere, will really depend on what's going on that particular day/night. Naturally, the most high-profile games are going to be shown on the largest screens, but there is no saying what Hollywood might decide to put on the vast array of other screens. We saw basketball, football, soccer, rugby, hockey, and a few others when we spent time there.
Bet Sizes, Maximums, and Types
All of the sports bets placed at Hollywood are accepted and run through Las Vegas bookmakers. This is important because it means there is no set maximum for sports wagers. If there is someone who will accept a bet—no matter the size—it can be booked at Hollywood. This is a simple, effective way to ensure that bettors of all types and sizes can make use of Hollywood's services.
Drinks at Hollywood Casino at Penn National Racecourse
In terms of the availability of alcoholic beverages at Hollywood Casino, there is no shortage. There are a few different bars located on the main floor of the casino and waitresses roaming the casino floor, so a drink is never too far away. With that said, all alcoholic drinks served at Hollywood Casino must be paid for in one way or another. Unlike what you will find on the Vegas Strip or even at other casinos in Pennsylvania, drinks are not simply given to active players free of charge. Even if you are using a player's card, drinks must be purchased.
The silver lining to this is that, while you cannot be comped drinks directly, you are able to be comped dollars with which you can purchase drinks. By using a player's card and racking up points, you can eventually earn funds with which you can purchase drinks. This is convoluted and much more cumbersome than what you will find at most other casinos, but it is the norm at Hollywood.
Casino at Hollywood Penn National
The casino at Hollywood is one of the better ones you will find in Pennsylvania, and really caters to low and medium stakes players. There are a few higher limit games, but the overwhelming majority of slots and table games will be geared towards the average casino patron. Having said that, it must be mentioned that this particular establishment has no shortage of games on offer.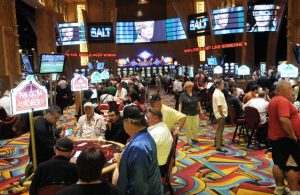 There are a healthy number of table games that are, for the most part, grouped together. What's more, the quantity and variety of slot games is impressive. The floor is slowly being taken over by the growing number of themed digital slot games, but that does not mean you cannot find your fair share of classic reeled slot games as well.
Dining and Bars at Hollywood Penn National
For a modestly-sized casino, Hollywood has plenty of dining and drinking options for its patrons. Generally speaking, the restaurants on offer are casual in nature and priced to match. Final Cut Steakhouse fits the bill as the casino's sole higher-end eatery, while the lounge, sports bar, and buffet make up the other sit-down meal venues that are more reasonably priced. Generally speaking, the quality of the food and service you will receive matches and often outpaces how much you will pay.
As was mentioned above, drinks are not able to be comped at Hollywood Casino, but your casino host might be able to get you food comps that can be used to purchases drinks of your choice. In addition, simply playing games on the floor will earn you player points that can be turned into food comps.
For those who are only going to be placing wagers in the sportsbook, it is important to note that while player's cards do not currently do you any good in the sportsbook, they will sometime in the near future.
Hotel at Hollywood Penn National
Hollywood Casino at Penn National does not have its own dedicated hotel, however there are a number of them located within a mile or so. In total, there are six hotels that can be reached by car in less than five minutes. Even better is the fact that most of them offer shuttle services that can drop you off and pick you up right at the casino's main entrance. Most of these hotels are reasonably priced between $50-$125 per night, depending on the time of year.
Hollywood Penn National Mobile Sports Betting
Due to the nature of Pennsylvania state law, mobile sports betting is not permissible and therefore not offered by Hollywood Casino.
Wrap-Up
For those located in Central or Southcentral Pennsylvania, Hollywood Casino at Penn National Racecourse is really one of your only options when it comes to sports betting and casino games. While the lack of competition might lead you to believe that this casino does the bare minimum, the opposite is true. What you will find is a clean, neatly organized casino that has all the ambiance of any casino you might find in Atlantic City or Las Vegas, only smaller.
The sportsbook is very clearly a new addition, but is already attracting a lot of visitors, even if it is a bit difficult to find. You can stay and watch a game upon which you wagered or quickly place a bet and leave, making it friendly to every type of bettor. With plenty of dining and drink options along with lodging accommodations located nearby, there are few things this casino and sportsbook are missing.
Current 2020 Sports Betting Grade: B
Click Here for Our TOP 2023 USA Sports Betting Site!