Pennsylvania is one of many states that added legalized sports betting in 2018. While the process for implementation of actual sportsbooks within the state has been noticeably slower than in other parts of the country, it is now possible to place actual sports bets in a casino in PA, albeit only at one location as of November, 2018.
Pennsylvania is very similar to other nearby states, like New Jersey and West Virginia, in that they added brick and mortar casinos many years ago and were also quick to start the process of adding sports betting to those locations. The difference is that WV has had sports betting since the summer and so too has New Jersey.
There are two approved locations for sports betting in Pennsylvania as of 2018, and they include Hollywood Casino in Grantville PA as well as Parx Casino in Bensalem, PA, which is just a bit outside of Philadelphia.
Expect a number of additional locations to add sports betting to their offerings in 2019 and the years to come. Not only does PA have many casinos that span the entirety of the state, but they have also been granting new, additional licenses to micro casinos that will soon add to the total number of casinos to choose from. Given the size of the state and the gambling market in PA, it is very possible that some of the biggest total sports betting numbers, by volume, will come from Pennsylvania within a few years.
List of Pennsylvania Sportsbooks
As previously mentioned, there are only a few casinos that received the licensing required to offer sports betting at their properties. Casinos in PA with sportsbooks are…
Hollywood Casino PA
Parx Casino
Neither one of these locations has a hotel, but both are full, Vegas-style operations. Hollywood Casino is located in the Central PA area, with Harrisburg (the state's capital) being the largest major city that is nearby. Only Hollywood Casino has an actual, active sportsbook, which launched in November, 2018. While Parx has the license required, they are not accepting sports wagers as of yet.
Parx is an interesting casino for a sportsbook because of its proximity to both the state of New Jersey as well as the amount of professional sports teams located within 20 minutes. Parx has taken a different approach to launching their sports betting operation than was involved in Hollywood Casino going live.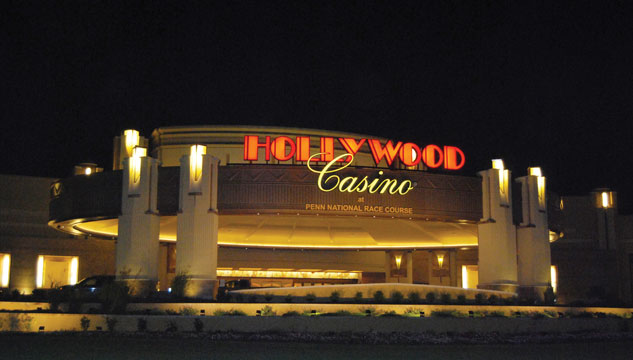 Parx is building an entirely new, multi-million dollar sports betting segment that will not be live for at least a few months into 2019. While this is unfortunate for bettors in the greater Philadelphia area, it will help to keep NJ's sports betting revenue even higher for 2018, before they eventually begin to steal some market share.
Atlantic City and New Jersey as a whole are benefiting from being the only real option for sports bettors and gamblers in NY, (most of PA), and NJ, but just like the AC casinos lost a lot of business when PA opened casinos, the same will happen once Parx and other open. In fact, Sugarhouse, which is a casino located in downtown Philadelphia, already operates a branded sportsbook online in New  Jersey. Expect the PA sports betting environment to change quite dramatically over the next few years.
Online Pennsylvania Sports Betting
Sports betting using websites or online apps, like those found in Nevada and New Jersey, is not yet available. With that said, the ability to run an online sportsbook in PA has already been created from a legal standpoint, and the expectation is that online sports betting in PA is likely to happen in 2019, and possibly in the earlier half of the year.
Once the Pennsylvania online sportsbooks are created and bettors can make accounts, it is a certainty that betting volume will explode. This is even more true when you consider just how much of Pennsylvania does not have a physical casino within 30 or 45 minutes. The very spread out nature of the state will make mobile sports betting in PA a very attractive option for the sports bettors and casinos alike.
In terms of actual operators and choices, the best comparison should be New Jersey. You may even see some of the same exact operators, like William Hill for example, running both physical and online sportsbooks in Pennsylvania. The one caveat to the online sports betting in PA is found in its higher than usual tax bracket that the casinos need to operate under. Given the relatively small margins that sportsbooks tend to work with, online sports betting, as a whole, may not be quite as favorable in PA as it is in other states around the country with lower tax liabilities for casinos.
Future of Pennsylvania Sportsbooks
The number of sportsbooks in Pennsylvania will expand indefinitely. The combination of pre-existing casinos that are granted sports betting licenses along with the addition of the new, micro casinos that are going to be opened will mean that the market will eventually cover just about every corner of the very large state.
The fact that PA is so close to a number of states with legalized sports betting means that it will need to, at least in time, be very competitive with its offerings. While this could end up making life somewhat difficult for PA sportsbook operators, this is going to be a big advantage for the sports bettors themselves. More nearby state competition and a greater number of casinos themselves in PA means more, and higher quality options for gamblers.
Rules for PA Sports Betting
The rules for sports betting in Pennsylvania are the same as those for entering the primary casino floor and placing any type of wager. While you can actually bet on horse racing at the age of 18 in PA (and many other states), sports betting does require that you are 21 years of age.
If you are looking for the Las Vegas sportsbook experience where you can earn free drinks and benefits from wagering at the casinos, you should temper your expectations just a bit when betting sports in Pennsylvania. Yes, the casinos in PA certainly can offer free alcoholic drinks to their customers, but given how new the operations are and the lack of competition, it is unlikely that you will receive very much in the way of free drinks, at least yet.
Hollywood Casino in PA, which has a sportsbook, is relatively stingy when it comes to free alcohol that it offers to casino players, including those at the slots and table games. While Parx is a bit more generous, there is no reason to believe that they are going to be giving out free drinks to sports bettors, especially when they tend to be lower value than table games and slots players. As is the case with just about everything related to PA sports betting, free drinks and promos are very much prone to change and development.