Connected to and like The Venetian, The Palazzo also produces a standout hotel with great amenities. It's one of Vegas' best spectacles but draws mainly tourists, one reason being why is there is no poker room. As memorable as any part of The Palazzo is its sportsbook because it is far different from any other in town beginning with its name, Lagasse's Stadium.
The Palazzo Sportsbook
Operated by Cantor Gaming, before you even find Lagasee's Stadium you may notice there's a small sports betting kiosk on the casino floor. It has just a couple windows and a narrow betting board displaying future's lines, but you'll also find all the pamphlets for that day's lines, futures, upcoming events, and whatever props. Since Lagasee's Stadium is well out of the way, this is a convenient option if you just want to bet and get on your way.
The lines themselves will match up with whatever else you would find on the strip. For example, you would never see a -180 moneyline favorite one place be -225 somewhere else. The only concern is the futures. The best payouts for those are usually off strip because strip bettors are primarily tourists who don't really care what payout they get, they just want to stay in action after they leave.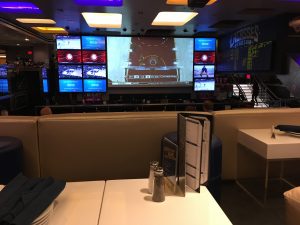 Lagasee's Stadium is a novelty sportsbook. To start with there's a hostess to greet you right when you walk in since there are multiple places to drink and eat. Around it on the walls are also numerous signed and framed jerseys of old sports stars. The seating is all premium leather couches, chaises, and ottomans. Rather than the traditional design of row seating, each row ascends as you go higher up, hence why it's called Lagasee's Stadium. Unlike many sportsbooks and certainly all of the nicer ones, there are no desk areas that have their own personal TV.
This is very much a sportsbook, but the sports seem to be the least of its concerns. This is more like a VIP section that allows you to bet sports. Altogether there are only 13 TVs including one big screen, but they didn't show any horse racing. It has just a few cashier windows, with the betting pamphlets next to it.
Rather shockingly, the betting cashier is closed Tuesdays and Wednesdays. Everything else is accessible, but if you go in there to bet and watch a game, you are going to feel quite inconvenienced to learn you can watch the game but can't bet on it unless you go all the way back to the casino floor to the kiosk. We can't say we see the logic to this other than they're just not bringing in enough business on those two days, but sports is clearly significant 365 days a year.
Size and Location
The stadium seating itself is relatively small. Towards the back are VIP sections and there are more of those on the side along with a counter row of stool seating. These are more like VIP+ sections because basically, this entire sportsbook is VIP. Anyone can enter, but when we sat down in what we thought was just normal seating, after a few minutes a server came by for a drink order informing me we had to purchase a drink to be there. It was a little off-putting to know it costs me money just to walk into Lagasee's Stadium, but that's just what they are. You can't just relax and enjoy watching a game like you can in every other sportsbook because this is more of a bar and restaurant venue that happens to have a sportsbook that takes bets Thursday to Monday.
To the left and right of the stadium seating area are restaurants that serve all your classic sports betting food and beyond. One of the two restaurants has plenty of other TVs, while the other doesn't have any. Adjacent to the sports restaurant that also has a bar is an outdoor patio area with pool tables and more couches. If you want to smoke, this is where you need to go.
As many sportsbooks are off in a corner someplace, Lagasee's Stadium takes that to the next level. It is close to the Italian restaurant Lavo. You go past it and down a short flight of stairs and then enter in after a short walk. It is totally away from the casino. No other sportsbook is its own entity like this one.
To access Lagasee's Stadium, if you're driving your most convenient option is to park in the garage because once you come up on the elevator, you'll be right near Lavo. It is also very easily accessed if you're entering in off the strip. You'll see the signs for it on its patio and there's also a corner entrance on Las Vegas Blvd. and Sands.
Traffic and Viewing Ability
Depending on what's going that day, Lagasee's Stadium could be packed and noisy or it could be quiet. Since it has stadium style seating, every TV is easy to see. The problem is the betting board. It's small and close to the cashier. If you're sitting not even halfway up you can't see it at all. If you're watching from the restaurant, there is another betting board in there as well of the same size. Of the many more TVs in there expect them to only be showing the most popular two or three games going that day.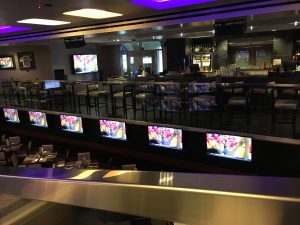 Since you can't get a good look at the betting board from most places, this encourages you to open an account and download the Cantor Gaming sports betting app. Signing up is fast and easy and with the app, you have access to all the same lines without having to get up. The app also features live betting which is betting on games that already in progress. It's not available for every game except for NFL and college football, but live betting is becoming one of sports betting's hottest new betting options. You can't do it yet over the counter, but that could change this year.
Drinks at The Palazzo Sportsbook
There is no video poker bar, so every drink must be purchased at either of the two sportsbook bars. Unlike the past where getting free drinks in the sportsbook was easy, those days are just about over and out of the question at Lagasee's Stadium. You can still obtain a complimentary drink ticket, but only if you bet at least $300. If you develop a good rapport with the cashier you could probably get more than one, but we would suggest sooner trying your luck with this at the upstairs kiosk.
Casino at The Palazzo
If you're interested in other gambling, The Palazzo will oblige you. Its casino floor isn't of the same massiveness as The Venetian, but there's still plenty to go around featuring a ton of slots and every other traditional table game. Since you'd be at an upscale casino, most minimum bets will be $15 or maybe $10.
Dining and Bars
It's really nice that good food and drinks are so easily accessible since so often watching the game becomes secondary to eating and drinking. Outside Lagasee's stadium, you'll find many more bars, lounges, and restaurants, but you won't find any other cheap food options that you can bring into the sportsbook. In the central part of the walk from The Venetian to The Palazzo are the majority of all the fine dining restaurants and steakhouses.
Hotel at The Palazzo
Like The Venetian, The Palazzo is an all suite hotel with the same style of large rooms with beautiful bathrooms and two TVs. It also a spa, gym, and if you really want to step things up you'll be blown away by its penthouses.
The Palazzo Sportsbook Rewards
Most sportsbooks don't give much back to its bettors for using their player's card. Sports bets don't give you anything, but you get 3% back on all "Win, Place, or Show" horse bets and 5% on all exotic bets like a Trifecta. This can be used for food comps or your hotel. It's also a good idea to swipe your player's card just in case you lose your ticket. That way, there's a record of your bet and you can still be paid out.
Wrap-Up
It's a little hard to rate this sportsbook because it depends on what you want. Most patrons just want a comfortable place to watch the game. It certainly is that, but it's not free like everywhere else. Lagasee's Stadium is clearly tailored more for those who want to hang out and spend than the daily grinders. If you want to get away from the casino to fill up on food and alcohol in a more private social setting, then you'll love it. If you're going just to bet sports or horses, we recommend you go anywhere else. It's liable to be too hard to get a seat and the betting boards are not easily seen. But, this book should be graded for what it wants to be.
Current 2020 Sports Betting Grade: A-
Click Here for Our TOP 2023 USA Sports Betting Site!