In business since 1967, the Tropicana remains a classic fixture in Las Vegas on the south side of Las Vegas Blvd. It is not up to par with many of the newer flashier and swankier casinos but having recently renovated it now has itself a shiny new interior look. It mainly serves the tourists who are looking to get some bang for their buck. It does not feature a traditional sportsbook, but it handles bets on anything and provides an area to watch.
Tropicana Sportsbook
The Tropicana is clearly not interested in tailoring to its sports bettors anything beyond allowing them to bet. All the action is handled at a small kiosk run by Cantor Gaming with two cashiers. On the sides of the kiosk is a betting board displaying lines for futures along with pamphlets displaying that, and every other line for that day plus whatever props.
If you are interested in betting on games already in progress (live betting), you cannot do it at the kiosk, but you can do it by opening an account and downloading the Cantor Gaming app. Starting the account is simple and fast, and once you're set up you have access to all the lines for every game. Live betting is not offered on all games, however, it is available for every NFL game. The only other difference is the minimum and maximum bet allowed are each much lower.
No particular strip casino offers drastically better day to day lines than another. The spread and moneyline can certainly vary, but that all just depends on how much money has been coming in. If you are trying to bet futures, your best shot at finding a better paying line will be at off strip casinos since strip bettors are generally tourists and aren't picky about the payout.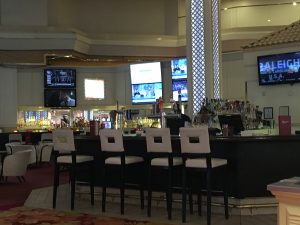 Since the kiosk only handles the bets, to watch you will have to go to the other side of the casino behind the table games into the Lounge. Inside the Lounge are only about nine or ten TVs. You certainly will have no problem watching any major events going on, but if you are betting something less popular then you will probably have to ask somebody change the channel, and who knows if they will even get the game.
Size and Location
The Lounge is relatively small but spacious and includes about a dozen small round tables with three leather chairs at each. It is secluded nicely, keeping you away from constant casino noise. One concern, however, is it is right by the Tropicana Theater. That means when a show is about to start or is letting out, a noisy crowd passing by is to be excepted.
You will find the Lounge near the valet entrance. If you park, you will have to go across the casino, but the Tropicana is one of the last remaining places that still allows free parking and valet.
Traffic and Viewing Ability
Since this is not a sportsbook, most people who show up are probably just there to hang out, drink, and maybe casually watch a game. All the TVs are easy to see, and they are all the same size. The Lounge also includes a long menu of different types of alcoholic beverages and cigars.
Drinks at Tropicana Sportsbook
Free drinks at the sportsbook have suddenly become ancient history. The only to get one now is with a drink ticket that requires you make a substantial bet. The Tropicana demands $200 for every sports bet and $50 for the horses. Considering this is nothing like a normal sportsbook, the fact they mandate such a high bet amount for a drink ticket is pretty unnerving. $50 for horses…most places are $20 max.
That doesn't mean putting on a big smile for either the cashier or the cocktail server can't earn you an extra ticket or two, but the kiosk staff was rude, and something tells me the cocktail servers don't see too many drink tickets, to begin with. Meaning it can go either way if they are going to hook you up or not.
Casino at Tropicana
The casino floor is small, but there are plenty of slots along with all the standard table games. Since this is a lower key casino, $5 minimum bets for table games are easy to find.
Dining and Bars
There is a nice selection of restaurants and other quick food eateries around the Trop, but none of them are close to the Lounge. Even if they were, seeing as this Lounge only serves alcohol and cigars and the tables are small, it is not especially conducive to eating a meal in there anyway.
Inside the Lounge, there is also a small video poker bar, but not all the chairs face the TVs. There is another bar around the casino, but the Lounge is the only one open 24 hours.
Hotel at Tropicana
Now that the hotel has been revamped, the Tropicana now provides a more modern and economical place to stay with nice looking stand rooms and bathrooms. The hotel also includes a pool, spa, fitness center, and offers multiple suites and villas if you are looking to live large.
Tropicana Sportsbook Rewards
If you want to accumulate points or comps on your player's card, sports betting is not an efficient idea. Most places don't offer any rewards for betting sports and neither does the Trop. We were told there is some giveback for betting horses, but not even the manager knew what it was.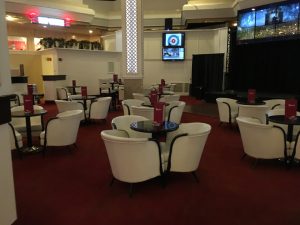 Only that it was based on either you bet exotics or win, place, or show. It was kind of pathetic that even the manager didn't know, but it is safe to assume the comps are 3% for win, place, or show, and 5% on the exotics as this has been the case at other Cantor Gaming sportsbooks.
With or without rewards, it is still a good idea to swipe your player's card when you bet so that it can be tracked. That way should you lose a winning ticket, all you need to do is bring your card and you can still collect.
Wrap-Up
If you are only planning to dip in and dip out after you bet, the Tropicana provides a fast and easy exit. However, if you are thinking to go beyond that then there is little incentive to come here. If you are thinking less is more and just want a (usually) quiet place to watch the game over some fancy alcohol or a cigar, then you'll probably be happy.
Otherwise, this is a whole lot of nothing. No food, the comps stink, the bet size required for drink tickets stink, and you have to walk across the casino if you want to bet again. The staff barely knew anything and was rude in answering my questions.
Current 2020 Sports Betting Grade: D+
Click Here for Our TOP 2023 USA Sports Betting Site!