One of the nicest things about this sportsbook is there is no smoking allowed as for whatever reason, Luxor's casino floor has always stood as one of the smokiest. It is a nice environment to watch the game in as the lighting is dark but bright enough.
Luxor Sportsbook
The majority of the book is made for the sports bettors but the racebook also has plenty of seating with 20 leather club chairs placed behind three rows of five desk booths that have leather swivel chairs and their own TV. Apart from those and above the cashier are three big TVs with four additional smaller ones above them.
In the sportsbook, there are over 60 leather club chairs that also have an old-fashioned school desk for writing. This is a nice little touch except it only accommodates righties. Behind those is one leather couch which seems like it could be VIP only, but since there were no VIP signs anywhere it's safe to say it's first come first serve. Lastly viewing wise behind all the sportsbook seating were a few round tables for standing only.
The cashier had up to ten windows for busy days with several more separately for the racebook. Next to the cashier and also at the front of the sportsbook were pamphlets for that day's action along with upcoming events, futures, and whatever props. The day to day lines always match up comparably with whatever else is on the strip. If you are looking to bet futures, you will have to settle for a less than optimal payout as strip casinos don't pay out as well as say the off strip local casinos. This is because many strip bettors are out of towners more concerned with having some action for when they leave more so than how much they can win.
Size and Location
To access this sportsbook, you can walk to it from either Mandalay Bay or Excalibur. It is a good sized venue, but for the Las Vegas strip, it's about average.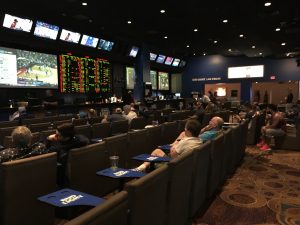 It can be found behind the buffet, privately tucked away in the back near the Criss Angel Theater. There is a nearby bathroom, and it is also near some slots. You can overhear it and some casino music too so it's a little noisy. But overall, it's not too distracting as this sportsbook's sound quality is solid.
Traffic and Viewing Ability
Since Luxor does not have a central location, most of its patrons will probably be hotel guests staying there, Mandalay Bay or Excalibur guests, or locals who don't want to deal with the central strip traffic. Most days there should be plenty of seating available, but you should always anticipate it getting near capacity for big events like any big playoff game, March Madness college basketball, or NFL Sunday. If it does fill up, it could get annoying with people getting up and having to squeeze by you as the leather chairs are bunched together.
The betting board is right behind the cashier. It is big and easy to read. However, since this sportsbook is built very horizontally, you will have to sit in the middle to be able to see everything including the racebook. Another slight viewing matter is the far left of the betting board begins to disappear out of sight behind the end of a wall that sticks out.
This might provide an incentive to open an account and download the PlayMGM betting app. You can do it right inside the sportsbook. It is fast and easy, and once you're up and running you have access to every line. The maximum bet allowed is much lower, but the minimum bet is less too. The betting app also offers live betting on every game. Live betting is betting on games currently in progress. This new betting style is not available at the sportsbook but given how rapidly its grown in popularity the last few years, it could be available everywhere soon.
Drinks at Luxor Sportsbook
Years ago, you could get sufficiently drunk for free at the sportsbook just for showing up. Now the only way to obtain even a single drink ticket is if you make a substantial bet.
The racebook only asks for $10, but the sportsbook requires $100. But, since the Luxor's sportsbook is rather lowkey, you might be able to talk your way into some extra drink tickets by getting in good with either a cashier or a cocktail server.
Casino at Luxor
Luxor's casino is spacious and has a ton of slots along with dozens of the standard table games going. We were a little surprised to see the minimum bets on all their games were $10 or more because Luxor has more of a blue-collar feel. It is nowhere near as upscale as places like the Bellagio or Aria. Still, table minimums can be random, so we wouldn't be surprised if $5 were ever available especially late at night.
Dining and Bars
Betting or not, it is fun to eat while watching a game and there were not that many options. Luxor has a big food court, but you have to go upstairs to its shopping mall to access it. Otherwise, the only eating option is a deli nearby with seating and is located just outside the sportsbook.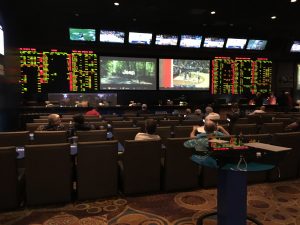 If you are looking for video poker, there is a bar with it right outside the sportsbook but none of its seats face it. Otherwise, around the casino, you will find numerous other bars and lounges along with quite a number of restaurants catering to various types and all desired price ranges.
Hotel at Luxor
It may come as a surprise that Luxor has one of the largest hotels in the world fearing hundreds of suites. It is fully modernized with updated furniture and great bathrooms and it will be one of MGM Resort's more reasonably priced hotels.
Luxor Sportsbook Rewards
If you are looking to move up in player status, the sportsbook is not the way to go. No offers are rewarded for sports bettors, but horse players receive 4% back in food comps for every $100 they bet. Still, it is a good idea to swipe your card whenever you bet. That way if you lose a winning ticket, you can still be paid out as there will be a documented record of your bet.
Wrap-Up
We were satisfied because our main concerns are being able to sit comfortably and see what we wanted without too much outside noise. The betting board is well placed and while sportsbook staff tends to be hit or miss, this was one's was courteous. We could have used more nearby food choices, but altogether we are usually satisfied going to Luxor's sportsbook.
Current 2020 Sports Betting Grade: B+
Click Here for Our TOP 2023 USA Sports Betting Site!