Ever since rugby originated around 150 years ago in the United Kingdom it has been one of the top sports in all of Europe due to its face-paced and violent nature. Rugby draws many parallels to both American Football and soccer which means making wagers on rugby games can also be just as fun as making wagers on those other major sports.
The major betting events that happen in the sport of rugby are generally Rugby Union tournaments like the Six Nations Championship or the Rugby

League World Cup. However, when these Rugby Union events are not happening you will still be able to make wagers on the sport of rugby thanks to the existence of the Rugby League and the many tournaments that they hold year-round.
Even though the Rugby League uses different rules than the Rugby Union does (such as putting 13 players on each team instead of 15 players), it is still equally as fun to wager on and is even known to be the faster-paced of the two variations. The Rugby League has the most popularity in northern England, France, and Australia and some examples of the top competitions include the Rugby League World Cup, the Four Nations Championship, and the European Championship.
Just like in other sports we have covered, there are multiple bet types that you have to choose from when making a wager on a rugby game. Luckily, there are not nearly as many bet types in rugby betting as there are other sports have and the ones they do have are common basic bets that we have covered before in other sports betting articles. Nonetheless, before you decide to make a rugby wager it would be a good idea to first tackle the following thorough review on all the various rugby bet types that are available.
Match Bets in Rugby
A bet that decides the winner between two teams in a specific rugby match is known as a match bet and it is one of the most basic rugby bets that you can make. If there is a tie where both teams have the same score then the bet is a push, but this is a pretty rare occurrence in rugby since it is such a high-scoring sport.
Generally, the sportsbook will list each side of a match bet next to their corresponding moneyline odds and these odds dictate how much money you will win if you choose the winning side. Any rugby team that has negative moneyline odds next to their name is going to be the favorite to win the match. Conversely, the team which has positive moneyline odds next to their name is going to be the underdog to win the match.
For example, if Scotland's rugby team is listed at -200 odds against the Fiji rugby team then they are slight favorites. The -200 number means that you will need to wager $200 on Scotland winning the match in order to win $100 profit. If we assume that Fiji's odds to win the match are listed at +300 then this number indicates that you will receive $300 profit for every $100 you wager on them.
Handicap Bets in Rugby
Much like spread bets in other major sports, a handicap bet in rugby gives a few extra points to the underdog of any given match in order to make the bet fair. The bigger the gap in skill level is between the two teams that are playing against each other, the bigger the handicap number will be.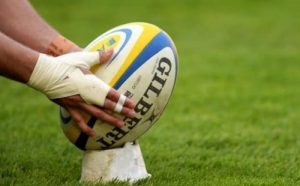 For instance, if New Zealand is playing against England and they are listed as -4 favorites then they must beat England by at least 5 points for the bet to be a winner. If they win by exactly 4 points then the bet is a push and you will receive your money back.
As far as payout odds are concerned, you will receive much more money when you bet on the favorite in each match with a handicap bet compared to a match bet due to the handicap spread that they must overcome. If you are interested in even larger paydays while using handicap bets you can also bet on what the winning margin will be and the outcomes that are furthest from the actual handicap spread of the match can pay up to 20/1 or higher if they occur.
Half Bets in Rugby
Rugby games can last anywhere from 90 minutes to two hours so those who have a busy schedule and can only watch part of a match might be interested in half bets. These fairly self-explanatory bets allow you to wager on what outcome will occur during the specified period of time in a rugby game whether it be the first half or second half.
Some half bets will ask you to choose which team will outright win the first or second half while others will ask you to choose which team will win BOTH halves. There is quite a long list of half-time handicaps available to bet on if you are wagering on a site such as Betfair that has a 30-point range of outcomes to choose from. The more outlandish the outcome is that you are betting on, the higher the payout odds will be for that half bet.
Outright Bets in Rugby
Due to the high volume of rugby tournaments that take place each year, it is our opinion that the most exciting type of bet you can make in rugby is an outright bet. These bets ask you to decide which team will be the outright winner of a major tournament or championship event which means that if the team you choose gets 2nd place you do not get any consolation prize at all.
Thanks to the large level of difficulty involved in predicting the outcome of an entire tournament, choosing the winning team in an outright bet usually pays off huge dividends, especially if it is an underdog team. For example,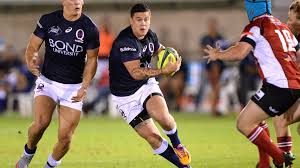 a likely favorite to win the next Rugby World Cup is the New Zealand team at 2/1 odds, but if you bet on Namibia and they end up winning it all then you will receive 5000 times your investment back.
Sometimes you will come across a slight variation of an outright bet which will ask you to name who the two finalists are instead of which team wins the finals match. Since these types of bets ask you to pick which two teams will face off in the championship match the payout odds are generally even better than picking the outright winner would be since the difficulty level is slightly increased.
Prop Bets in Rugby
Prop bets are a miscellaneous bunch of wagers that focus on outcomes other than the usual bet types will focus on and the maximum bet is generally set quite low in comparison since they are just meant to be for fun. One of the most popular prop bets in rugby is which player will score the first goal and you are usually rewarded handsomely if you choose the correct player since there are many options to choose from.
Due to the extremely physical nature of rugby, there can sometimes be scuffles between the players after which the referee will give those responsible a yellow card and force them to leave the field for 10 minutes. Those who are used to betting on UFC/MMA will be happy to know that rugby prop bets sometimes ask you to wager on which player will be the first to receive a yellow card which will allow you to sit around rooting for fights to break out.
Some other popular prop bets you might come across will ask you to decide which player has the most tries, which player receives the most cards, or which team will get to 20 points first. It is sometimes hard to find places that offer these obscure types of rugby prop bets (especially in U.S. sportsbooks where the sport is not as popular) but you can usually find them on many online sportsbooks such as Bovada, Betfair, or 888.
Click Here for Our TOP 2023 USA Sports Betting Site!