Cannery Casino Resorts opened in 2003 but was acquired by Boyd Gaming in 2016. It's one of the higher quality casinos far up in North Las Vegas. You can find it right off the Craig Road exit on I-15. Many of North Las Vegas' casinos are small, ancient, dumpy, and somewhat seedy. Cannery holds its own just fine though, and its sportsbook is more than solid.
Cannery Sportsbook
One of the first things we noticed about this sportsbook was the artwork all along the walls. There are many photos or paintings of old sports legends and jockeys riding horses. Aesthetically, it's just cool.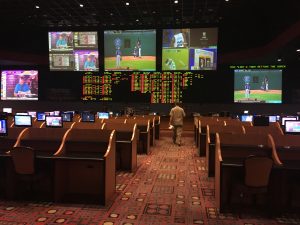 Since Cannery is owned by Boyd Gaming, you can also do your betting on the B Connected sports betting app. All you have to do is create an account which is a fast and free process, and you can do it right inside too. The betting limits on the B Connected app are a lot lower than what you can do over the counter, but the app does at least offer some live betting options. Live betting is betting on games after they have started. It's common to see this offered on the apps, but unusual inside the sportsbook itself. Cannery is not an exception.
Size and Location
The quickest way to get to this relatively large sportsbook is by parking right outside the Galaxy Theaters movie house. Walk in, take a left, and the sportsbook is right there. The main part of the casino floor is still a way's down the hall. This is great because it lets the sportsbook be exclusive. There are a handful of slot machines close by, but you certainly won't have to worry about overhearing their constant chirping among other casino sounds.
Traffic and Viewing Ability
The entire sportsbook's seating consists of the traditional racebook desk rows. We are used to seeing all these seats have their own TV, but this time they did not. Nevertheless, most of them did, and the five rows comfortably seats over 100 people. If you're big into betting horses, there is a VIP section on the far left of this mostly non-smoking sportsbook. There are three rows of three big leather swivel chairs. They also have a lamp and a nicer desk.
There aren't that many TVs (only eleven altogether), but they are all large and easy to see since they are high up. The picture and sound quality were acceptable, and the betting board is also large and centrally located. It might be a little hard to read if you're sitting in the back, but we rarely come across a sportsbook where you can effortlessly see everything from everywhere.
Drinks at Cannery Sportsbook
The drink policy was as good as we could have hoped for. They're not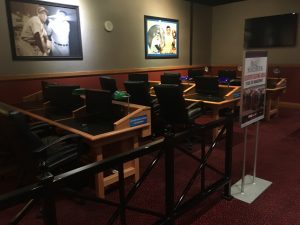 totally free anymore, but a sports bet of $20 will get you a drink ticket. You won't find a minimum bet requirement any lower than that in town.
In most racebooks you have to place a bet as well, but at Cannery the cocktail servers will just come around. They'll probably ask you to show them a betting slip just so they know you're giving action, but since you don't have to give them a ticket it'll be easy to drink as much as you want.
Casino at Cannery
The gaming floor had a nice selection of mixed table games at friendly $5 minimums. Currently going was Wild 5 Poker, Pai Gow Progressive Poker (also available with no commission), and Single Deck 21 for just $3. Regular blackjack was $5, as was craps offering 10x odds.
Dining and Bars
With the sportsbook being tucked away, there weren't any video poker bars in the area. As far as food goes, there was nothing right inside the sportsbook, but Vino's Pizzeria and Vino's Ristorante are just across the hall. The pizzeria does takeout or you can sit down.
Hotel at Cannery
We were happy to know that the nightly resort fee is only $8.99 plus tax. Just about every other local hotel will charge at least double that. There aren't any suites at Cannery, but all the rooms are modern with the times.
If you are planning to stay at Cannery, definitely do so online. This will guarantee you the lowest rate, and you can also check to see what discount packages are currently being offered.
Cannery Sportsbook Rewards
Some sportsbooks have obnoxiously overcomplicated ways of tracking your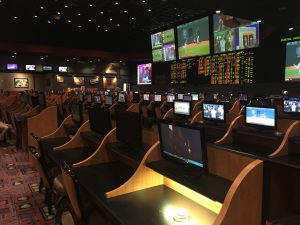 comps, but Cannery's was quite simple. For every $200 you bet on sports, or $40 on horses, you get $1. If that sounds stingy, it's only because the edge in the race and sportsbook is far lower than the table games and slots. If you know you're not going to bet enough to earn any comps, it is still a good idea to swipe your player's card at the betting counter anyway. By doing so your bet will be protected, and this ensures your payout in the event you misplace a winning ticket.
Wrap-Up
We really liked it here. The TV screens are big and nice and high. The artwork added a lot of ambiance, the drink policy is friendly, and the book is in a quiet, secluded location. The closest this sportsbook gets to having a lapse is there is no nearby video poker bar. But since we realize this will not matter to a lot of prospective bettors, we definitely recommend Cannery's race and sportsbook to any tourist who wants to avoid the madness of the strip, and to any local who lives in or near the North Las Vegas area.
Current 2020 Sports Betting Grade: A-
Click Here for Our TOP 2023 USA Sports Betting Site!