Once known as Bingo Palace, Palace Station, which opened in 1976, is the oldest of the Station Casinos. It caters to locals and tourists who want to save money by staying off the strip. It's on Sahara Avenue and about one mile west of the northern side of Las Vegas Blvd.
Its immediate surroundings are a little shady, and the overall feeling of being inside Palace Station is something of a "down and out" experience. It's never going to be a place that makes you think, "I have to come back here", however, its sportsbook isn't bad at all.
Palace Station Sportsbook
After giving itself a little makeover, Palace Station's sportsbook was aesthetically pleasing when we walked in. However, its sound quality was overall mediocre because it was much better in some parts of the book than others.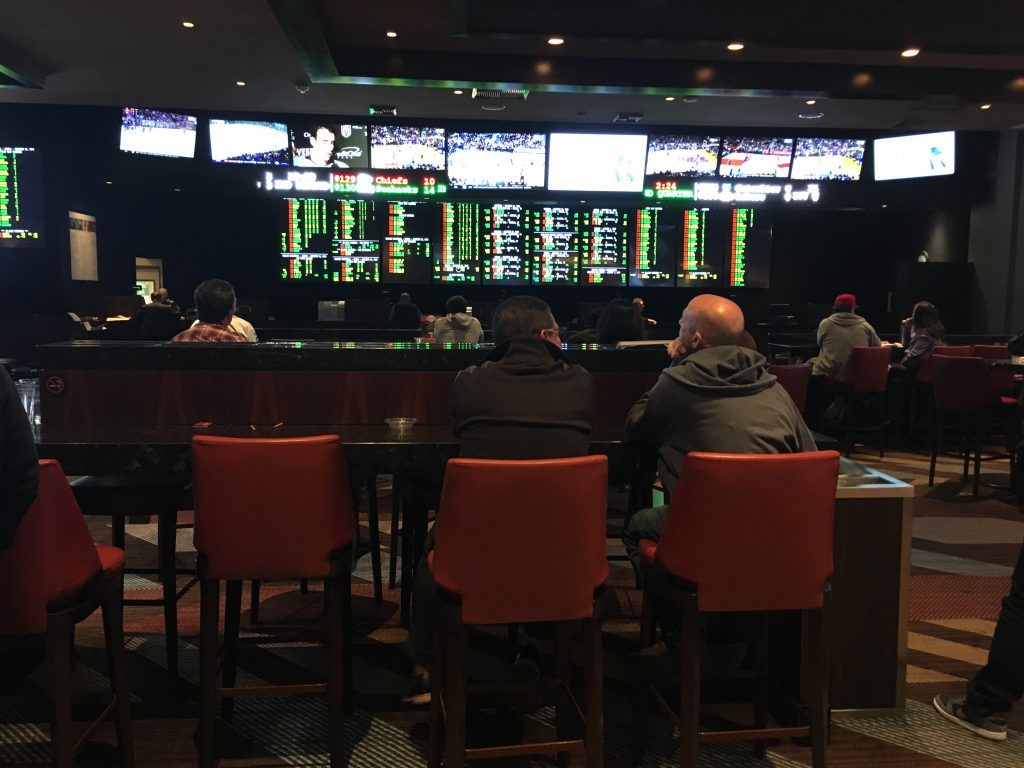 The book has an entrance that leads directly to the parking lot and has a variety of comfortable seating. It is by no means a large sportsbook, and the racebook, though adjacent to it, is separate from the sportsbook. Smoking is permitted.
Size and Location
The sportsbook is horizontally built and across from the poker room. As you get further inside, it feels substantially more private because the edges of the sportsbook are right near the noisy slots.
There are a few places to sit. When you enter, there is either counter row seating or small round tables and chairs. This section can easily hold 30-40 people. Next to it are two rows of big leather chairs in front of the sportsbook's only big screen. The other 15-20 sports TVs are small and are posted overhead and on the side of the book.
Behind the leather chairs is something that looks like a VIP section, but it isn't. There are many more round tables and chairs, and it's right next to the video poker bar.
The racebook and its several rows of desk seating, with each space having its own TV can hold between five and six dozen people. The 20 TVs are all the same size and are posted overhead in three rows for those sitting far away. It's closer to the video poker bar than most of the sportsbook seating, and overhearing the chimes of video poker is a bit of a nuisance.
Traffic and Viewing Ability
You can expect a decent turnout during the less busy nights of the week, but you should have no trouble getting a seat. It'll fill up fast though on days when something special is happening, and an ordinary NFL Sunday is enough to constitute that.
There is no problem with seeing any of the TVs or people getting in your way as they come and go. However, the letters on the betting board are too small. The board is centrally located and easy to see that it is there, but if you're at least halfway to the back, reading it will be difficult if you forgot your binoculars.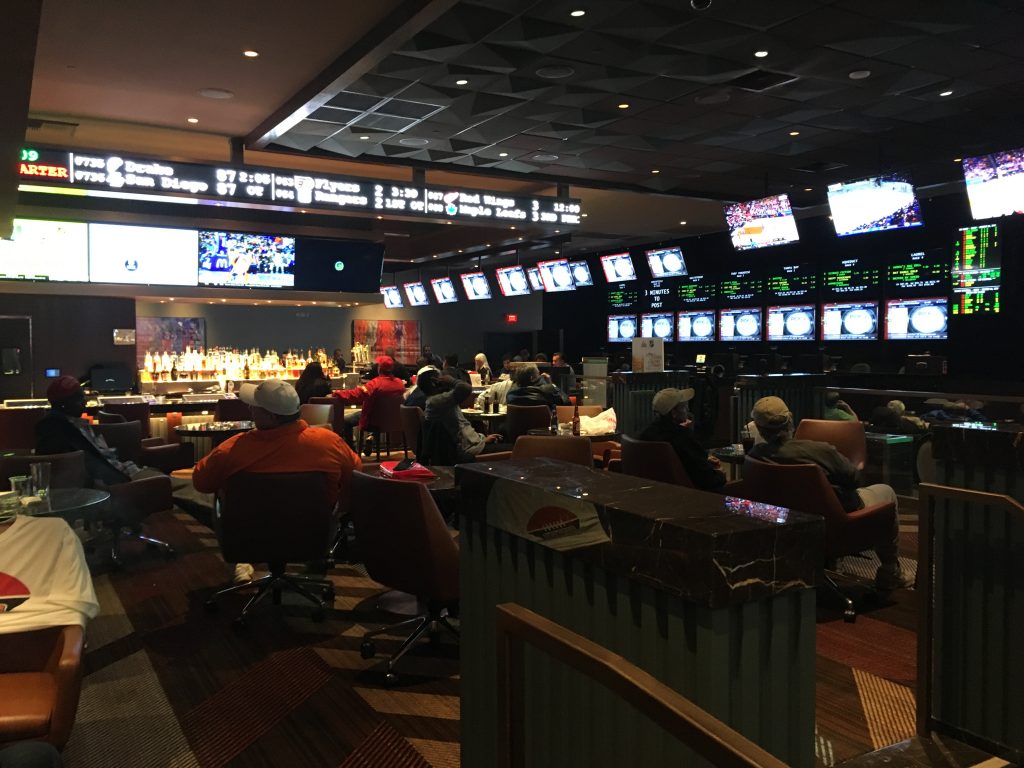 There are only a few cashiers, so the line is more prone to getting long if they are understaffed. This probably doesn't happen too often, but either way, you can always put your bets in using the Station Casinos betting app. Opening an account is easy and free, but you'll need separate accounts for sports and horses if you're planning to bet both. However, some good news is you can now link your bank account to the app, making cashing out much easier since you no longer have to do it in person.
Drinks at Palace Station Sportsbook
Most sportsbooks require you bet at least $100 just to get one throw-in drink ticket, but off strip the going rate is $20. That's what it is at Palace Station, and any bet in the racebook will get you a drink ticket. These minimums are certainly enforced, but that's hardly to suggest you can't finagle yourself a few extra drinks by being cool with the cashiers and servers.
Casino at Palace Station
The casino floor is a bit smoky, but you can find cheap slots and all the usual table games with $5 minimums and 10x odds on craps. The mixed game variety is fairly scarce, but we did see Three Card Poker, Free Bet Blackjack, and a lot of baccarat tables that were either a bad beat version or commission free.
Dining and Bars
As mentioned, there is a video poker bar right inside the sportsbook with plenty of its own TVs, but the bar's back is to the action. There is no place to get food inside the sportsbook, but there is a small food court behind it.
Palace Station's restaurant variety is worth mentioning. The Oyster Bar is its 24/7 spot. If you want Asian food, Boathouse is a sushi bar and also serves Chinese and Vietnamese. If you're looking for a steakhouse, go to The Charcoal Room.
Hotel at Palace Station
Being a local casino, there are always going to be promotions and discounts offered to locals and nearby tourists. There are getaway packages for those form Utah, California, and Arizona, along with a bed-and-breakfast package. Palace Station incentivizes you to book your trips at least three weeks ahead of time or to stay at least three nights, which makes them a very economical option when coming in for a holiday.
The rooms themselves run at competitive rates and are about what you would expect. Nothing shocking in size or luxury. but covers all the standard bases with modern bathrooms and furniture.
Palace Station Sportsbook Rewards
Sportsbook comps are always so low some books don't even offer them. For every dollar you bet in the sportsbook you receive one point, but you get 50 points per dollar bet in the racebook.
It takes 1,000 points just to earn $1, but all dollars earned can be used for food or your hotel bill. The main motive for swiping your card at the sportsbook is to track your bet in case a winning ticket falls out of your pocket.
Wrap-Up
We seem to have gotten a little more than we expected. We didn't necessarily assume this book would be a dump, but no way did we think it would be as inviting as it was. That said, there were still some mistakes. The letters on the betting board are too small, the video poker bar is too close to the racebook, and the sound quality varies depending on where you are sitting. Palace Station is not a hassle to watch a game at and is certainly better than several of the Strip's sportsbooks, but at the end of the day we don't recommend it.
Current 2020 Sports Betting Grade: B-
Click Here for Our TOP 2023 USA Sports Betting Site!