Still, the newest casino to be built on the strip, the Cosmopolitan has the look of a precious diamond done up with enough makeup to make you think you're at a beauty pageant. It's quite the luxurious spectacle sporting one of the biggest chandeliers you will ever see. Given how upscale it is it draws those who like to be ostentatious. If you're most interested in female eye candy, this is your casino. And while it doesn't quite seem to fit in with the rest of the vibe, you can still get to a sportsbook.
Cosmopolitan Sportsbook
This is one of the least impressive sportsbooks in Las Vegas mainly because you can tell the Cosmo doesn't really want to have one. Cosmo is independently owned and has wanted to be different from its outset. It has the swankiest aura on the strip and clearly does not want any of it disturbed by certain types of grizzled gamblers, so they are one of the very few casinos and the only super swanky one to be without a poker room. The sportsbook just seems out of place and out of context with everything else that's going on. It's like you have all this glamor and shininess everywhere and then suddenly there's a sportsbook. It'd be like seeing a bikini model walk into a Chuck E. Cheese.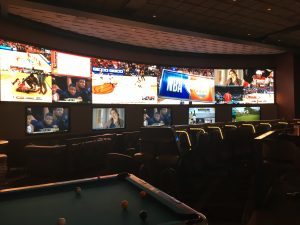 Nevertheless, you won't be uncomfortable should you sit down. Every bit of furniture throughout the casino is top quality. It's got leather sofas, leather club chairs, and around 16 desk spaces also with leather swivel chairs. Their biggest TVs are big enough and are displayed nicely horizontally.
Regarding the lines themselves, the day to day lines should match up just fine with anything else you might come across, but I would be careful about betting futures. A good rule of thumb is the closer to or on the strip a casino is, the more likely it is to create a bad line since many bettors are just dropping in and out and aren't bent on finding an ideal payout.
Size and Location
If you enter in off Las Vegas Blvd., it'll be a short walk before you notice the green lettering on the betting board. If you park in the garage underground, you'll enter the casino towards the back. The Cosmo's casino floor covers its share of ground but is not especially huge, so the walk to the book won't take too long.
The entrance to the sportsbook doesn't quite feel like an entrance. It's kind of just there. Although it covers a fair amount of space, that's because it's divided with a video poker bar. The sportsbook is on one side with the racebook on the other.
Traffic and Viewing Ability
Since this sportsbook has almost no qualities that make it stand out, you can at least count on more of a laid-back crowd. Only during the busiest times like when there's playoff games, NFL Sunday, or March Madness college basketball could you anticipate it getting crowded.
The betting board is not conveniently placed. It is above the cashier, starting from the sportsbook and ending at the racebook. The entire betting menu is posted, but it's not especially easy to see the entire board unless you're sitting at the video poker bar which is right in the middle. You can't just turn your head and look and it depends on where you're sitting you might have to get up. This inconvenience sets you up to open an account to use the betting app. Cosmopolitan is run by Cantor Gaming, and their CG Technology app limits your maximum bet size but features all the same bets you can make at the sportsbook and also features live betting, which is betting on games already in progress. It is not available for every game year round, but it is offered for every NFL and college football game.
The sportsbook is right near the table games. It is noisy, and you constantly hear the slot machines. One nice touch to this sportsbook is the pool and shuffleboard tables. Not a bad way to spend halftime.
Located in the center of the sportsbook is the video poker bar. The bar has plenty of leather chairs and TVs, and you can see both the race and sportsbook from it.
I'm not crazy about the fact that while watching sports your back is turned to the race book, and vice versa. If you like to play both, you would never even consider betting here unless you have eyes in the back of your head.
Nearest the racebook are all the pamphlets for that day's and future lines, as well as upcoming events if say there was a boxing match. If you don't want to take a copy, they are also enclosed in a glass case.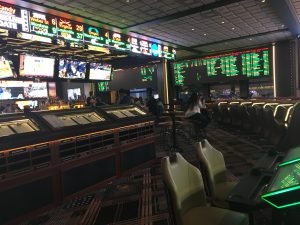 The nearest bathroom is not a long walk, but there isn't one designed specifically for the sportsbook. You are not allowed to smoke in either book, but you are at the video poker bar. Seeing as how close the bar is to both, you're still liable to inhale secondhand smoke.
Drinks at Cosmopolitan Sportsbook
Easy access to free alcohol is becoming a thing of the past in casinos. They can now only be obtained with drink tickets given to you by the sportsbook cashiers. You must bet $300 on sports or $200 on the horses, so, more than anything else they're just a bonus for those planning to bet big. Still, when there's a will there's a way. Put on your best smile for either the cashiers or the cocktail servers and there's a more than fair chance you can pick up additional drink tickets. Free drinks aren't dead yet, they just require a second effort.
Casino at Cosmopolitan
The Cosmo is a large facility and one of not so many places to have more than one floor of activity. But the casino floor itself is all on the ground level and relatively small. Considering how easy it can be to get lost in some of these places, it's nice knowing that shouldn't happen here. There is no shortage of slot machines and there's plenty of video poker along with all your other standard table games. It is upscale, don't expect to see minimum bets be any lower than $10.
Dining and Bars
Cosmo doesn't have any fast food restaurants, food courts, or any type of food eatery that is conducive to sports betting. The closest it comes is with a nearby Starbucks. Every other place to eat is a restaurant and on the second floor or higher. Even the buffet, called The Wicked Spoon is not easily accessible requiring a long walk.
Drinking is easy though. There are multiple bar/lounges spread throughout the ground and higher floors. They all have plenty of places to sit and mingle. This is probably the best place in town if socializing is your top priority.
Hotel at Cosmopolitan
You won't be disappointed by your bedroom, suite, or penthouse. All the rooms are modern and beautiful to stay in. Cosmo's hotel also has the rare distinction of having L-shaped balconies for its suites. Also, the small, somewhat hidden hotel called The Jockey Club which is sandwiched in between the Cosmo and the Bellagio can be easily accessed to and from the Cosmopolitan. There is an elevator indicating it and can be found tucked away in a northside corner on the ground floor.
Cosmopolitan Sportsbook Rewards
Your player's card is of little use in the sportsbook. No matter what or how often you bet there are no points you can accumulate towards anything. The only motive for using your player's card is to track the history of each bet. That means should you win a bet but somehow lose your ticket, your bet can be traced and proven so you're still given the payout assuming no one has already found your ticket and cashed it in themselves.
Wrap-Up
It isn't so much this is a miserable place to watch a game, but the pros do not make you forget about the cons at all. Other than the pool and shuffleboard, this sportsbook offers nothing special that you can't get at many other places. The only reason it's there, to begin with, is because the Cosmo apparently didn't want to stand out by not having one, so they threw one together and stuck it wherever it would fit. We imagine most of its traffic is only from those passing by or hotel guests because there are no incentives to go out of your way to be there.
Current 2020 Sports Betting Grade: C+
Click Here for Our TOP 2023 USA Sports Betting Site!