Located on the north side of Las Vegas Blvd., Circus Circus is right around where the strip starts to get a bit eerier. In business since 1968, MGM Resort International's Circus Circus turns back the clock and gives off the old presentation of Las Vegas from the outside. The building doesn't look too interesting, and it reminds us of Atlantic City hotels with the way the casino lettering is on it. Nevertheless, it remains a tourist attraction for those trying to sleep cheaply and locals who want action but want to avoid the glitz. Overall, it's a classic case of you get what you pay for and the sportsbook follows suit.
Circus Circus Sportsbook
We really should not be so hard on this sportsbook as most of it accommodates just fine. The problem is its one fatal flaw which we will get to soon. In the meantime, it has a dozen TVs including a big one in the center. There are a bunch of others on the side walls as well as on the walls facing the big screen. The racebook is off to the side with ten TVs and seating of 2×7 rows of desk space. No individual TV per seat, but the chairs are leather and swivel.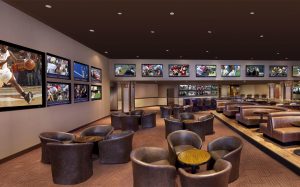 There are up to six cashiers available for its busy days. From there you will also find pamphlets showing all the action for that day along with upcoming events, futures, and whatever props that might be offered. Even though it's a lower end casino, this does not equate to having friendlier betting lines. What is offered daily is comparable to whatever else you may come across. However, if you want to bet futures, know that your best shot at getting the best payout on them will be at an off strip local casino because strip bettors are usually tourists and don't mind settling for a weak payout as they are glad just to stay in action after leaving.
Size and Location
It's a small sportsbook but we liked the layout. The closest seating is informal, including five small round tables each surrounded by four leather chairs which you can point in any direction. Behind them are five semicircle booth tables, and behind those are a few other high tables and chairs.
To access the sportsbook, a valet will be much closer as it is maximally far away from the free self-parking garage. It is off in the corner right near the casino floor. There is no immediate bathroom and is non-smoking, but if you sit in the back of the sportsbook it is still a bit smoky.
Now to the big problem. The slot machines right outside the sportsbook are old school style. They pay coins. We weren't in there for that long but wanted to scream by the time I left. You cannot have these loud coin slot machines that constantly make that banging sound right near an area where people are going to be sitting for presumably a long time. It was unbearable. It's cool that they have the coin slots, but we doubt anybody thinks to bring earplugs with them to the sportsbook which they would need to do as it's the only way to possibly tune the noise out. Obviously, there may not always be somebody playing the coin slots but why go there knowing this can happen?
Traffic and Viewing Ability
The small crowd we attended with felt very zombie-like, yet it was still comfortably quiet in between all the coin slot racket. Everyone who watches sports here is sure to either be a local or a hotel guest. Given how popular the NFL and March Madness college basketball is, one has to think this sportsbook could fill up, but it wouldn't shock me if it didn't.
The betting board is creatively organized. It is off to the left behind the cashiers and on a bunch of small TVs, that way all the lines are always visible. Since the racebook is separate you can't see everything that's going on in both books at the same time but given the flexible sportsbook seating up front, you still have no problem seeing what you want.
One convenient thing now is if say you were in the racebook but wanted to bet sports too. You don't have to get out of your seat anymore because you can just open a sports betting account inside that is free and easy to do. Once the paperwork is done, download the PlayMGM betting app and you've got all the lines on your phone. The minimum bet is smaller, but the maximum bet is way smaller.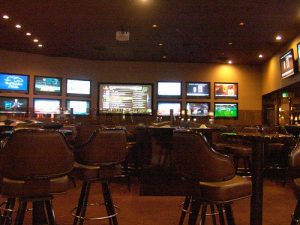 The most exciting feature of the app is that it has live betting for every game. Live betting is betting on games currently in progress. This is still not available at the sportsbook, but it is anticipated that could change very soon.
Drinks at Circus Circus Sportsbook
The days of obtaining free alcohol in the sportsbook are just about over. Now you need to place a substantial bet first. As most sportsbooks are upwards of $50 just for one drink ticket, Circus Circus being what it only requires $40 for sports and $10 for the horses. But, if you behave yourself and are nice to your cocktail server or cashier, you might be able to squeeze out an extra ticket or two.
Casino at Circus Circus
Their casino is most known for its Slots A Fun Casino. Apart from that, there are also a few dozen table games. The selection is not particularly wide, but you will find single deck blackjack. Since Circus Circus appeals to those not interested in spending big money, you will have no problem finding tables with a $5 minimum bet.
Dining and Bars
There is a video poker bar right outside the sportsbook, but it does not face it. Other than that nightlife is pretty tame here, but there are a couple other places to drink. The food selection looked good as well, but unfortunately, none of it is nearby the sportsbook. The most noteworthy part of Circus Circus' food and will probably surprise many is its year in and year out award-winning steakhouse called The Steak House.
Hotel at Circus Circus
They have renovated seven times, but not since 1996. There are almost 4,000 rooms and its largest appeal will be its low pricing. The rooms are about what you would guess. Not too big, not too fancy. But adequate and the bathrooms are nice. No spa, fitness center, or anything modern like that.
Circus Circus Sportsbook Rewards
It is rare to see a sportsbook that honors its frequent players with tier status points or food comps, and Circus Circus maintains that reputation by giving away nothing at all. That said, it is still wise to have them swipe your card every time you bet as this prevents you from getting screwed should you lose a winning ticket because now your bet is tracked.
Wrap-Up
For the most part, the key aspects of this sportsbook could be a lot worse. However, nothing makes up for the excess noise of those coin slots. That is a huge pitfall and easily enough to keep us from coming back. We won't deny a handful of things about this book are nice, but the coin slots make them not worth it. On top of that, drinks are only "relatively" cheap, you can't get anything to eat without leaving, and the casino smokiness still sneaks in. The pros are decent, and the cons are terrible. In conclusion, stay away.
Current 2020 Sports Betting Grade: C-
Click Here for Our TOP 2023 USA Sports Betting Site!