Situated in Henderson, Sunset Station has been open since 1997 and is part of the long chain of Station Casinos. Its theme is the Spanish Empire, and its business mainly comes from the town's locals. Like most local Las Vegas casinos, Sunset Station isn't especially mind blowing compared to what you can find on the strip, but we were very satisfied with what the sportsbook had to offer.
Sunset Station Sportsbook
The sportsbook seems to be aimed more at its horse players given how the seating is arranged, but there are close to 20 TVs for the sports bettors, and they are separated into two rows in case you are sitting in the back. Each row has a big screen, but neither is especially big. And since each big screen can be divided into four small screens, the lines going through them make for a mild distraction. The sound quality wasn't great, but we felt it was good enough.
There is a non-smoking section in the racebook section, but smoking is allowed in each of the four sportsbook's corners.
Size and Location
The sportsbook is properly located away from the center of the casino, and it conveniently has a marked direct entrance from the parking lot. It is close to the casino floor, but far enough away that noise does not seep in. This is a large sportsbook for sports and horse bettors alike. Seating on the sportsbook side is comprised of 6 rows of about 55 leather club chairs. Behind those are a bunch of high tables and chairs to go with some counter seating. There is no VIP area.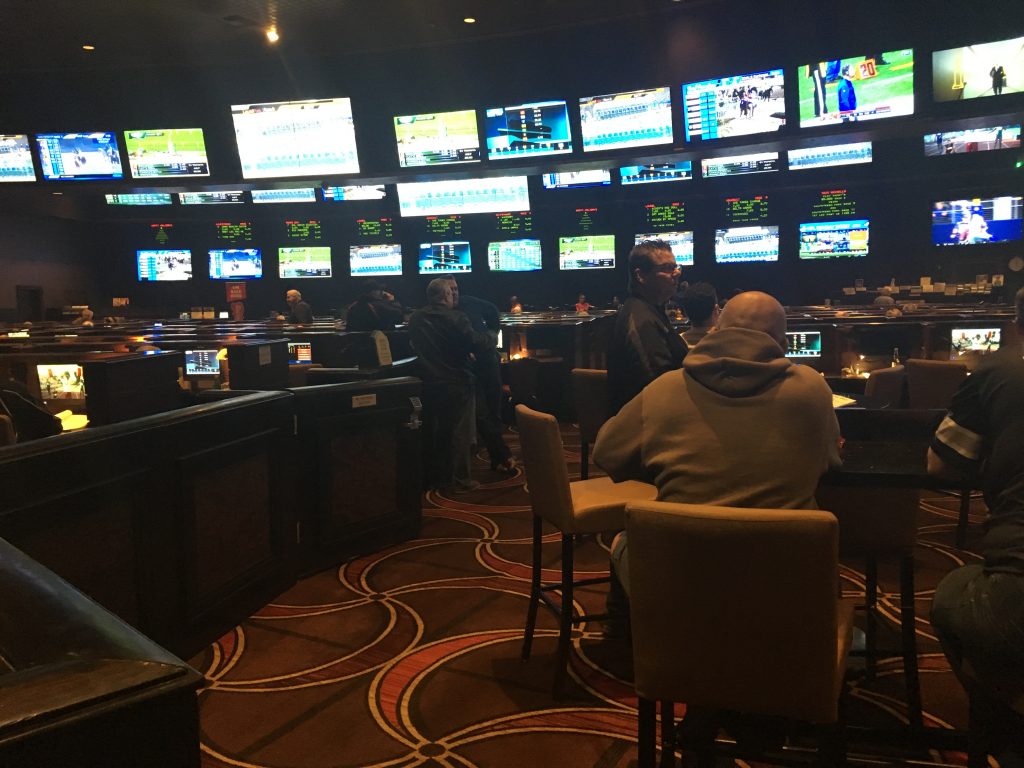 The racebook seating takes up a lot of space and can comfortably hold well over 100 people. The seating is the traditional desk row style, with each seat having its own TV. Some racebook desk TVs only show the races, but these allow you to watch the other sports as well. Since the book is large enough that you can't see every event from everywhere, this was a big plus. There is only one big screen TV in the racebook, but there are over 20 total TVs which are spaced out into two rows in case you are sitting in the back. VIP seating is available.
Traffic and Viewing Ability
Being that Sunset Station is a local joint, we don't expect it to be too full on a nightly basis. However, one should definitely get there ahead of time to get a good seat for big events. There is plenty space to move around in, so you don't have to contest with anyone getting in your way as they come and go.
The betting board is large and completely visible. Considering the size of the sportsbook we thought there might be more cashiers, however, since lines are usually short enough, we don't think this is a big deal.
If the line is long, or if you just don't feel like getting up to bet, you can open an account and download the Station Casinos app. There are separate accounts for sports and horses. You can start an account for free, and once you're set up you can bet on the go during sportsbook hours as long as you're within Nevada boundaries. The betting apps are a huge convenience and have quickly turned into a sportsbook standard. The Station Casinos app, which includes Green Valley Ranch, Palms and Red Rock is even more convenient than it's ever been, allowing you to directly link you bank account to the app. If you want to cash out, you no longer have to do it at the sportsbook.
Club Madrid
Sunset Station's most distinguishing characteristic is its Club Madrid. It looks like a large VIP area, but it is open to anybody and is a short walk from the sportsbook. It is dark, and a large private area to hang out, drink, and watch the games. There are three giant screen TVs, a handful of smaller ones, and great sound quality.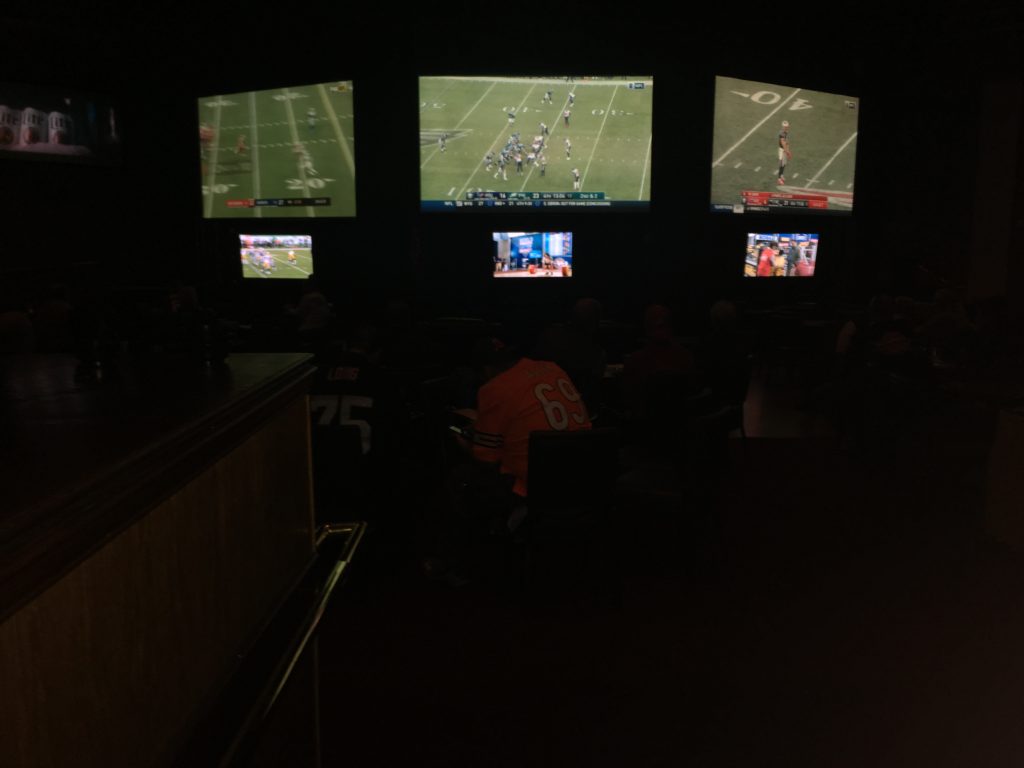 There are many small round tables and chairs along with booths. You can easily fit 150 people in here. Club Madrid has its own bar, so the only thing missing is a betting window. If you want to watch the game a little more privately in a non-smoking environment, Club Madrid is a great option and the type of amenity most sportsbooks do not offer.
Drinks at Sunset Station Sportsbook
With the days of free drinks inside the sportsbook being long gone, it is nice that you don't have to bet too much at Sunset Station to obtain a drink ticket. $20 per ticket at the local casinos seems to be the standard when betting sports, which is far friendlier than many of the strip sportsbooks which require bet sizes upwards of $100. Of course, if you bet $50 on a game, it shouldn't be too difficult to talk your way into getting a third ticket.
If you're betting horses, we were surprised to be told you don't have to bet anything. No ticket is needed, the cocktail servers come around in the racebook like the good old days. We assume you have to present a ticket to show you've made a bet, however, since it's unlikely the servers look closely at each bet, we're sure you can get a drink by finding a losing bet laying around somewhere.
Casino at Sunset Station
You'll find all your usual slots and table games, most of which can be played for $5. Sunset Station also offers Bad Beat Baccarat, 10x odds on its crap games, and 3-2 payouts for Blackjack. It also had some of the other blackjack variations like Single Deck 21 and Free Bet Blackjack.
Dining and Bars
Regarding nearby food and drink, options come up slightly short. There's a small food court just outside the sportsbook, but you have to leave the book to access it. If you're looking for something more upscale, the two most viable options are Oyster Bar, Pasta Cucina, and Sonoma Cellar Steakhouse.
Video poker players have a bar with plenty of seating in the back of the sportsbook, but it cannot see inside. However, this is at least partially made up for since there are plenty of TVs in the video poker bar.
Hotel at Sunset Station
The 448 room hotel is not intent on wowing you like you've never been before, but the standard rooms and smaller suites are modern, offer great views of the strip, and will fall between 300 and 500 square feet. Family, and bed-and-breakfast packages are available, and discounts are offered if you book three weeks in advance or if you are staying at least three nights. Deals are also available for nearby residents traveling from California, Arizona, or Utah.
Sunset Station Rewards
Sportsbooks never have and never will offer anything generous as far as comps go. You receive one point per dollar bet, and it takes 1,000 points to equal $1. The racebook always offers more, granting 20 points per $1 wagered.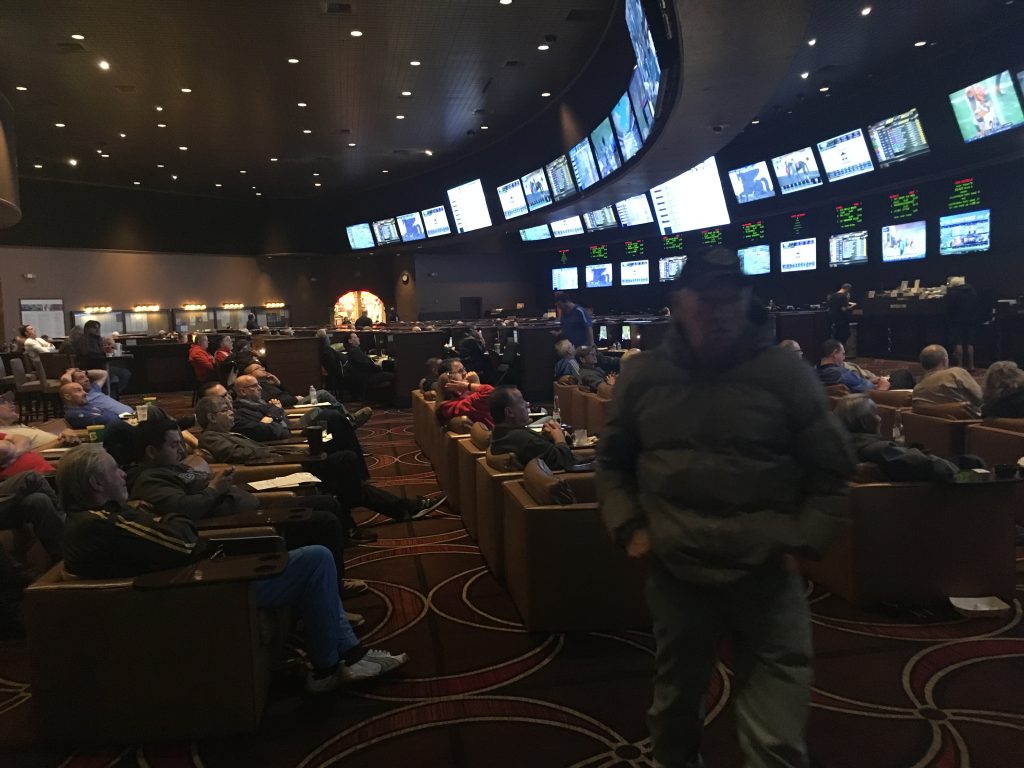 The comps are good for cheap food or your hotel bill. The main reason to swipe your player's card when placing a bet is it provides you some protection. Since your bet will be tracked, you can still get paid if you somehow lose a winning slip.
Wrap-Up
We like options, and Sunset Station provides it because of its separate Club Madrid seating. It stands out very well because of that feature, and overall this is a sportsbook we would recommend for locals, or for anyone who wants to watch a game away from the strip.
We wouldn't mind a few extra food options or some larger TVs, but these minor drawbacks do not get in the way of what sports and horse bettors really need. You will be happy here.
Current 2020 Sports Betting Grade: A-
Click Here for Our TOP 2023 USA Sports Betting Site!