Gambling in the United States predates even the formation of the country as we know it today, but the history of sports betting is not quite as extensive. Before organized sports leagues such as the NBA and NFL came into being, the number one "sport" for betting was horse racing. Throughout the 19th century, horse racing grew in popularity amongst Americans and so too did horse betting. Also growing in popularity during the 19th century was baseball, and by the turn of the 20th century professional baseball was undeniably the country's top spectator sport. Everything was going well and sports betting seemed to have a bright future in the US, but the 1919 Black Sox scandal changed the course of that for good. To make a long story short, eight players from the heavily favored 1919 Chicago White Sox team were found to have thrown the World Series on purpose, thus aiding a number of shady bookmakers. Once this scheme was uncovered, Major League Baseball took a hardline approach to sports betting in that it disassociated itself from gambling entirely. This set a precedent that the NFL, NBA, and NHL all more or less followed from the time of their respective inceptions.
Black Sox Scandal's Lasting Impact
The Black Sox scandal, in addition to removing sports betting from baseball, worked to create a negative attitude towards gambling in the United States. This negative attitude eventually led to anti-gambling legislation being introduced in many states. The lone shining light throughout the first half of the 20th century as it relates to sports betting was Nevada, which chose to legalize sports betting in 1949. Unfortunately, the massive tax imposed by the Federal government meant that most sportsbooks had a tough time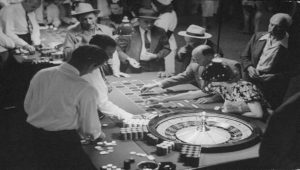 surviving, and many ended up closing their doors for good. The 1951 10% tax was later reduced by 80% in 1974, but this was around the same time the Federal government began ardently cracking down on sports betting once more. Thanks to the Federal Wire Act of 1961 and a few other pieces of legislation introduced in the 1960s and 1970s, sports betting was found almost nowhere outside of Nevada; at least not legally.
A Continuous Downhill Slide
If there was any hope for sports betting gaining traction after the 1970s, that hope was done away with in 1992. It was at this time that Congress passed the Professional and Amateur Sports Protection Act. This Act did a lot of things, but at the end of the day it effectively banned sports betting most everywhere besides Las Vegas. Things only got worse from there as the Unlawful Internet Gambling Enforcement Act (UIGEA) of 2006 made it virtually impossible to bet on sports online. This legislation had less to do with the act of betting online and more to do with restricting banks and financial institutions from dealing with funds stemming from online gambling, including sports betting.
Attitudes, Laws Shift for the Better
In the immediate wake of UIGEA, the attitude towards casino gambling began to shift, especially on the east coast. Before long, states like Maryland, Delaware, and Pennsylvania all had burgeoning casino industries. Even though sports betting was still very much illegal, it was clear to see that the attitude towards gambling began to shift during the 2000s. In 2018, history was created as PASPA was officially struck down by the Supreme Court. This meant that the prospect of legalized sports betting was, again a state-level decision. In the wake of this decision, more than 10 states passed their own legislation that legalized sports betting. Some legalized online sports betting only, others legalized sports betting so long as it takes place at a physical sportsbook, and others legalized both online and brick and mortar sports betting. What was once one of the most confusing sports betting landscapes in the entire world is increasingly
Sports Betting in New Jersey
Sports betting across the United States would have never existed were it not for the efforts of New Jersey. Spanning back to 2009, the state of New Jersey had been facing off with the United States' major sports leagues (NCAA, NBA, NFL, NHL, MLB) in a legal battle that outlasted Chris Christie's tenure as governor. In 2012, however, the state of New Jersey passed legislation that would make sports betting legal. As you might imagine, all of the abovementioned leagues filed suit to put a stop to any bets being accepted in New Jersey. The legal battle went on through a district court, two appellate courts, and was finally presented to the US Supreme Court. Shockingly, the US Supreme Court ultimately sided with New Jersey via a 6-3 majority decision that, in May of 2018, legalized sports betting in the state. What's more, this very decision is what allowed every other state the opportunity to legalize sports betting.
Since New Jersey had already legalized sports betting roughly six years prior to the Supreme Court's overruling of PASPA, it did not take long for the state's casinos and racetracks to begin accepting sports wagers. Now, so long as the entity has a license from the state, they are legally allowed to offer sports betting. If a racetrack or casino is able to offer sports betting, they are also able to offer mobile sports betting apps. These apps must be equipped with location trackers to ensure that all bets are being placed from within New Jersey only.
Sports Betting in Pennsylvania
Pennsylvania did not get the 2012 head start that New Jersey did, but they too were anticipating changes being made to sports betting restrictions at the Federal Level. That's why, in 2017, a bill was passed into law that would allow for sports betting if the Federal government ever decided to overturn PASPA. The bill, H271, was intended to address issues with PA's problem gambling hotline, but by the time all was said and done, there was a lot more substance to the bill than problem gambling alone.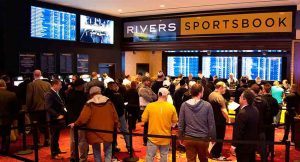 Even though May of 2018 saw PASPA overturned, Pennsylvania did not rush to begin accepting bets. In fact, the first sports bets in Pennsylvania were not accepted until closer to the end of the year. Online betting applications are able to be offered by approved operators within PA, but mobile bets were not taken until almost exactly one year after sports betting was officially legalized. Like in New Jersey, Pennsylvania online sports betting can only be offered by an operator that is working in conjunction with an existing, physical sportsbook. As is the case in New Jersey, any PA sportsbook that offers a betting application must also have the ability to track a user's location in order to ensure that wagers are being placed within the state's borders.
Sports Betting in Nevada
Sports betting in Nevada first made an appearance in 1951 and has been a mainstay in the state ever since. The Federal government began taxing legal sportsbooks at a ridiculous rate shortly after the first bets began being accepted, but that tax was later altered and reduced to a more reasonable rate. Nowadays, sports betting is as prevalent in Nevada as any other type of gambling. In major gambling centers like Reno and Las Vegas, almost every casino also boasts a sportsbook. As you venture further away from major population centers you may not find as many sportsbooks, but the existence of sports betting applications means that you are never too far from placing a wager.
Sports Betting in Oregon
Even though PASPA made sports betting illegal across the United States in 1992, there were a few noteworthy exceptions. One of these exceptions was Oregon, who was exempted due to a parlay game offered at the time known as Sports Action. Thanks to them having been exempt from PASPA, once the act was overturned the prospect of legalized sports betting did not even need to be put to a vote. Understanding the back story, it is a bit curious that Oregon waited more than a year to officially legalize sports betting, but at the end of the day the motion went over without a hitch.
Sports betting will be offered in conjunction with the state's lottery and will initially commence as a mobile-only application. The long-term plan is to have sports betting kiosks located in the same retail outlets that sell lottery tickets and other lottery products.
Sports Betting in West Virginia
West Virginia was one of the states that rushed to legalize sports betting and did exactly that less than four months after PASPA was overturned. This should come as no surprise seeing as many of the state's neighbors, including Maryland and Pennsylvania, also moved to legalize sports betting in the immediate wake—or even before—the PASPA ruling was handed down.
All five of West Virginia casinos accept sports betting and mobile betting is soon to be introduced.
Sports Betting in New York
New York was another one of the handful of states that moved to legalize sports betting before PASPA was ever struck down. Like Pennsylvania, New York passed a piece of legislation in 2013 that made sports betting legal should the Federal government ever change its stance. Even though the Supreme Court's decision in 2018 gave New York's preemptive law a leg to stand on, it wasn't until a year after the decision was handed down that sports bets began being accepted.
As it stands, and how it will remain in the near future, New York sports betting is something that can be done in-person only. This means that folks will have to place wagers at the state's more remote casino locations. There is no saying what the future will hold, but for the time being there is no mobile sports betting allowed. With New Jersey offering mobile sports betting capabilities, the thought is that New York will also offer mobile betting before too long.
Sports Betting in Mississippi
Mississippi got a head start on the legalization of sports betting, but what they did was a bit different than states like New York and Pennsylvania. In 2017, the state repealed their state law that restricted sports betting and vocally moved forward with legislation that would legalize sports betting should the Federal law ever change. Even before PASPA was struck down, Mississippi took another step in that it legalized daily fantasy sports (DFS) competitions. Once PASPA was eventually done away with, Mississippi legalized sports betting and began accepting bets in August of 2018, only about three months after the Supreme Court's decision.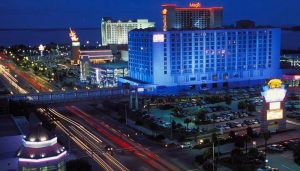 Like New York, sports bettors in Mississippi will be restricted to the states preexistent casinos in order to place sports wagers. During the early stages of 2019 mobile sports betting was considered, but legislation never ended up being passed.
Sports Betting in Arkansas
Arkansas did not move quite as quickly as their neighbor to the east, Mississippi, but they did move to begin accepting sports bets during the summer of 2019. The problem facing Arkansas was the fact that the state did not have any casinos, only racetracks. This is why the first and only place accepting sports bets as of July 2019 was a single track, Oaklawn.
Luckily, the future looks bright for Arkansas sports bettors as the legislation that allowed for sports betting also allowed for the creation of four casinos located in four different counties. Within a few years, Arkansas' sports betting will rival or even best that of Mississippi.
Sports Betting in Delaware
Delaware was another one of the state's that had a sports betting law on the books well before PASPA was struck down. In fact, sports bets—in a very specific form—were accepted in the First State back in 2015 thanks to a game that allowed bets only on the NFL and only if they were in parlay form (2 or more selections on a single bet). For this reason, it was only about a month after PASPA was struck down that Delaware casinos and racinos began accepting sports wagers.
What's interesting about Delaware is that mobile wagering is allowed, however it is currently not offered. Most everyone imagines that this will change considering both New Jersey and Pennsylvania (Delaware's neighbors) offer mobile sports betting already.
Sports Betting in Rhode Island
Rhode Island took a little time, but ended up getting in on the sports betting action by November of 2018. Seeing as pro-gambling legislation was passed in the state in both 2012 and 2016, it should come as no surprise that the prospect of legalized sports betting is not something that stirred much controversy.
As it stands, there are two casinos where folks in/from Rhode Island can place wagers. Initially, sports betting was only able to be done in-person, but a piece of legislation passed in March of 2019 changed that. This bill allowed for the expansion of sports betting such that mobile bets will soon be accepted, however there is no concrete word as to when the first mobile bets will be accepted.
Sports Betting in District of Columbia (DC)
The District of Columbia, otherwise known as Washington DC, is the smallest geographical region that has given sports betting the thumbs up. Despite being the center of politics in the United States, the sports betting question in DC went over without too much trouble. Unfortunately, because DC comprises just a few square miles and features no casinos whatsoever, sports betting will take on a unique look in the nation's capital.
Sports betting will first come as a mobile application and eventually will be available at kiosks that will be located in bars, restaurants, and sporting venues.
Sports Betting in Illinois
Illinois expanded gambling and added sports betting like many other states, however few other states did so in such an aggressive manner. The Illinois state government not only approved sports betting at the state's casinos, it also paved the way for online betting. On top of all of this, lawmakers allowed for the creation of six new casinos, including one to be located in the Chicago area. Finally, the state also allowed for its three racetracks to offer sports betting.
Mobile betting will be available, but it will feature one interesting caveat. State law will mandate that deposits into online sports betting accounts must be executed in-person in Illinois. The bill allowing for sports betting in Illinois was comprehensive, to say the least, so it will be interesting to see how the industry there compares with those in states like New Jersey and Delaware.
Sports Betting in Indiana
Indiana's path to legalizing sports betting took more of a straightforward route and after a bill passed through both the house and senate without too much trouble, it was quickly signed into law. As far as the structure of sports betting in Indiana is concerned, it will look a lot like Pennsylvania and New Jersey. Licensed casinos, racetracks, and off-track betting locations will accept in-person wagers and mobile sports betting will follow soon after.
There are more than 10 casinos and plenty of racetracks and off-track facilities, so folks from Indiana will have no shortage of locations to place sports bets prior to mobile betting going live.
Sports Betting in Iowa
It took Iowa almost exactly one year to legalize sports betting in the wake of PASPA being done away with, but the Hawkeye state left no stones unturned. As you might expect, the state's more than 20 casinos will be able to apply for a sports betting operator's license for both in-person and online wagering.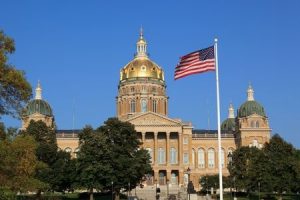 A facet of the Iowa sports betting law worth noting is that while mobile betting is available, a prospective bettor will have to verify that they are at least 21 years of age in-person at a physical, licensed betting facility.
Sports Betting in Montana
Montana is one of the largest states but is also one of the least populated. As a result, the governor signed legislation into law that would allow the state's lottery to offer mobile betting. This setup is similar to Washington DC in that there will be only one mobile operator, rather than a selection of them. There was a push to have sports betting available in bars, but the governor vetoed that bill.
Sports Betting in New Hampshire
It took until July of 2019, but New Hampshire legalized sports betting for both in-person and mobile betting. Unlike Montana, for example, New Hampshire will allow for up to five different mobile sports betting operators, all of which will be regulated by the state's lottery. There will be 10 brick and mortar sports betting licenses administered, and this is worth noting because the mobile and in-person betting licenses do not have to be associated with one another. In other states, we encounter situations where only licensed brick and mortar betting locations are allowed to apply for mobile operator licenses.
Another very important note as it relates to sports betting in New Hampshire is that the legal minimum age is only 18. In most other states, sports bettors must be at least 21 years of age.
Sports Betting in Tennessee
The fact that Tennessee has never been particularly friendly to sports betting—or any other type of gambling—is what makes their making sports betting legal so surprising. Tennessee is a lot like Washington DC in that there currently exist no physical locations where betting can take place. As a result, the state passed legislation that would allow for mobile wagering only. Tennessee left the door open as it relates to the number of licenses for mobile sportsbook operators because they did not put a cap like we have seen elsewhere. The legal betting age is 21, however there are no specific regulations surrounding how one will have to verify their age.
Sports Betting in New Mexico
New Mexico is an interesting state when it comes to sports betting because there is only one location that currently offers it. On its face, this may not seem too interesting, but it raises a few eyebrows once you realize that there are other locations that are able to apply for a sports betting license, however they have not done so.
Looking Into the Future
In a matter of no time, the US went from having a single state where sports betting was legal to having more than a dozen. As we look into the future, it can be said without a shadow of a doubt that more and more states will make the decisions to approve sports betting legislation. Between the tax money that can be created, the will of the people, and multiple other state-level factors, it seems as though it is an increasingly losing proposition for a state to not offer sports betting to some degree.
For the states that have approved limited sports betting, such as in-person betting only, we highly anticipate that the scope of legalized betting will expand. Mobile betting is increasingly being viewed as the most popular and convenient way to place wagers, so it goes without saying that mobile betting is going to increasingly push its way into center stage.
Click Here for Our TOP 2023 USA Sports Betting Site!