Though there were other states considered to be front-runners, Tennessee has legalized sports betting, albeit in unusual fashion. SB 16 passed through the Tennessee Senate, and will become law July 1 st , even without the governor's signature. Tennessee's governor, Bill Lee, has always opposed gambling but his spokesperson confirmed that he will not veto the bill. There was a good bit of opposition from both sides of the aisle, primarily because sports betting will take place solely online. At this current juncture, almost every form of gambling is illegal in Tennessee. By virtue of that, this decision could not come as more of a surprise to some.
Even stranger is that, of the few states that have legal sports betting, Tennessee will only facilitate betting online. There is virtually zero gambling/casino infrastructure in the state, so the only viable way
to make sports betting attractive from a tax revenue perspective is to offer sports betting in, quite literally, every inch of Tennessee land.
How It Happened
SB 16 was the brainchild of two Senators from different parts of the state and from across the aisle. Steve Dicerson, a Republican from Nashville, teamed up with Rick Staples, a Democrat from Knoxville, and introduced the bill that did not pass with any sort of ease. In the Tennessee House of Representatives, the bill passed by a vote of 58-37, while the Senate vote was even tighter, at 19-12.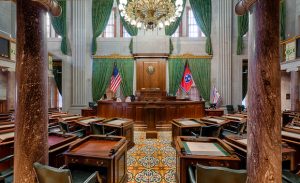 There was a lot of debate—perhaps even more than we have seen in other states—because the bill was exclusively for online sports betting. The main point from opponents was that the fact that mobile betting can take place from literally anywhere, gambling addictions will be created and exacerbated more easily than they are in states where one has to travel to a physical location in order to place wagers. Despite this opposition, the estimates of more than $50 million in tax revenue seemed to be more than enough to convince most Representatives and Senators to vote in favor of the bill.
As it stands, online sports bets can begin being placed in Tennessee on July 1st . You must be 21 in order to place wagers, however there is not much known at this time how that age requirement is going to be enforced.
Competing Against No One
This bill might have seemed a bit rushed, and part of that was by design. Tennessee has only one neighbor (Mississippi) that has legalized sports betting, so the thought is that a lot of out of state money might come into play, further boosting projected tax revenues. This means that, of the 8 states that directly border Tennessee, 7 of them are without legal sports betting options.
It may come off as a bit far-fetched to expect people to drive across state lines simply to place sports bets, but it may very well influence a sports bettor who is deciding between, for example, a trip to Nashville or a trip to Atlanta, where sports betting is not legal. At the end of the day, any tax revenue created from out of state bettors is more than what is currently being banked, and that alone is a major part of the reason Senators and Representatives voted in favor of the bill.
What's more, tax revenue from the legalization of sports betting will be set aside for the state's education system, which is amongst the worst in the country.
The legalization of sports betting is a trend that seems to be catching on in every state. Not only are there no less than 10 other states considering making the move, Indiana, just this week, also legalized sports betting.