Open since 1999, Rampart Casino is a local casino way out in Summerlin. It is about a 25-minute drive northwest of the strip and is next to the Suncoast casino. The casino belongs to the JW Marriott Las Vegas Resort, and the hotel is uniquely separated from it by a short walk. Rampart is very much a par casino. Nothing especially thrilling or disappointing, but its redone sportsbook is among its most impressive features.
Rampart Sportsbook
The non-smoking sportsbook is built horizontally. Most of the seating is the racebook style desk seats with their own TV, but the main TVs are divided equally between sports and horse racing. The sports side has six large TVs plus a giant screen, while the racebook has five large screens plus a giant screen.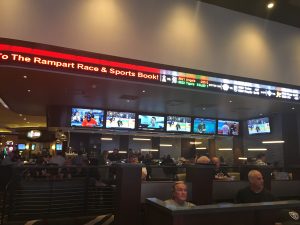 There are a few more TVs on the wall on the far left, and there are nine other TVs directly behind the cashier below the book's main screens. We weren't blown away by the picture quality, but it suffices as did the sound for the main game.
Since this is a local casino that can't easily exploit tourist strip bettors, you will find better lines on all the daily games as well as futures. We don't expect this sportsbook to be jumping every night, but it's well done enough now that it should always be somewhat active.
Size and Location
When assessing a sportsbook's quality, smaller doesn't necessarily mean worse. The Rampart sportsbook is by no means small, but it probably couldn't comfortably hold more than 100 people. As mentioned, the desk row seating makes up most of its capacity. Each seat has a leather swivel chair, and there are over 50 of them divided into four rows. There is also a counter row with additional seating at the very back. The sportsbook side has very wide and comfortable leather club chairs in rows of 2×6, and behind those are additional tables, high tables, and chairs.
The sportsbook is towards the back of the casino right near the Promenade Café, buffet, and a bathroom. Since the gaming floor isn't right near it, you won't be bothered by overhearing the chirping sound of slots.
Traffic and Viewing Ability
You'll be able to see every main TV with no distraction from most seats. Only if you are all the way in the corner of the racebook would it be hard to see any of the sports TVs. The view of the betting board has no obstructions. It is large and wisely located on the left at an angle allowing it to always be easily seen. Since there isn't a ton of seating, there is room to walk around without causing a nuisance to anybody.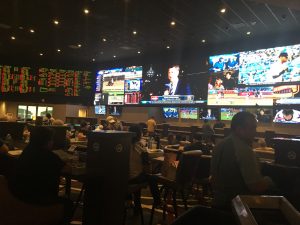 There are always enough cashiers, but if you would rather not wait on line, get up at all, or if you just want to be able to bet away from the sportsbook you can always open an account for free right inside Rampart and download the Nevada Sports Betting app. The app allows access to all the lines and also only has a $2 minimum bet, although the maximum bet is also substantially lower.
Live betting, which is betting on games after they have begun is hard to come by at Rampart. It isn't on the app, and the only options ever available over the counter would be for either a championship game or if the Vegas Golden Knights are playing.
Drinks at Rampart Sportsbook
Drinks are no longer a free handout at sportsbooks, now you have to bet in order to obtain a ticket. Rampart require $20 for sports or $10 on horses. Many strip sportsbooks also charge $10 or more on horses, but the $20 for sports is nothing compared to what it costs on the strip. Drink tickets are just a throw-in at this point, but since Rampart is a local casino it should be laid back enough that charming your way into an extra ticket or two shouldn't require you bend over backward.
Casino at Rampart
The gaming floor is a little smoky. It's not the biggest casino around either, but there are plenty of slots that are either new and old and there is a ton of video poker. Rampart has all the normal table games, baccarat, and a handful of other mixed games. Most of them are offered at a $5 minimum, and roulette can be played for just $2.50 a spin.
Dining and Bars
A sportsbook cannot be complete without having both food and drink at close range. If you don't want to bet on the game in order to drink, you can always play video poker and there's a solid video poker bar right behind the sportsbook. Not all of the seats can see inside, but there are a bunch of TVs there too in case you can't.
There is no food option nearby enough that you don't have to leave the sportsbook, but there are several and they are all close by with the Clubhouse Deli being your best option.
Other drink spots around Rampart are the 24/7 Round Bar and Addison's Lounge, both of which have live entertainment every Friday and Saturday night. If you want fine dining, the two choices are The Hawthorn Grill and Spiedini.
Hotel at Rampart
The JW Marriott Las Vegas Resort has close to 500 rooms and is beautiful, complete with a spa and golf course. The standard rooms begin at 560 square feet and have either a scenic view or balcony. Suites start at 845 square feet and get over 1,000 with its Penthouse Suites reaching close to 2,000.
Rampart Sportsbook Rewards
The rewards you earn inside of a sportsbook are never going to be juicy. You receive $1 back towards for every $200 you bet on a parlay (0.50%), and $1 for every $400 you make in straight bets (0.25%). The racebook is always a little more generous, giving back $1 for every $40 you bet (2.5%). But regardless of the rewards, swipe your player's card whenever you bet anyway because this tracks a history of your bet, preventing you from being screwed if you somehow misplace a winning ticket.
Wrap-Up
Overall, we were very pleased with our Rampart sportsbook visit. It had a lot of hype and it lived up to it because its whole design was so sensibly simple. There aren't any obstructions of the TVs which there are enough of and are large. You don't have to turn around to see the betting board. All the seating is comfortable. Video poker and food is right there, smoking is prohibited, and there are no outside distractions from the casino. It very quietly gives you everything you want and nothing you don't want. Our only gripe is the app doesn't currently have live betting.
Current 2020 Sports Betting Grade: A-
Click Here for Our TOP 2023 USA Sports Betting Site!