One of Boyd Gaming's newer properties, Eastside Cannery opened in 2008. It is located way out in east Las Vegas on Boulder Highway, and neighbors with Arizona Charlie's and Sam's Town. It was disappointingly depressing for a relatively new venue. We realize its business is going to come from locals and out-of-towners from nearby states, but this part of town just is what it is, and it's a little ghetto.
Eastside Cannery Sportsbook
The sportsbook doesn't add much. It tailors more to those just want to drop in, bet, and leave. There are no TVs by the cashier, and they don't take any action on horse racing. If you are interested in live betting, which is betting on games while they're in progress, you might find a few options at the cashier, but there will be more on the Boyd Gaming sports betting app. Creating an account and downloading the app is free, but this app offers fewer options for live betting than other sports betting apps.
Size and Location
It seems like there used to be some TVs by the sportsbook's cashier because there are a couple desk rows to sit at, but there's nothing to watch. Next to the cashier is a large seating area that holds at least 100 people. There are two giant projector screens with lots of booths, along with many round tables and chairs. There is also a dance floor and a stage, so it's possible you can't watch the games at all on nights there is live entertainment.
Traffic and Viewing Ability
The projector screens are plenty visible, but the sound and picture quality are worse than we would have thought. Since the projectors are separate from the cashier, you cannot look at any of the lines during the game.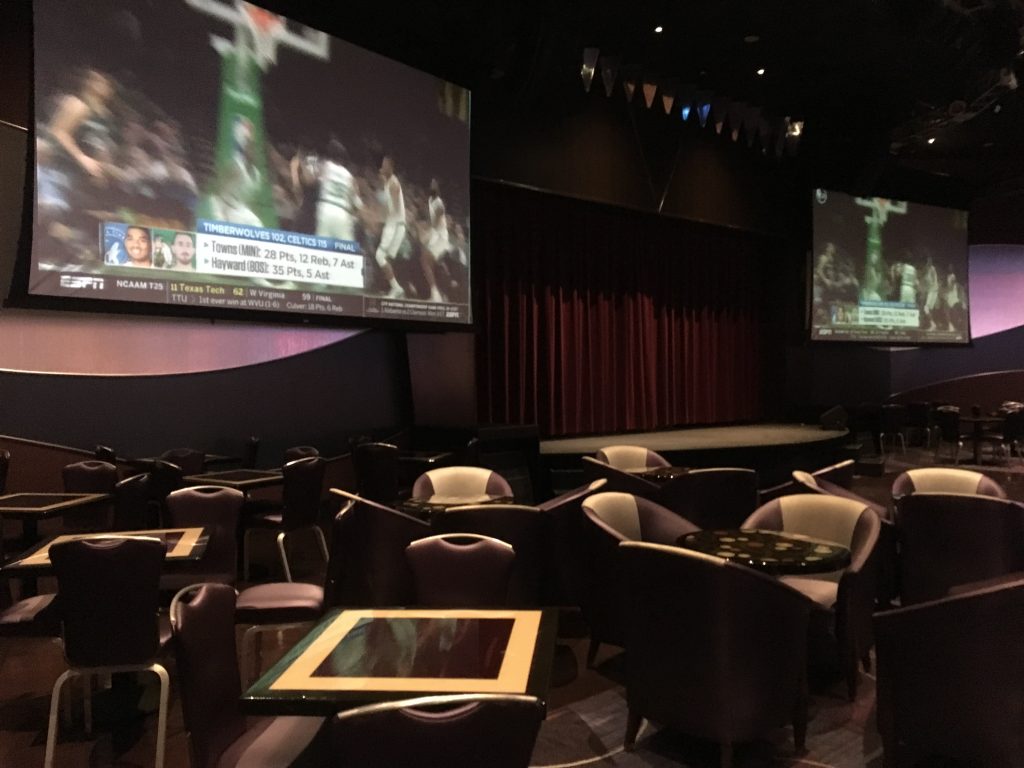 This isn't really a sportsbook seating area. It's more like a place to watch a game when the area is not already in use. Hardly anyone is going to be in there. The only times where it could be busy is when there is a huge game on. Like a Game 7 or the Super Bowl.
Drinks at Eastside Cannery Sportsbook
Despite this sportsbook is barely a sportsbook at all, you can still get a drink ticket. $20 is the minimum bet requirement, but we got the impression they would be flexible. If you only bet $10, you can probably still talk yourself into getting a ticket.
Casino at Eastside Cannery
The casino offers the standard table games like roulette, craps, and blackjack, all of which allow you to play for cheap. There is Free Bet Blackjack and regular blackjack for $3. Craps also goes for $3 offering 10x odds, and roulette is $5. The mixed game variety was scarce, but we did see Pai Gow Poker and The Big Wheel.
Dining and Bars
Snaps and the Sam's Town Sports Deli would are your two ideal food options, but neither are close to the sportsbook. Snaps is open 24/7. They offer breakfast, American, and Asian food. If you want something a little fancier, the lone option is Sam's Town Angry Butcher.
The seating area is right behind a large video poker bar. The bar was not especially conducive to seeing the projector screens, but there were a couple TVs at the bar.
Hotel at Eastside Cannery
The hotel has over 300 rooms. It is typically priced in the $50 range during the week and over $100 on the weekend. Being a new hotel, it offers the standard creature comforts for its standard room and 600 square foot Petite Suite. Other amenities are the resort pool, fitness center, and scooter rentals are also available.
Eastside Cannery Sportsbook Rewards
Rewards for using your player's card are all but non-existent. You need 20 points before you can use comps towards anything, and 20 points equates to $5. To earn one point, you must accumulate $2,500 in sports wagers.
No one bets sports to rack up their rewards. The only reason to bring your player's card with you is to track your bet. Meaning if you misplace a winning ticket, you'll still get your payout.
Wrap-Up
If you want to watch any game besides a really big one, there is nothing for you to do here. Eastside Cannery takes the action, but they don't provide much otherwise. They have a nice seating area for watching the big games, but even that's not going to be available all the time. Use this book as a drop-in only.
Current 2020 Sports Betting Grade: N/A

Click Here for Our TOP 2023 USA Sports Betting Site!