The passing of sports betting legislation by the US Supreme court was met with varied responses from states across the country. New Mexico, however, may have had the most unique approach of any territory with brick and mortar casinos.
Santa Ana Star Sportsbook Review
It is important to first understand that New Mexico is a state with a very large number of casinos, a number that is even more significant when considering its relatively small population. With near 30 casinos and only a few million total residents, the state of NM has the highest ratio of residents to casinos of any state in the US.
New Mexico Adds Sports Betting
Since New Mexico primarily offers typical, Las Vegas-style casinos, it would have been easy for the properties to add sports betting at any point in time. Like every other state in the United States, including New Jersey and Pennsylvania, NM waited for the legal landscape to change.
Once the Supreme Court effectively made it legal for all states to offer sports betting, New Mexico did not introduce bills or legislation like most other states did. Instead, one casino, Santa Ana Star located near Albuquerque, simply set up a sports book a few months after the legislation was passed down, and opened their doors for betting by mid-October 2018.
The reason that New Mexico was able to offer sports betting without even state level authorization is found in the gaming agreement that the tribes have with the state. Since sports betting wasn't listed as a negotiable item, it fell under Class III gaming, which means that it was able to be offered on tribal property and that there was nothing the state's government could do to stop them.
Where Can You Bet Sports in New Mexico
For a while, only one location in the entire state of New Mexico actively offered sports betting. This was interesting because the other casinos in the state were, technically, allowed to offer sports wagering as well. More operators have since entered the market, and the overall landscape is constantly changing.
The consensus is that the operational requirements and relatively low profit margin on bookmaking do not make betting on sports a particularly appealing endeavor for the NM casino operators.
Unique Sports Betting in New Mexico
There are a few more unique elements in play with sports betting in New Mexico itself. First, though it does not necessarily impact players, it is worth noting that the addition of sports betting does not actually generate direct tax dollars for the state. With that said, this lack of tax revenue also means that there is less oversight or input from the state when it comes to rules and regulations. Again, as a sports bettor, the impact is minimal, but is still worth knowing.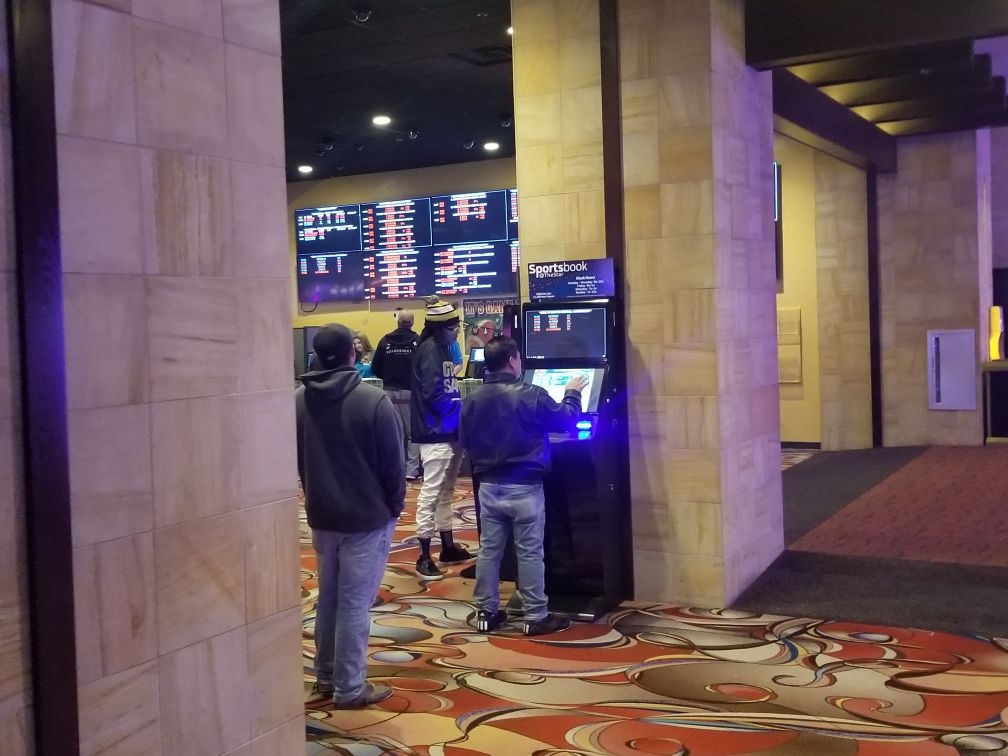 Next, while some casinos (like Caesars Entertainment and the Celtics or Golden Nugget and the Rockets), do not offer bets on certain teams due to ownership or affiliation, New Mexico has so far disallowed wagers on the state's large college sports programs. While the publicly cited reason for this is simply because it is a bad idea presumably due to corruption, or the threat thereof, the reality is likely different. The more probable reason for disallowing NM college team wagering is because the house does not have the volume required to balance out their action.
If bets were allowed, it is safe to assume that the money would be almost entirely on the New Mexico home team, and the sportsbooks do not want to put themselves at that level of liability. This information has not been affirmatively cited, but is a reasonable assumption that can be made when you read between the lines.
Bettors at New Mexico sportsbooks have the option to place wagers at a self-serve kiosk in addition to using the traditional betting window. If you place a bet at a kiosk, you may have different availability in terms of games and amounts that can be wagered. For those bets, your best option is to speak to a clerk at the window.
Types of Sports Bets in New Mexico
Every common type of bet can be made in New Mexico, and they can be placed on every league and event that you would be able to wager on anywhere else. Moneyline, ATS (against the spread), Over/Under, Parlays and so on.
The amounts that players are allowed to wager in New Mexico would be seen as relatively low and restricted by bettors who are accustomed to the virtually limitless amounts offered by Las Vegas casinos. This is a direct result of the lack of volume and liquidity in the market. For example, as a general rule, any wager over even a few thousand dollars would be virtually impossible to place, even with approvals.
The lack of competition of varied options for sports betting in New Mexico makes it hard to discuss the state's bookmaking industry as a whole, since the reality is that the entire market exists within one casino alone.
New Mexico Mobile Sports Betting
There is no option for remote, mobile sports betting in New Mexico. Bettors cannot bet on games with their phones, mobile devices, computers or otherwise. The only option is to physically visit the casino and place a bet with actual cash.
Not only is there no mobile sportsbooks in NM, but there has not even been a real discussion or announced set of plans as it relates to the future of online sports betting within the state. It is reasonable to conclude that the state would eventually add mobile betting, but given the somewhat low volume, they may see the actual book as a means for increasing foot traffic to the casino itself, and in turn boosting gaming revenue from table games and slots.
NM Sportsbook Operators
Since there is only one casino in New Mexico with sportsbook, it goes without saying that there is also only one bookmaker. The actual operations can be outsourced, just as they are even at many Las Vegas casinos.
USBookmaking is the only operator in NM. The company is in place in order to allow the casino to offer sports betting while not needing to learn the ropes or provide the technology required for efficient bookmaking. If the casinos do not outsource there operations to a company who specializes in bookmaking, they will leave themselves vulnerable to the many nuances of sports betting, be it betting limits, line prices, and so on.
Rules and Alcohol at New Mexico Sportsbooks
Unfortunately for sports bettors, the sportsbooks in NM must adhere to the same rules as the casinos as a whole when it comes to alcoholic drinks. Not only can drinks not be comped regardless of bet size or player status, but the alcohol sold at the casino can not be consumed on the floor or sportsbook, but instead only in the bar or restaurant where it is ordered.
Do not expect the rules regarding alcohol at New Mexico casinos and sportsbooks to change any time soon, if ever.
In order to bet on sports, prospective bettors must be the same age as required to play on the greater gaming floor, which is the customary 21 years old.
For the most part, there are not any particularly poor rules or regulations that will impact the majority of sports bettors in New Mexico.