Located downtown, California (The Cal) is one block north of Fremont Street, the central part of the old Las Vegas. It is connected to Main Street Station, they're across the street neighbor, via an enclosed bridge. Main Street Station (which is not part of Station Casinos) does not have a sportsbook. The Cal is owned by Boyd Gaming and uses a theme of Hawaii. Its last renovations were in 2006. They've now got themselves a decent little sportsbook, but it falls short in a few too many areas.
California Sportsbook
We liked how this sportsbook was designed, although immediately there are a few drawbacks. There is no racebook and it is not off the beaten path like sportsbooks tend to be. It is right in the middle of the casino, allowing outside noise to be overheard rather easily. The sportsbook is built horizontally, and TVs are displayed like a bracket on your keyboard.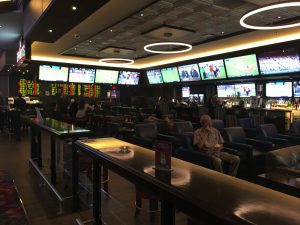 The left side of the sportsbook is like the bottom part of the bracket. Right above the small cashier is four TVs. In the longer part of the bracket, perpendicularly are six additional TVs that sit above the video poker bar and are faced by counter stool seating. There are also TVs if you are sitting at the bar. On the right side of the sportsbook, which is like the top of the bracket are eight chairs and two couches facing five TVs. And in between both sides are some additional tables and chairs that require a two drink minimum. This isn't a VIP section but is the closest thing to it.
The daily betting lines won't be drastically different than any other sportsbook. In addition to the betting board, pamphlets are also available by the cashier showing those, futures lines, upcoming events, and any props that might be going. Though this is a downtown book, its futures lines won't be any juicier, like an independently run downtown sportsbook might be since it is owned by Boyd Gaming.
Size and Location
Compared to the strip, it's a small sportsbook. Compared to downtown it's about average. If more than 40 people showed up it would start to get uncomfortable. The sportsbook is a short walk from the Ogden Avenue entrance, and right near the escalator that connects to the Main Street Station walkway.
Traffic and Viewing Ability
The majority of the patrons we figure will be locals with a mix of tourists. Since there's enough comfortable seating and you can't smoke, this sportsbook should never be empty. However, given where it's located we don't expect it to fill up. Maybe if there's a huge event going on, but even that's not a guarantee.
The TVs were as big as they needed to be with good picture and sound, and the unique seating style made everything easy to see. There is one central betting board behind the cashier. The letters are small and only somewhat readable. If you are sitting on the right side of the book your back will be to the betting board.
This might provide some incentive to open an account so that you may download the Boyd Gaming sports betting app. Getting an account started is done right inside the sportsbook. The process is fast and free, and after you're done you'll have access to every line. Betting limits substantially change, but you'll also have live betting available for select games. Live betting is betting on games after they've begun. For example, if a Game 7 of an NBA playoff series was going, a new line would be posted during a commercial break.
Drinks at California Sportsbook
The biggest letdown was the drink policy. The days of free drinks have come and gone. Fine, we accept that. But unlike almost every other sportsbook does, The Cal sportsbook doesn't give you a drink ticket no matter how much you bet. The video poker bar partially makes up for this as this is a common way to play for comped drinks, but that's an inherent distraction and there are only a few TVs to look at anyway.
Casino at California
The gaming floor is nothing spectacular, but it has plenty of slots and all the standard table games with a friendly minimum bet of $5. The Cal emphasizes Keno. Keno games are broadcast from your hotel TV, and invitational tournaments are held throughout the year for their rated players.
Dining and Bars
In addition to the video poker bar, the main bar at The Cal is Holo Holo which serves Hawaiian themed cocktails. Food wise, there is nothing you can go to without leaving the sportsbook. Some of its options are the 24/7 Market Street Café, California Noodle House, or the Lappert's Ice Cream Shop.
Hotel at California
The hotel has close to 800 rooms and offers shuttle service to Sam's Town which is in Henderson, and from Sam's Town to the Las Vegas strip. Considering rooms start at only 284 square feet, and that its suite is only 360 square feet, this hotel is not consistently as inexpensive as it seems it should be. Amenities include a rooftop pool and fitness center.
California Sportsbook Rewards
There are no rewards to be accumulated by betting sports at The Cal, but this is not as bad as it sounds.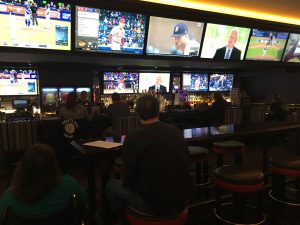 No sportsbook gives you anything that generous, and most of them reward so little they might as well amount to nothing. Nevertheless, we still think it's wise to swipe your card every time you bet because this provides protection. Meaning if you misplace a winning ticket you will still be paid out.
Wrap-Up
The pros are solid but the cons stink. It looks like a really nice to place to watch a game and we like that there's a bar inside with clean air. But there's nothing to eat, no drink tickets, it's hard to read the betting board, and overhearing the slots is annoying. Probably worth it to go somewhere else.
Current 2020 Sports Betting Grade: C+
Click Here for Our TOP 2023 USA Sports Betting Site!