Located miles from the strip in east Las Vegas, Boulder Station opened in 1994, making it one of the oldest Station Casino properties. It has been renovated a number of times, and currently presents a very modern and quality locals casino. This part of Las Vegas is home to some funny characters so be mindful of that, but regardless of whatever funky company you encounter, you'll certainly be able to relax in the sportsbook.
Boulder Station Sportsbook
We didn't know if we could count on much from an older property that isn't heralded as anything spectacular; but this large sportsbook, though a little smoky, was solid.
The sports and racebook are kept separate, however there are some sports TVs in the racebook. The picture quality was fine, but the sound quality was just okay.
You can follow all the sportsbook and racebook action wherever you are by creating an account for free, and downloading the Station Casinos betting app. However, if planning to bet in both books, you'll need to create two accounts.
The Station Casinos app now allows you to link your bank account, which is a nice luxury in case you don't feel like making a special trip to the sportsbook.
Size and Location
You can comfortably fit a lot of people in here. The sportsbook features numerous types of seating, beginning with three rows of 45 premium leather club chairs with armrests and cupholders. Behind them are many more high tables and chairs that are also leather.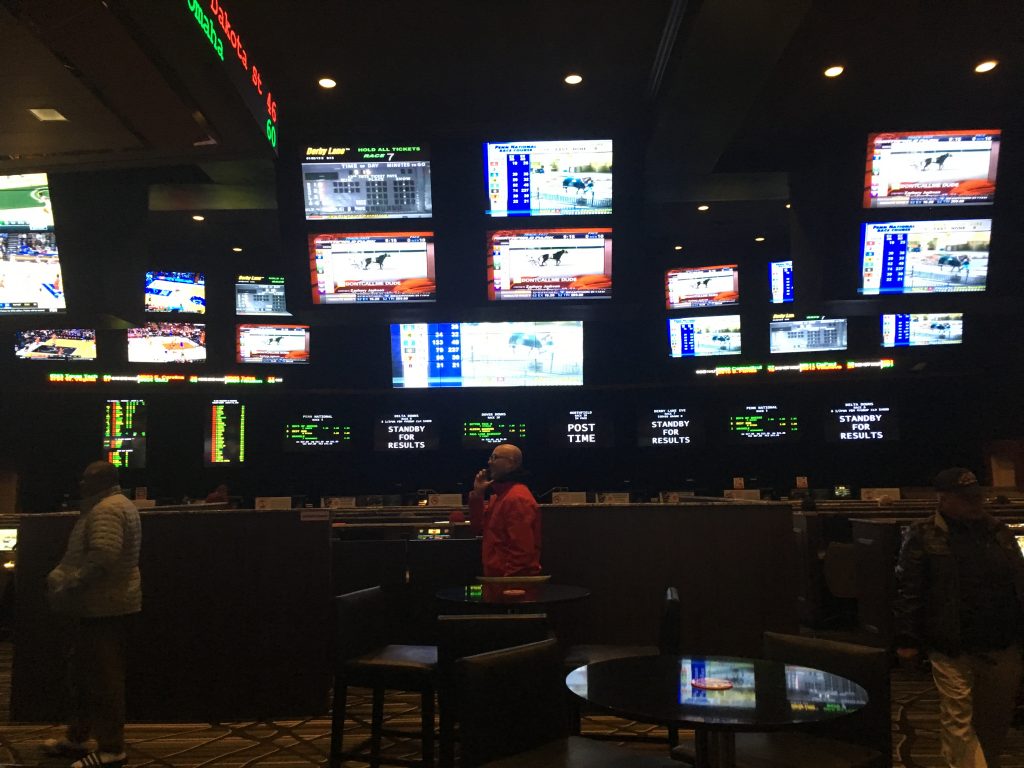 The racebook has the typical desk row seating where every seat has its own small TV, however, Boulder Station has upgraded to granite countertops. There are four rows seating over 100 people. There is a VIP section in the back, but the sportsbook does not have VIP. Behind all the desk row seating, the racebook also has a lot of tables and chairs like those in the sportsbook.
The sportsbook has 16 small TVs plus a giant screen. The racebook has 12 TVs plus a big screen behind the cashier, and they also have a second row of eight TVs hanging down for those sitting far away.
The sportsbook is located next to the poker room, and there is a Burger King right outside the sportsbook. It's not exactly tucked away like many sportsbooks are. The slot machines aren't too far, but the chirping you overhear isn't especially annoying.
Traffic and Viewing Ability
If you build it, they will come. Boulder Station won't be too packed each night during the week, but we expect it to get busy when big games are on because it's a comfortable and large sportsbook. Every view of the TVs is unobstructed, although there is the drawback that it's pretty hard to watch both books at the same time.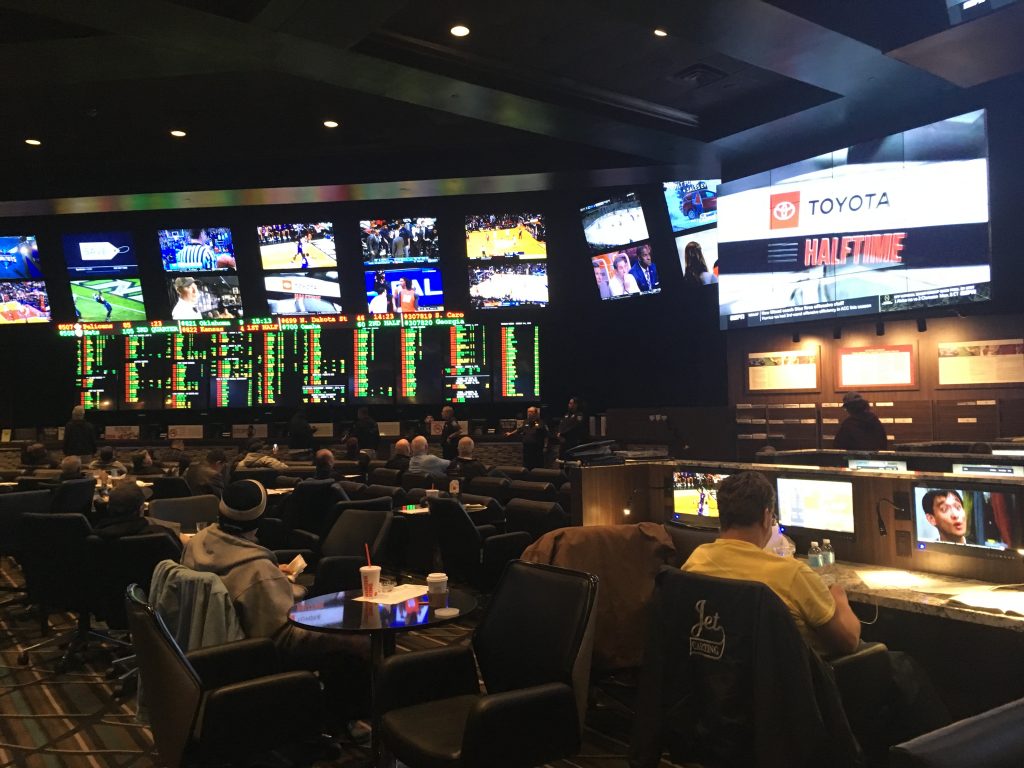 The other drawback is the sportsbook betting board. It's properly placed behind the cashier, and it's visible from everywhere, but the lettering is a little small. It's not too bad, but it's a little too tough to read from only relatively far away, and we consider it a significant nuisance if you have to get up or even squint just to read the line. The lettering is obviously going to have to look small at some point, but we feel it's too close.
Drinks at Boulder Station Sportsbook
With free drinks in the sportsbook being gone with the wind, now it's about who gives the best deals on drink tickets. Whether you're betting horses or sports, it's $20 in bets per drink ticket. $20 is the standard for an off strip sportsbook, but it being cheaper for a drink ticket at the racebook is the standard almost everywhere because the racebook has a greater edge. The most lenient sportsbooks will give you a drink ticket if you make a bet at all. Now that's more like it. You can probably talk your way into getting more tickets, but we're not happy with the $20 minimum for everything.
Casino at Boulder Station
A lot of gambling tourists like to do it for cheap, and $10 isn't bad, but they would really like it if they could find $5. You can at Boulder Station, and probably every off strip casino. In addition to paying 3/2 on blackjack, Boulder Station also has Sngle Deck Blackjack, Free Bet Blackjack, and 10x odds on craps.
To play roulette, it's only $3. And they have a solid mixed game variety as well. High Card Flush, Pai Gow Poker, 3 Card Poker, and Ultimate Texas Hold'em, all with $5 minimums.
Dining and Bars
Video poker bars go very well with being near the sportsbook. That way bettors and non-bettors have another way to get comped drinks while they watch the game. There is a video poker bar in the back of the sportsbook. Not every seat faces the book, but it plenty of its own TVs.
We mentioned the Burger King that was right outside the sportsbook, but that's the only food spot immediately nearby. There is a food court, you just have to walk a distance to get to it.
Hotel at Boulder Station
The modernized hotel has 300 rooms, and generous promotional discounts are given to those who book at least three weeks in advance, or are from California, Utah, or Arizona. Family discount packages are also available.
During the week, room rates tend to stay in the $30-$50 range before double or tripling on the weekends, plus the ever infamous $22.59 daily resort fee.

Boulder Station Sportsbook Rewards
Rewards points accumulate very slowly in the sportsbook, and a little faster in the racebook. For every $1 you bet in the sportsbook earns you 1 tier credit, and in racebook $1 earns 20 credits. You can use your comps towards food and/or your room. The other advantage, and frankly, the most meaningful advantage to swiping your card in the sportsbook is providing your bet protection. It'll be tracked, guaranteeing you still get paid even if you somehow lose a winning ticket.
Wrap-Up
We liked it here and think most people would. If we could perfect a few things, we would have both books be visible, lower the minimum bet to get drink tickets for horse players, have more food options right nearby, make the betting board lettering a little larger, and freshen up the air a little bit. It's hard to say how regularly the sportsbook will carry at least a faint smell of smoke, but it's safe to guess more often than not, and for some people that's a deal breaker.
Current 2020 Sports Betting Grade: B+

Click Here for Our TOP 2023 USA Sports Betting Site!