Formerly a Station Casinos' property, Aliante is now run by Boyd Gaming. Having been open only since 2008, it remains as one of the newest properties in all of Las Vegas. It is located well up in North Las Vegas, over 20 miles from the central part of Las Vegas Blvd. It'll serve mostly as a local's casino, but if you went there just for the sportsbook it would be worth it. Theirs is one of the best in town.
Aliante Sportsbook
Since this is a Boyd Gaming property, Aliante's betting lines can also be accessed on the B Connected sports betting app. To use the app, all you have to do is create an account which you can do right inside the sportsbook, and this is a fast and free process. Like all the apps, the betting limits are substantially less than what you can do in person, and particularly on the B Connected app. However, the B Connected app does offer some live betting options which the Aliante sportsbook does not. Live betting is betting on games while they are in progress. Most sportsbooks either do not have this, or they only offer it on select games.
Size and Location
Regardless of where you park, you'll have to walk a little bit to reach this darkly lit and huge sportsbook. Altogether, seating will hold close to 200 people. On the far right side of the book are seven rows of 40 premium leather club chairs. The rest of the seating is made up of the traditional desk rows that you see in racebooks. Each seat has its own TV, and there are 144 seats spread out in six rows of 24.
Traffic and Viewing Ability
The TVs are high-quality and displayed symmetrically for the race and sportsbook alike. There is one enormous screen in the center, and there are six more big screens on each side of it. Six show sports, and the other six show horse racing. The sound and picture quality are both great, and you can't really overhear any outside casino floor noise.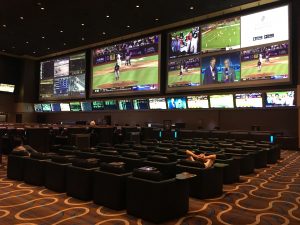 Below the giant and big screen are 12 more medium-sized TVs, and there are four more small screens on each of the side walls. As it usually does, the right side of the book shows sports and the left has the ponies.
The only drawback was the view of the betting board. Rather than have at all times a nice large board to easily see either directly behind the cashier or on the side wall, lines were posted only on a few of the smaller TVs below the big screens. However, we did show up at the end of the day when nothing new was about to start anyway. During the day, when there are still plenty of games getting ready to start, the board is shown on some of the giant screen space.
Since this beautiful sportsbook is still relatively new and there aren't other local casinos right around the corner from it, we expect it to be active every day, and at capacity during the busiest times of the year which are football season and March Madness.
Drinks at Aliante Sportsbook
Alcohol hasn't been a sportsbook giveaway for a few years now, and that policy is here to stay. Drink tickets can only be acquired when you make a bet. You have to bet $25 on sports and $20 on the horses. $25 is cheap for sports (although most local books only ask for $20), but $20 for the horses is actually pretty high. The racebook has a much greater edge and at a lot of local casinos the minimum is $5 or less.
We don't know why Aliante's is so high but depending on who's working that day and how nice you are, these policies aren't necessarily strictly enforced. Get some rapport going with either the cashiers or the cocktail servers and getting yourself some extra drinks shouldn't be too difficult.
Casino at Aliante
Aliante has a nice spacious gaming floor with a solid variety of table games. The most obscure game we saw was Wild 5 Poker. Others were High Card Flush, Ultimate Texas Hold'em (Progressive), Pai Gow Poker, and 3 Card Poker. Odds were 10x on craps with only a $5 minimum. And $5 minimums were also offered for roulette and Blackjack which pays 3-2. If you want single deck blackjack, they have it, but the minimum is $10 and blackjack only pays 6-5.
Dining and Bars
Not every casual drinking sports fan needs to bet, so the next best option is having a nearby video poker bar. Right behind the sportsbook is a really big video poker bar and lounge. It has plenty of tables and chairs, and there are lots of TVs all throughout the bar as well.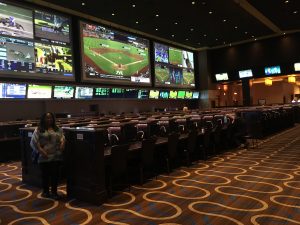 There are no food options in or immediately next to the sportsbook, but there is a large food court only a short walk away. If you want something more exquisite, Aliante's top two choices are its Italian restaurant called Bistro 57, or MRKT for steak and seafood.
Hotel at Aliante
Considering the resort fee is only $24.99 + tax a night, the hotel is of substantial value. Amenities include a full service spa, pool, and fitness center. The rooms are all very modern and start at 400 square feet, with their most luxurious suite getting up to 1,500 square feet. Discounts are given to those who served in the military, and during the week, the nightly rates are usually under $100 for the standard rooms.
Aliante Sportsbook Rewards
We have yet to see a race and sportsbook that tries to stand out by offering generous comps. For most bettors, the biggest advantage to swiping your card is for protection. In the event a winning ticket falls out of your pocket, your tracked bet allows you to be paid out anyway.
In the sportsbook, for every dollar you bet you earn one point, and 1,000 points equals a dollar. If betting horses, 2% of your total wagered amounts goes towards comps. So if you spread out $1,600, you will have $32 in comps.
Wrap-Up
Most North Las Vegas sportsbooks are not going to be anything exceptional, but Aliante's is far greater than most of what you will find on the strip. It is modern and aesthetically pleasing in all facets. The only real issue was the excessive minimum bet requirement for horse players to acquire drink tickets. Otherwise it's awesome here. It's pretty far out of the way for a tourist, but if you want something great and that is also away from all the strip madness, Aliante's sportsbook is the perfect solution.
Current 2020 Sports Betting Grade: A
Click Here for Our TOP 2023 USA Sports Betting Site!