Reno sportsbooks have benefited from being located in the great state of Nevada ever since it became the first state to legalize sports betting in the year 1949. Even though many other states have joined the sports betting industry over the last 70 years, Reno still remains a very popular destination for those who are looking to make some wagers on their favorite sports and it is located less than 500 miles away from the gambling mecca known as Las Vegas.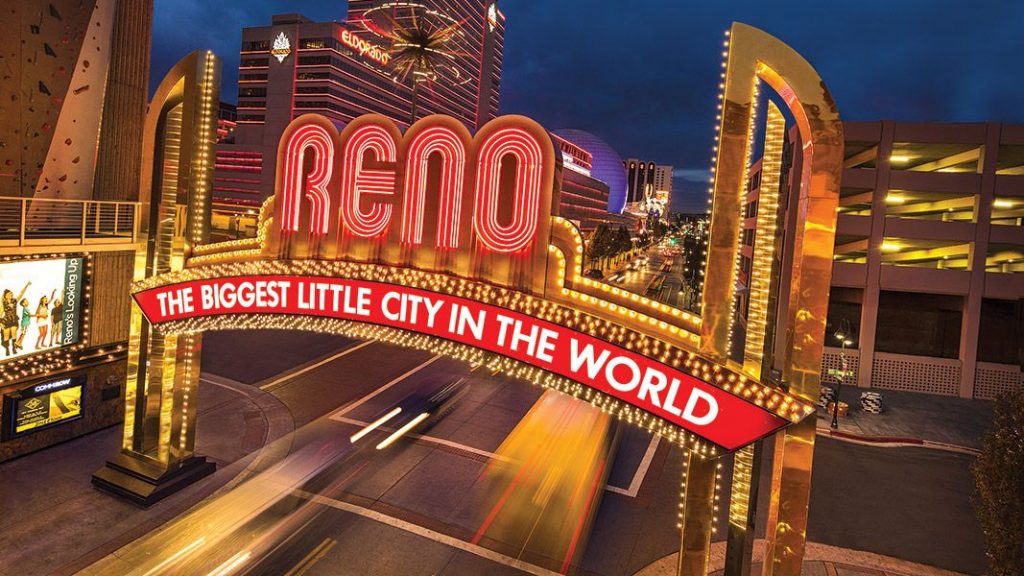 If anything, the fact that Nevada no longer has a stronghold on sports betting in the US is good for the players since the Reno sportsbooks now have to offer more incentives for bettors to keep coming back. We will now take a closer look at these Reno sports books to find out exactly what it is they have to offer these days.
Sportsbook Locations
There is certainly no shortage of sports books to be found in this booming city thanks to the lenient state gambling laws and the heavy stream of gambling tourists that pass through each year. Currently, you can make sports wagers at a total of 14 different brick-and-mortar casinos which makes it one of the most popular sports betting destinations in the country, outside of Las Vegas. Listed below are all of the sportsbooks that are currently operating in the city of Reno in order of their popularity on Yelp:
– Peppermill Sportsbook
– William Hill Sportsbook
– Grand Sierra Sportsbook
– Harrah's Reno Sportsbook
– Nugget Lucky's Sportsbook
– Atlantis Sportsbook
– Silver Legacy Sportsbook
– Club Cal Neva Sportsbook
– Circus Circus Reno Sportsbook
– Eldorado Reno Sportsbook
– Bonanza Sportsbook
– Siri's Sportsbook
– Western Village Sportsbook
– Tamarack Junction Sportsbook
Types of Sports Betting in Reno Casinos
There is no significant difference between the types of bets you can make in the sportsbooks of Reno and the types of bets you can make in the sportsbooks of Las Vegas since they both abide by the same rules and regulations. This means that you can make all of your favorite bets such as parlay bets, point spread bets, over/under bets, teaser bets, props bets, futures bets, and many more. If you cannot find the type of bet you are looking to make in a Reno Sportsbook then we would be highly shocked.
Drinks and Sportsbook Atmosphere in Reno
Just like in Las Vegas, anytime you place a bet in a Reno sportsbook you will be eligible to get a free drink. Each casino has its own rules as to how much you must bet to receive these drinks, and the number of drinks you can receive for free each day is usually capped. For example, the Peppermill Sportsbook will give you your first free drink if you bet up to $20, and each drink after that requires a $25 wager. They will give you up to 3 free drinks if you are a Red Card member and up to 5 drinks if you are a Black Card member.
If you are looking for a high-quality sportsbook that does not allow cigarette smoking, then the Atlantis Sportsbook is the place to be. This was the first sportsbook in Reno to ban smoking and they also serve just under 100 different whiskeys which makes them a superior option to non-smokers who want to take a bunch of shots to celebrate their victories!
Markets Available For Betting
Similarly to the types of bets that are available in Reno sportsbooks, the markets that you can place wagers on include all of the same markets that are available to a sports bettor in a Las Vegas casino. This includes all major sporting events like NBA, NFL, NHL or MLB games as well as horse racing in some locations such as Peppermill Casino. The only real difference between the sportsbooks in Reno and other sportsbooks in the US is that they allow gamblers to wager on the Reno Aces, which is a local minor league baseball team that is affiliated with the Arizona Diamondbacks.
Mobile Sports Betting in Reno
The only Reno casinos that offer mobile apps for sports betting are Atlantis Casino, William Hill Casino, Peppermill Casino and Harrah's Casino (which predictably uses Caesar's Nevada sportsbook app). Atlantis Casino also represents the only Reno casino that offers a mobile race book. These apps all provide you with the exact same betting options that are available in their parent brick and mortar casino, which is an industry standard at this point.
The best part about using all of these Reno sportsbook apps is that you will still receive comps and tier points for all of your wagers that are made, just like you would if you were actually inside the casino. This means that you can earn comp credits from the comfort of your own home on days when you do not feel like leaving the house, which is great for those who are trying to maintain their VIP levels.
Click Here for Our TOP 2023 USA Sports Betting Site!