It is a surprise to a lot of people when they find out that Indiana has a thriving casino industry that consists of nearly a dozen casinos and three off-track betting locations. Despite this, it is that thriving casino industry and an overall accepting attitude towards gambling that allowed for sports betting to be legalized in the state. The fact that the US Supreme Court overturned a 1992 Federal Act that banned sports betting nationwide in 2018 did not hurt, either.
The way in which sports betting will work in Indiana is as straightforward as one can imagine. In essence, all of the places that were able to legally offer gambling—whether it be horse racing or casino games—are also legally entitled to apply for a sports betting license. Mobile operators will be allowed, however the bill that legalized sports betting, H1015, does not specify the number of mobile licenses nor does it clarify whether operators have to be tied to a physical betting location or not.
Sportsbook Locations
There is mobile betting in Indiana, but there also exists plenty of brick and mortar locations where players can place wagers. The Indiana Gaming Commission has given the green light to 10 casinos and three off-track betting locations. This means that physical betting locations are accessible in virtually all parts of the state. Every approved sports betting location in Indiana, as well as the city within which they are located, are listed below:
Ameristar – East Chicago
Belterra Casino Resort – Florence
Blue Chip Casino – Michigan City
Horseshoe Southern Indiana (riverboat) – Elizabeth
Blue Sky Casino – French Lick Resort
Hollywood Casino – Lawrenceburg
Harrah's Hoosier Park – Anderson
Horseshoe Casino – Hammond
Indiana Grand Racing & Casino – Shelbyville
Tropicana Casino – Evansville
Winner's Circle OTB – Indianapolis
Winner's Circle OTB – Clarksville
Winner's Circle OTB – New Haven
Types of Sports Betting in Indiana
The rules governing sports betting in Indiana are still being drafted by the state's gaming commission, but we can get a little glimpse into the rules from the bill itself. For one, there will be no betting on esports allowed. In addition, amateur sports involving people under the age of 18 will not be legally featured at any sportsbook.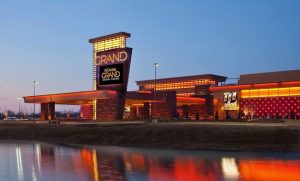 There will be limits regarding what live bets are able to be made, as well. One of the most noteworthy limits is that live betting on college sports will not be allowed. The live wagers that can be placed must be settled at a "natural break" in the contest. In other words, bets that are either won or lost at the end of a quarter, half, period, or inning are allowed, while wagers that are settled at the end of a play, or series are not.
Sports Betting Markets in Indiana
Sportsbooks in Indiana will allow for a variety of different sports and leagues to be wagered upon. The betting markets, including the leagues which they include, are as follows:
Auto Racing – NASCAR, Formula One, IndyCar
Baseball – MLB, NCAA Division 1, AAA (minor league)
Basketball – NBA, WNBA, NCAA Division 1, Euro League/Cup, International Basketball Federation
Bowling – PBA
Boxing – International Boxing Federation, World Boxing Association, World Boxing Council, World Boxing Organization, Association of Boxing Commissions and Combative Sports
Cricket – Men's and Women's World Cup, International Cricket Council
Darts – PDC Championship
Football – NFL, NCAA Division 1, Canadian Football League, Arena Football League
Golf – PGA, LPGA, Champions Tour, European Tour, International golf
Indiana has stayed mostly conservative so you should not expect to see many—or any—exotic betting markets such as politics or entertainment. With that said, the Indiana Gaming Commission will allow casinos to submit requests should they wish to add a betting market that has not been explicitly approved already. In general, the IGC is leaving a lot of the decision-making up to the casinos themselves.
Mobile Sports Betting in Indiana
Mobile sports betting will be available in Indiana through what seems like is going to be a wide variety of operators. As is the case in every other state with mobile operators, every app that is available will be able to track a user's location to ensure that wagers are placed within Indiana's borders. As you might expect, the same rules and restrictions regarding what can and cannot be wagered on will also apply to mobile betting, even if the operator isn't tied to a land-based Indiana casino.
Future of Sports Betting in Indiana
Indiana is still very much finding its footing in the legal sports betting world and we expect a lot of things to change from what they currently look like. For one, mobile sports betting will be live and we will see multiple operators vying for customers. In addition to this, we anticipate that the two Indiana casinos that currently lack the IGC's approval for sports betting—Rising Star Casino (Rising Sun) and Majestic Star Casino (Gary)—will be given the green light to open sportsbooks of their own.
Beyond this, the only other things that can change have to do with what can and cannot be wagered upon, whether it be regarding in-game betting or the overall scope of approved betting markets.