Located on the south side of Las Vegas Blvd., New York-New York is one of MGM Resorts International's "middle of the pack" casinos. As it attempts to capture the theme of The Big Apple, it certainly is busy and crowded like the city every time I go in there. Sports betting has always been illegal in New York and given NY-NY's lackluster sportsbook, it wouldn't upset us if it became illegal there too.
New York-New York Sportsbook
It took us way too long just to find the sportsbook. We almost walked out thinking they don't have one since there's no poker room either. The signage leading you to it is a joke. You only see it once you get very close which is like your low fuel light coming on moments before you run out of gas. We found it when an employee told us where to go.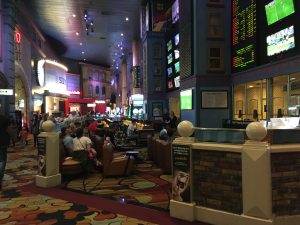 This is a rare sportsbook in that it features more seating for the racebook, putting out 25 ordinary seats with desk space and their own TV. The sportsbook side has just 3×5 of leather seating. All the seating is built horizontally, but the TVs are built vertically. If you are sitting front row it feels like you are sitting up close in a movie theater minus the large screen. There are around 20 total TVs, all of which are small. The pamphlets for that day's horse action is left of the nine cashier windows, with the sports to the right which also have lines on upcoming events, futures, and props if they have any.
The daily lines at NY-NY will be similar to whatever you would find at other casinos. Since it is a small sportsbook, it's possible the vig on favorites in big games could be a little cheaper (like the normal -110 instead of -120) but we wouldn't count on it. One thing for certain is the futures lines are not going to be extra enticing because like any strip casino, NY-NY is built for the tourists. That means most bettors are just happy to have action when they leave regardless of the payout. If you really want to get the best futures line, your best shot will be at a local casino off the strip.
Size and Location
This is a small sportsbook that you essentially just stumble upon. It's sort of in the corner but still scrunched in the middle of everything nearest the imitation Manhattan apartment buildings. It is on the other side of where you would park or valet, but if you are coming off the strip it is right at the entrance of its Brooklyn Bridge.
There isn't too much annoying slot chirping to be overheard, but since there is no seclusion, it is still a bit noisy and the TV sound quality is nothing special. There is a bathroom close by and smoking is prevented.
Traffic and Viewing Ability
There is no way anyone goes out of their way to come here. It will either be random walk-ins or hotel guests. Still, it will fill up for a big event like an NFL Sunday or during March Madness, but since there is limited seating, to begin with, the sportsbook seating is liable to fill up anyway. The betting board is narrow and sandwiched between the TVs.
If you can't get either a good seat or any seat, the good news is you can open an account at the sportsbook and download the PlayMGM betting app. Opening an account is fast and simple, and from there you have access to every line. The maximum bet is much smaller, but so is the minimum bet. Its most standout feature is it offers live betting on every game. Live betting is wagering on games currently in progress. This is not available over the counter, but that is in the works and could be available soon.
Drinks at New York-New York Sportsbook
Obtaining cheap alcohol is no longer an easy task at strip sportsbooks. Here you must bet $100 on sports just to get one drink ticket. But since this is a small and laid-back sportsbook, it shouldn't be too hard to smooth talk your way into an extra ticket or two. Just be cool with either the cashiers or cocktail servers. If you are going for the horses, they are a lot more lenient. Just show the cocktail servers your ticket and they'll take care of you.
Casino at New York-New York
The casino floor features dozens of all the most popular table games, and you will also find tons of slots to choose from. Since this is a bustling casino that doesn't try to blow you away with swank, minimum bet wagers of $5 can be found and guaranteed to be available daily at Blackjack.
Dining and Bars
There is no video poker bar near the sportsbook, but you can find them at other locations along with a wide variety of other bars, one of which that features dueling pianos.
The food selection is what stands out the most for New York-New York and is the one thing about the sportsbook worth talking about. The majority of the restaurants are medium priced or cheaper, and there has got to be more eateries per square foot here than any other casino in Vegas.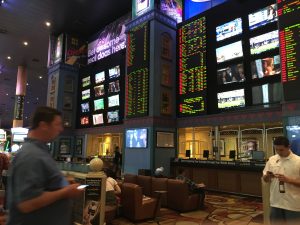 If only some of them (like the food court) were closer to the sportsbook. The unique selections that are nearby are a crepe shop, New York Style pizza, a separate burger and hot dog place, Greenberg's Deli, as well as a Starbucks. You have to exit the sportsbook to access these, but at least there are plenty of options to choose from if say you are planning to bring food to the sportsbook before your game starts.
Hotel at New York-New York
Having renovated in 2006, this large hotel that has over 2,000 rooms does a nice job with its standard rooms featuring modern bathrooms and furniture. The suites and penthouses are beautiful, the hotel includes a spa and gym, and there are cabanas by the pool. Room rate value isn't typically exceptional but keep an eye open as they occasionally offer rooms for well under $100.
New York-New York Sportsbook Rewards
Accumulating player's points in the sportsbook is usually a pointless endeavor, and here no points are given unless you are betting horses. If you are, they do this in a very old school manner taking it all by hand. They pay attention to who is betting what on a daily basis instead of just tracking it. But for every $100 you bet, you receive 4% towards food comps.
It is a wise decision to swipe your card every time you bet anyway because this allows the sportsbook to track your bet. Meaning if you misplace a winning ticket you will still be paid out.
Wrap-Up
NY-NY is friendly on drinks for horse players and the wide food selection all around the casino and near the sportsbook is nice, but other than that there is not one remotely compelling reason to go to this sportsbook. There is limited seating, small TVs, suboptimal viewing, and it is not close to parking. It was hard enough just to find this sportsbook, and we went from being annoyed about that to happy. Don't come here.
Current 2020 Sports Betting Grade: D
Click Here for Our TOP 2023 USA Sports Betting Site!