Golf has seen a huge resurgence in popularity in recent years which means that more and more people are wondering about the basics on how to bet on this very old sport that originated in 15th century Scotland. While a lot of betting action is focused on the four major championships (The Masters, The U.S. Open, the PGA Championship, and the British Open), there are hundreds of other golf tournaments that happen every year which sportsbooks will offer odds on.
Some people contend that watching golf is boring, but it is clear that none of those people ever participated in betting on a golf tournament while it was on television in their living room. The action might not be terribly fast in golf but if you take a chance on one of the huge underdogs of the tournament and they have success you can receive massive payouts that are comparable to parlay odds in other major sports. In order to give you a better idea of what is par for the course when betting on golf, we will now take a swing at explaining all of the most popular bet types that you will come across.
To Win Bets in Golf
The most popular way to bet on golf tournaments are known as "to win bets" and they also happen to be the simplest golf bet you can make. For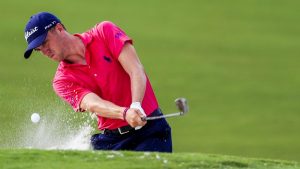 these wagers, you will need to pick which golfer you think will win first place in the tournament and the sportsbook will generally offer moneyline odds on each golfer that are based on their chances of victory. If your pick gets 2nd place in the tournament you do not get a consolation prize for being so close.
In most sportsbooks, Tiger Woods currently has 10/1 or +1000 odds to win The Masters in 2020 but the favorite to win the whole tournament is Brooks Koepka at 8/1 or +800 odds. If you decide you are going to wager $100 on who will win this prestigious event then you will receive $800 back if you choose Koepka and he wins, but you would receive $1,000 for that same $100 investment if you bet on Tiger Woods and he wins.
One of the biggest perks of making "to win" bets in golf is that the payout can be massive if you think an underdog has a chance at victory. Any walk of life that involves a low amount of risk and a high reward if victory occurs is sure to be a fun experience. For instance, betting just $1 on Vijay Singh to win the 2020 Masters will payout a whopping $750 if he wins while in other tournaments there are underdogs that payout as high as 2500 to 1 on your bet.
If you have a number of selections that you are highly considering, a popular strategy is to pick more than one player to win it all. This is allowed at all sportsbooks and it gives you a better chance of actually picking the winner but it will cause you to get raked by the sportsbook multiple times and there is also zero chance of winning all of the bets at once so the ceiling of opportunity is pretty low.
Individual Round Bets in Golf
Much like quarter or half-time bets in other major sports, golf allows you to make bets on who will be the leader of the field after each individual round of a specific tournament. The most popular of these types of bets is the first round bet, but most sportsbooks will offer odds on who will be leading after every single round that occurs.
These types of bets allow a casual golf fan who does not have time to watch the entire tournament a chance to make a bet on just one round. They are also helpful for those who do not want to have their betting money tied up for a long period of time since some of the major tournaments take multiple days to complete. Not everyone likes to wait 4 days for a bet to settle and this is where individual round bets in golf come in extremely handy.
Some bettors like to use individual round bets to hedge their "to win" bets in certain conditions that might guarantee them to win some profits for the tournament. For instance, if you bet on Phil Mickelson to win the 2020 Masters at his current 40/1 odds and he is leading the tournament after 3 rounds then a smart move is to make a hedge bet on those players who are the closest to him for the 4th and final round. This way you cover all of the most likely scenarios for who will win the last round and a good payday will be highly probable.
Each-Way Bets in Golf
An each-way bet can be sort of confusing for those who do not bet on horses and most Americans do not have much experience with these types of bets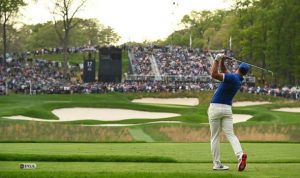 anyway since they are much more commonly offered in European sportsbooks. However, it is worth covering due to its high level of popularity and it can be compared to an exacta or a trifecta in horse racing since it is essentially making two bets at once.
When you make an each-way bet you will be making a wager that he wins the whole tournament AND a wager that he does well in the tournament. If either outcome occurs then you will make money and most sportsbooks will pay you something if the player finishes in the top five or six spots. Obviously the payout will not be as good if your player gets 6th place compared to if they get 1st place but at least you will receive some money back unlike in "to win" bets which will reward you with nothing if your player of choice gets close to winning but doesn't pull it off.
Head-To-Head Bets in Golf
A head-to-head bet is exactly what it sounds like; a bet that involves two heads (golfers) that are in the same golf tournament together. If you pick the one golfer that has the better score by the end of the tournament then you will win your bet.
The further the gap is in skill between the two players in question, the higher the odds will be set at. If the head-to-head bet is between the top two seeds for that particular golf tournament then the odds might be set at EVEN or -100. If the head-to-head bet is between the top seed and the bottom seed of the tournament then you will get almost nothing if you bet on the favorite and you will receive a huge payday if you bet on the underdog and they win. However, it is rare to find bets that are this lopsided as head-to-head bets tend to be more evenly matched.
Versus The Field Bets in Golf
These bets are usually only available in the later rounds of a golf tournament once there is a heavy favorite that is pulling away from the field. In these instances, sportsbooks tend to offer versus the field bets where you can bet on literally the entire field that does not include that one player.
If any player other than the one who is favored wins the tournament then the field wins and therefore any bet made on the field will win also. These bets are extremely low stress because you don't have to pick a specific player to win it all you just have to root against one golfer and hope that ANYONE catches him.
Futures Bets in Golf
Futures bets in golf usually ask you to pick who will win an individual tournament or event sometime in the future. In addition, a futures bet can also refer to a longer-term bet that considers a collection of tournaments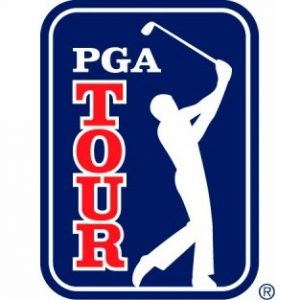 over a period of time.
A great example of a longterm futures bet in golf would be one that asks how many major championships Tiger Woods will win in 2020. The outcome that Vegas feels will be the most likely number of championships won will be the choice with the worst odds and as you move further away from that number the odds will increase in your favor as the likelihood of winning your bet decreases.
Prop Bets in Golf
Prop bets are not only an entertaining way to watch a golf tournament but they are also known to be highly profitable in certain situations. This is the best bet that you can make if you are looking to have some fun without worrying about which person will win the tournament.
Some examples of questions that prop bets might ask you to consider include "Will there be any hole-in-ones in the first round?", "Will there be a playoff?" or "Who will the top British player be in the Masters?" The questions you will find prop bets ask are generally quite easy to understand and focus on different outcomes than the standard golf bets do which makes them a breath of fresh air to everyday golf bettors.
Click Here for Our TOP 2023 USA Sports Betting Site!