One of the most profitable betting options the sportsbook provides is naturally one of the most popular types of sports bets: the parlay. A parlay is a wager that requires you to make at least two different bets. The only way to win a parlay is if every prediction you've made comes in. One misstep kills the whole thing, and that happens time and time again.
The only exception to this is if one or more of your predictions results in a push. For example: you hit the first 3 legs of a 4 leg parlay. Now all you need is the Cowboys to cover -7. If the Cowboys win 37-30 you don't lose, you just don't get the full 4 leg payout. Since the push isn't counted towards the bet anymore, you only get paid for hitting a 3 leg parlay.
Parlays cannot include any prop bets or futures bets. They must be straight bets only. A straight bet is the simplest type of bet. You pick a team to either win outright or to cover a spread (could be the first half, second half, or for the game), or a scoring total to go over or under the projected number. You can mix your parlay with as many different sports as you want, but all the bets have to be straight bets.
Why Sportsbooks Rake In So Much Money On Parlays
The best thing that can happen to a sportsbook is have there be an upset from a huge underdog. Not because people were lining up to lay 7/1 odds on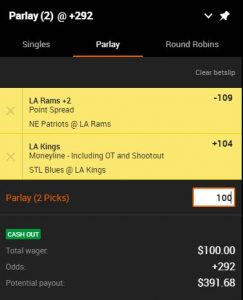 a moneyline straight bet, but because now a ton of parlay tickets will go in the garbage. When casual bettors put their parlays together, they like to throw in a "lock" to jack up the payout a little higher. They figure it's silly to bet a team that's heavily favorited straight up because you have to risk so much to win so little, but since it's probably going to be a cakewalk then they might as well include it in the parlay.
The following happened during the 2019 baseball season. The lowly Detroit Tigers were on the road against the dominant Houston Astros and their stud ace Justin Verlander. The Astros were the biggest favorite in Major League Baseball history, listed as high as -650 at some places. Of course the Tigers won the game with only two hits (both solo home runs), and the sportsbooks reported they pulled in some serious loot from parlays because everybody threw in the Astros.
More Reasons Why Parlays Are So Tough To Profit From
It is hard enough just to see one bet become a winner, never mind two or a lot more. But the primary reason it's so difficult to win money in the long run is because you often get shorted a lot of money even when you win. Meaning, you might put $100 down on a 4 leg parlay, drill it, and collect 6-1 odds for a $600 net win. That sounds great, but the reality is the true odds of you actually hitting that parlay may have only been 10-1. You should have won $1,000, but instead the house retained $400. In other words, even though the sportsbook lost, it still won.
An example of this happened a few years ago when we hit a 7 leg parlay in week 17 of the NFL. We threw $50 down because there were seven total mismatches for the season's final game, and six of those heavily favored teams were at home with something to play for. In our mind those games would be a cinch, and they were all blowouts by halftime. The only sweat was the road game. The favorite held on, but guess how much we got paid for hitting seven predictions in one shot. 7-1? 9-1? Try 3-1. Given that six of the seven wins unfolded as easy as we anticipated, it seemed like a good long term bet because it's as though we got +300 for taking a heavy road favorite. But we're not confident that is the case. Maybe the true odds in this rare week 17 were situation weren't much weaker than 3-1, but we also know the sportsbook is highly unlikely to make the mistake of offering a payout too close to the true odds.
This concept works exactly the same when playing a roulette wheel. The wheel has 38 numbers on it, but it only pays 35-1 for picking the right number. So, when you lose you lose, but when you win, you still get denied a substantial amount of money. You are effectively still losing because you are getting paid well below the true odds. As long as outcomes occur at their normal rate (and why wouldn't they when we are only dealing with routine probabilities?) you are guaranteed to lose money in the long run, so the only way to overcome this massive disadvantage is to predict correctly that much more often. In other words, unless you are a superb betting sharp, you are going to have to get quite lucky to win. And it is for this reason that sports betting really isn't all that different from betting on the table games.
Closing the Gap
So how does one make a parlay bet that actually makes sense across the board? Well, it's really just a matter of capitalizing on good value opportunities the same way you would for any straight bet. Suppose the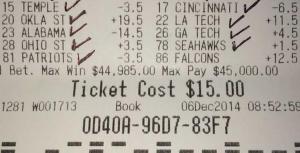 Athletics are playing the Red Sox and the Sox are listed as a +200 underdog. If you think this is a game the Red Sox would win more often than 1/3 times, then that makes it worthwhile to bet on them assuming you are correct.
Whether it's a straight bet or a parlay, this is the logic you should be using for every pick you make. You must know what the payout is and then decide if the team you want to bet on will win often enough to justify the odds you have to either lay, or that you will be receiving. Obviously, we can't so easily just tell you how to find good value opportunities. All we're providing you with is an outlined basic strategy. The rest is up to you.
What Will the Payout Be?
There are two ways to find out what a parlay will pay before you place the bet. The first way is to give all your would be predictions to the cashier and they'll tell you. The second way is to use a parlay calculator. Doing this is very easy. Just type "parlay calculator" into your search engine and you'll be able to figure it out from there.
With everything being equal, we recommend the parlay calculator because sportsbook cashiers are prone to being very angry every second of the day. However, if you do use a parlay calculator, or if you are thinking of placing the bet online, you should still verify the payout with the cashier as not all sportsbooks use the same fixed rate.
Wrap-Up
Hitting a parlay feels pretty sweet. That is why people keep throwing money after them, and that is why the sportsbooks continue to offer such weak payouts. At the sportsbook, the parlay is the most extreme version of a seller's market. If people ever get over the excitement of winning a parlay because they know the victory just isn't worth all the defeats they have to incur, the sportsbooks will be forced to reward bettors with more money. However, until that day comes, the parlay will remain one of the least advisable bets you can make because the sportsbook makes so much more money off of parlays than they do off of anything else.
We are not trying to dissuade you from giving parlays a shot. We just want to make sure you fully understand what you'd be getting into. If you don't care about the money and just want to have fun sweating some games out, fine. But if you're serious about your sports betting prowess, then know it is always critical that your predictions be diamonds in the rough, and especially for a parlay. The odds on each game needs to be a legitimate opportunity, and those opportunities do come around from time to time because oddsmakers are human; they make mistakes too. Therefore, the name of the sports betting game is patience—just waiting for those opportunities to happen.
Click Here for Our TOP 2023 USA Sports Betting Site!