One of the only activities that is better than eating itself is watching other people try to shovel various food items into their mouths as fast as they can in a race against each other while trying not to puke their brains out. The numbers strongly back this opinion up since some eating competitions routinely get millions of viewers whenever they are on ESPN and up to 50,000 fans attend the largest events in person.
The general theme among these competitions is that each contestant has a certain amount of time to eat as much of a specific food item as they can. The number of contestants, the amount of prize money available, and the popularity level will all vary greatly from competition to competition.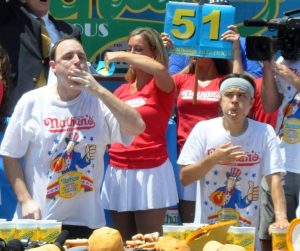 Even if watching other people eat is not your idea of a good time, one of the best ways to guarantee that you will look forward to these types of events occurring is to place some bets on them. Anyone who is hungry for information on when, where, how, and why you should bet on competitive eating competitions will find themselves with a full stomach after reading through the sections below.
When Can You Wager on Competitive Eating?
There are a few official eating competitions throughout the year that are governed by the International Federation of Competitive Eating with some examples being Nathan's Hot Dog Eating Contest, La Costena's Jalapeno Eating Challenge, and the Krystal Square Off World Hamburger Eating Contest. These sorts of contests have been going on for over 100 years which makes them an American tradition that a lot of people really look forward to.
If you need some proof that competitive eating is indeed an American tradition then look no further than the fact that every year when Independence Day (the 4th of July) rolls around the world-famous Nathan's Hot Dog Eating Contest happens at Nathan's Famous Corporation in Brooklyn, New York. This event represents the most popular and prestigious eating competition in existence thanks to some dominant stars such as Takeru Kobayashi and Joey Chestnut reaching a high level of fame. If you are looking to make a bet on a competitive eating contest, Nathan's Hot Dog Eating Contest is going to be the event that is featured in any sportsbooks that participate in this unorthodox market.
Where Can You Make Competitive Eating Wagers?
Anytime you are looking to make a wager on Nathan's Hot Dog Eating Contest you will most likely have to search on the internet for an online sportsbook to use. Land-based casinos generally shy away from such a small obscure market and some states such as New Jersey recently passed bans on any sportsbooks taking competitive eating bets. However, just because the state made it illegal for a brick-and-mortar sportsbook to take any competitive eating bets does not mean it is illegal for you to make these wagers on the internet if you live in New Jersey.
Some of the online sportsbooks we have found that offer bets on Nathan's Hot Dog Eating Contest include 5dimes.eu, Bovada.lv, and MyBookie.ag. All you need to do to get started is create an account on one of these sites, deposit some money using any of the available deposit methods and then place your wagers on the eating competition. If you cannot find the competitive eating section of any online sportsbook you may want to check the "Special Wagers" section or something similar since they are occasionally stashed in those miscellaneous spots.
How Can You Make Competitive Eating Wagers?
The most popular wager that most gamblers make regarding Nathan's Hot Dog Eating Contest is which contestant will outright win the competition for both the Men's and Women's sections. If you choose the correct person when deciding who will win the whole competition then you will win your bet and get paid out according to the odds next to each person's name.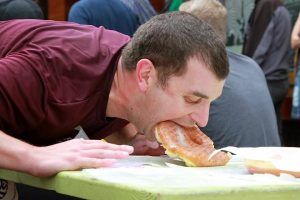 For example, the 2020 edition of the hot dog eating competition features last year's champion Joey Chestnut as the heavy favorite to win once again at -900 odds against the entire field while betting on the field will give you +500 odds on your money. If you correctly choose Joey Chestnut to outright win the contest and you wagered $900 then you will receive $100 in profit. On the contrary, if you wager $100 on the field to win the competition then you will receive $500 in profit if anyone BUT Joey Chestnut is the outright winner.
Another prevalent bet type in the competitive eating market is a heads-up match which only pits one contestant against another. This bet is settled by simply comparing the number of hot dogs that one contestant ate to how many hot dogs the other contestant ate and whoever ate the highest number will be the winning selection.
Outside of the outright winner bets and heads-up match bets, you can also make silly wagers known as prop bets which focus on random outcomes that occur throughout the event. Some examples of these prop bets include how many hot dogs the winner will consume, whether or not an eat-off will occur, whether or not a recount will be necessary, or whether a contestant will be interrupted by PETA during the event. These prop bets are a great change of pace that can serve as a backdoor way to get some money back if you do not correctly choose the outright winner of the event.
Why Should You Wager on Competitive Eating?
Even though competitive eating is a strange yet patriotic pastime, you do not have to be an American to enjoy the thrills of wagering on a high-profile eating competition such as Nathan's Hot Dog Eating Contest. This event is usually filled with lots of drama and gut-wrenching amounts of food being consumed that will make you grab your own stomach in awe.
Just like in other small betting markets, one of the most obvious reasons to bet on competitive eating is that the edge the house has in predicting the outcome is going to be smaller than it is when dealing with major sports. The amount of money that is bet on these competitive eating events pales in comparison to how much is wagered in just one NFL Sunday, so the books do not put as much effort into being correct as they usually do. This presents a nice opportunity to do some extra research and try to find an edge that you can exploit by looking at the long list of bets available every 4th of July.
Another reason to bet on competitive eating competitions is for a nice change of pace from the everyday bets you might be making in major sports that run year-round. They also serve as a nice distraction from the usual 4th of July BBQ cookouts and add some spice to the menu. Competitive eating represents a fun way to pass time in the summer heat and the official contests should be seen as a yearly chance to place some wagers for entertainment purposes without trying to get rich and pay your bills in the process.
Click Here for Our TOP 2023 USA Sports Betting Site!