Now owned by Boyd Gaming, the Fremont opened in 1956 and is among the four casinos that make up the four corners on Casino Center Boulevard in downtown Las Vegas. Most of the downtown casinos, while old, do at least maintain some type of distinguishing characteristic. Something memorable. The Fremont is where Wayne Newton's career began, but that was 59 years ago. What's there to remember now? Not much, including the sportsbook.
Fremont Sportsbook
This is by no means the worst sportsbook in downtown. Compared to its neighbors, the Fremont is right on the line of mediocrity. Like this entire sportsbook, the 20 TVs for sports bettors are small although the sound quality for the main game is good. Horse players have ten TVs on their side.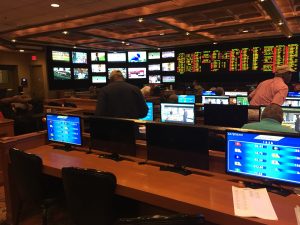 Most of the seating is desk row style, but we recommend sitting close because of the small TVs. Sports side seating occurs in rows of 5×3, with the racebook providing rows of 4×5 with a private TV at each seat. Additional seating is at the very front of the sportsbook with 10 school-like desks.
We wouldn't expect the daily betting lines to be drastically different from any other Vegas sportsbook, but lines on the futures should certainly outdo most if not all of the books on the strip. This is because the majority of the Fremont's sportsbook patrons will be locals. You can find futures lines along with lines for upcoming events on the pamphlets at the back of the sportsbook
Size and Location
This is a small sportsbook and while it's in the corner of the casino, it is not secluded. The noisy gaming floor ends right where the sportsbook it begins. Combine that with the fact smoking is allowed and there are multiple ways to get distracted.
Traffic and Viewing Ability
We have no complaints about walking in and around the sportsbook, and while the TVs are small, there are at least no viewing obstructions. The best part is probably the betting board. It's big and between the TVs behind the cashier, right in the center of everything making it visible to everybody. You might be surprised how few sportsbooks prioritize having an easily seen betting board because it's like going to a restaurant and writing out the menu in small sloppy lettering.
Since locals like to be away from tourists, this sportsbook should be consistently active and definitely be at capacity during big events.
In case you don't want to get up or wait on the line, the Fremont has a sports betting app which you can open an account for right inside the book. The betting limits go down, but this is a great backup plan if you're going to be late or just want to bet on the go. Live bettors are provided with the luxury of betting on games after they have started both on the app and inside the sportsbook, but live betting is only offered on select games.
Drinks at Fremont Sportsbook
The comp drink policy is another one of the Fremont's redeeming qualities. Most downtown books either don't give away drink tickets or demand an obnoxiously big bet per ticket. Here it's only $40 for sports and $12 for horses. They made a point to say they'll only give away two tickets at a time, but that's an easy obstacle negotiate. Not to mention the fact if you can be really nice to everybody, you'll probably be awarded extra drink tickets if you so desire.
Casino at The Fremont
The gaming floor is one of the smaller ones in downtown Vegas, but $5 table games are easy to find along with plenty of slots. They also have Keno with 80 numbered balls in a glass bowl, and their most appealing advertising are $3 craps and blackjack which only go at select times.
Dining and Bars
There is a video poker bar with TVs right outside the sportsbook, but it does not face it. Otherwise, there are three other bars around the casino with video poker, but two of them are in restaurants.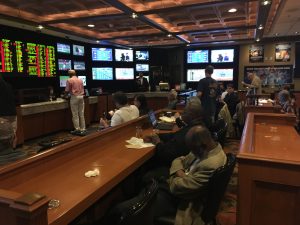 The Fremont has a few quick bites options including a Dunkin' Donuts (which there aren't too many of in Vegas), but none of them are near the sportsbook. All that is near is the buffet and Las Vegas' lone Tony Roma's ribs, seafood, and steak.
Hotel at The Fremont
The 447 room hotel is typically $50 a night during the week before doubling on the weekends. These fares are among the most competitive in downtown and rightfully so considering its standard room is just 240 square feet. Shuttle service is available to Sam's Town and from Sam's Town to the strip, but nothing to and from the airport. No spa or gym here, but just a pool.
Fremont Sportsbook Rewards
Some sportsbooks give you absolutely no reward points and we weren't surprised to learn the Fremont was one of them. But we still recommend you swipe your B Connected player's card anyway because this will at least track your bet. That way if you misplace a winning ticket you will still be paid.
Wrap-Up
We loved that we could see what our betting options are without having to get up or crane our neck. We also liked that drink tickets are given out more liberally than most sportsbooks in the city. But we could have done without the smoke and the noise, and it would have been nice if there was somewhere to eat without having to leave. Throw in that the small TVs make an already small sportsbook even smaller, and suddenly leaving to bet somewhere else doesn't sound like such a bad idea.
Current 2020 Sports Betting Grade: C
Click Here for Our TOP 2023 USA Sports Betting Site!