Formerly known as Terrible's, Silver Sevens is owned by Affinity Gaming. This is probably a cross between a local's and tourist casino as it's one mile from the strip on the always busy East Flamingo road. Know now that this place is kind of decrepit and unwelcoming. It is by no means dangerous, however. This is just how it is for all the areas that are on the edges of the strip. Silver Sevens is small, smoky, and a bit dumpy. And its sportsbook was only slightly more impressive.
Silver Sevens Sportsbook
Run by William Hill, the most notable thing about Silver Sevens' very darkly lit sportsbook, like any William Hill sportsbook is that it offers a lot of options for live betting. Live betting is betting on games while they are in progress. Usually, this option is unavailable over the counter. In most books, the only places you'll possibly see it are for a huge playoff game or maybe the Vegas Golden Knights.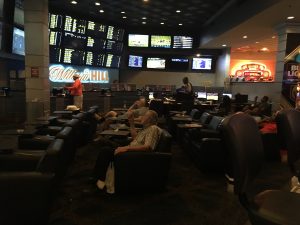 If you are planning to do any live betting, you'll need a player's card if you want to bet upwards of $500. This is also the case for any pre-game wager upwards of $1,000. If you'd rather not get out of your seat, you can always place your bets from the William Hill betting app as well. For this you'll also have to create an account, and this fast and free process can be done right inside the sportsbook.
Size and Location
Parking is free at all off strip casinos. Entering from the main entrance, the sportsbook is in the back left corner of the casino. Everything in this casino seems to be on top of each other. It's pretty noisy and easy to overhear outer noise.
Not too many people can fit in over here. Sportsbook seating is made up of four rows of 18 black leather club chairs, and the perpendicular racebook seating is comprised of two desk rows. The two rows can seat seven people, and each seat has its own TV.
Traffic and Viewing Ability
There are ten sports TVs, none of which are big screen. But they are close to the top of the low ceiling, making them all easy to see. The racebook screens are also small, but there aren't any visual impairments. The betting board is easily visible, and all the posted lines rotate on several TVs behind the cashier.
If you would prefer to watch a game on a large screen, or if you just want to have some extra space, there's a big screen TV on the opposite side of Silver Sevens in a video poker bar.
Despite not being a particularly impressive sportsbook, we do expect it to be active every night and full during the busier times.
Drinks at Silver Sevens Sportsbook
If you are making a point to go to this sportsbook, then we assume there is a more than fair chance you want to get drunk. Well we certainly had an interesting time trying to find out how you get drink tickets. The first cashier we asked mumbled a few silly words and then just gave us two drink vouchers. We're not sure why he did this, but one of us did think we heard him say, "$25".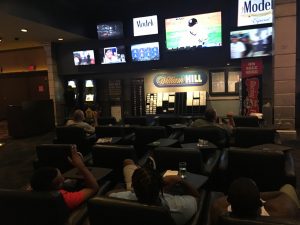 When we asked another cashier, he also gave us a free voucher for no apparent reason. After much persistence, it turns out the official rule is you have to bet $50 on sports or $25 on horses to get a voucher. These are very expensive minimums for an off strip sportsbook, but that seems to be the case at all the William Hill sportsbooks. Regardless of the overpriced minimums, it seems it shan't be too difficult to drink for free here.
Casino at Silver Sevens
The table games selection is pretty small, but the action is cheap. They only have virtual roulette for $2.50. Craps is $5, and blackjack pays 3-2 at a $5 minimum. You can also play live video blackjack if you prefer to look at a really hot woman, and that minimum is $3. Nobody was playing it, but Silver Sevens also has Free Bet Blackjack. This is a recently created variation of the game that has an entirely different set of rules.
Dining and Bars
There are a couple video poker bars at Silver Sevens and one of them is right behind the sportsbook facing in. If you want to watch the game without placing a bet on it, video poker is always the next best way to drink.
Food options are pretty limited. The buffet is only $7, but surprisingly for such a small casino there wasn't one food court like quick eats choice. Besides the buffet all they have is the café, so if you want something more high end, the closest option is Mortion's Steakhouse which is across the street.
Hotel at Silver Sevens
We thought maybe you'd get a break on the resort fee, but you do not. It is a hefty $29 a night plus tax, and the 370 room hotel (pool available) only offers shuttle service to and from the airport, not the strip. Considering the expensive resort fee, it is quite a letdown the shuttles will not run you to the strip when it's already so close.
Hotel rates get over $100 on the weekends, but during the week the 330 square foot rooms are priced as low as $19. Pet-friendly rooms are also available.
Silver Sevens Sportsbook Rewards
Comps are only worth so much at sportsbooks, but by swiping your card you do ensure yourself a payout if you misplace a winning ticket. Otherwise, each dollar you wager earns your one point, and after running up 5,000 points the sportsbook gives you a $5 free play.
If you are a horse player you run up two points for every dollar you bet, and unlike the sportsbook, the racebook allows you to put your comps toward food.
Wrap-Up
I guess the most we can say about Silver Sevens' sportsbook is that at least it's there. Nothing stands out about the seating or the picture or sound quality, and it's smoky and noisy. If you don't get lucky with the cashiers you have to bet way too much to get a drink ticket, and there aren't any convenient food options. If you are staying here and care about being in a quality sportsbook, take the mile journey down to the strip and there will be a plethora of superior options. If you are a local…just go somewhere else.
Current 2020 Sports Betting Grade: C
Click Here for Our TOP 2023 USA Sports Betting Site!