Located way up in North Las Vegas, Poker Palace Casino is…still in business. When the joint opened in 1974, it was no bigger than a studio apartment. They've undergone some renovations, most recently as 2001. It is now a legit casino in the sense that…you can gamble and drink and walk around and stuff. However, it looks stupid on the outside, and the inside doesn't exactly shift your perspective with mind bending amenities. Particularly its "sportsbook".
Poker Palace Sportsbook
By now we've stepped into almost every sportsbook in Las Vegas and Henderson. And for the second time, we came across a book that does not have a digital betting board. The lines are written by a human being's hand, using a magic marker. Sometimes there's something romantic about turning back the clock. It can even add a bit of charm in an old school kind of way. But there are exceptions to that idea, and one of those exceptions is when you cannot read the lines unless you are practically standing right in front of them, at the cashier.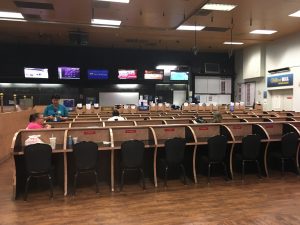 When we say, "read the lines", we don't want you to take anything for granted. We don't want you to assume anything crazy such as the lines are actually posted. We showed up on a weekday in the late morning, and zero lines were written in. Every sportsbook always has pamphlets with that day's lines printed on them, and Poker Palace did too. But this was during the summer. The only major sport going is baseball, and no games had started yet. That seems like all the more reason that all the lines should have already been up on the board. The manager gave us some senseless explanation as to why they weren't. It sounded like an unusual occurrence, but this is as unacceptable as showing up to a bowling alley with no pins to bowl at.
Since this is a William Hill sportsbook, that means you can at least do live betting. Live betting is wagering on games while they are in progress.
You can also do this on the William Hill sports betting app. To get the app you have to create an account first, and this you can do quickly and for free right inside. Like most William Hill books, there is also a kiosk available 24/7. Here you can check lines, place bets, cash out, whatever you need to do. Normally it's just an added convenience, but at this place it's an absolute necessity.
Size and Location
The sportsbook is in one of the casino's corners. It's right behind its table games and next to the poker room. Poker Palace's sportsbook actually holds a fair number of people. The five rows could seat at least 60, and each seat has its own workspace. Outdoor parking is easy to find, and you can be in the sportsbooks in a matter of seconds after walking in.
Traffic and Viewing Ability
There were just six small TVs inside. One of them showed horse racing, but you couldn't really hear anything. We would like to say that the view of everything is great, but there's hardly anything to look at. However, if you like a quiet sportsbook, Poker Palace will at least provide you with that. Since there's almost no reason to show up to this place, we figure you'll never have to worry about it getting crowded. Not for any NFL game, not for March Madness. We'd be shocked if it ever gets busy.
Drinks at Poker Palace Sportsbook
If you insist on spending any time in this dump, the one thing to hope for is you can at least drink away how pointless the existence of this sportsbook is. Hope is good, but this sportsbook is so hopeless you can't even get a drink ticket. We've been to a number of William Hill sportsbooks that don't give out drink tickets, but most of those are tiny and only fit to be a drop-in. Poker Palace actually has seats and stuff, yet there's still no alcohol included no matter how much you bet. It's unbelievable.
Casino at Poker Palace
Besides slot machines, there isn't much action here. No roulette, no craps, no mixed table games. But they do have $2 blackjack. That was kind of cool.
Dining and Bars
There is a video poker bar not too far from the sportsbook. It doesn't face the book, but it has some TVs, and quite frankly it looked like a far more enjoyable place to hang out and watch the game. So, the best part about this sportsbook isn't even in the sportsbook. You have to leave it in order to enjoy it.
Foodwise, it practically goes without saying there aren't any choices immediately nearby, and there is nothing exquisite. However, there are a couple spots that have very inexpensive breakfast, snacks, and so forth.
Poker Palace Sportsbook Rewards
Comps are always worth next to nothing in sportsbooks. At all William Hill sportsbooks, you receive 1 point for every dollar you bet, and after running up 5,000 points you get a $5 free-play. The most worthwhile reason to swipe your player's card is to track your bet. That way if you misplace a losing ticket, you will still be paid.
Wrap-Up
We don't mean to be harsh. We are acutely aware that most of what you will find in North Las Vegas is going to be old, ugly, and depressing, but this was ridiculous. No drinks, barely any TVs, no sound, no picture quality, no food, and on top of that you're lucky if the lines are even posted. It's kind of hilarious as to how many seats there are when you consider Poker Palace Casino gives you absolutely no reason to even think of sitting in one. So, the message should be clear by now. It's obviously fine to just drop in, bet, and leave. But otherwise, do not bother with this nonsense. What a joke.
Current 2020 Sports Betting Grade: D-
Click Here for Our TOP 2023 USA Sports Betting Site!