Centrally located on the strip, on the outside Planet Hollywood doesn't look too interesting. It appears nothing more than a big building since there's nothing distinguishing about the way it looks. However, it's always a fun time on the inside. Its entertainment options are aimed at a younger crowd, thus the energy is never lacking and the same goes for its sportsbook.
Planet Hollywood Sportsbook
There's a handful of things that make the PH sportsbook appealing and unappealing. For starters, it mainly focuses on its sports bettors as the racebook occupies only a small piece on the side. There are plenty of TVs although most of them are small. Since PH always seems to be popping, figure it will never have a lifeless vibe, and will always be crowded during its most popular events like NFL Sundays, March Madness college basketball, or any big playoff game.
The lines themselves are comparable to its surrounding competitors on the day to day stuff. However, if you're looking to bet futures, you'll probably get a better line than you would at the swankiest places in town like the Bellagio or Aria, but the very best future's payouts will be found off the strip. With many people dropping in and out, the strip sportsbooks know bettors aren't going to spend too much time shopping for the best price.
Size and Location
It's not a huge sportsbook and everything is kind of packed in. There are up to six betting windows and four rows of about 15 leather club chairs to sit in, and behind those are multiple wide leather benches. If you opt for self-parking, it will be a long walk through the Miracle Mile shops. If you valet, you will come up the escalator right near The Heart Bar which is much closer.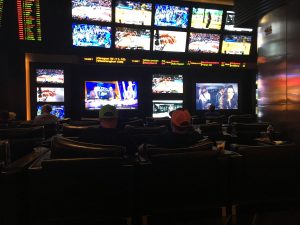 It's a short walk from the poker room and smoking is allowed, but surprisingly there is no bathroom for immediate access because multiple food options are nearby. It's a pretty noisy environment, although since it's far enough away from the casino, there's no constant annoying chirping of slot machines.
Traffic and Viewing Ability
PH is for the tourists, so some days it's going to be tough to get a seat. But as many people frequently come and go, it shouldn't be impossible.
The betting board isn't so much of a board as it is a bunch of narrow columns scattered in between all the TVs. They're all visible, but since they're all rotating different betting options around every 20 seconds, it can be kind of a nuisance trying to find the line you want. This incentivizes you to just take one of the pamphlets that list of all that day's action, future's bets, and upcoming events. Either that or you can create an account at the cashier and download the sports betting app called Caesars Entertainment. You can't bet as big on the app, but it is linked to the sportsbook and has all the same betting options. Live betting, which is betting on games as the action unfolds is not yet available, but it could be this year.
We didn't notice the racebook or its TVs until we went up to the cashier which is tucked away in the far right-hand corner. The racebook's seating does not face all the TVs like the sportsbook does, it's more perpendicular. There aren't that many TVs showing the races, the TVs are not that easy to see because of how the seating is set up, they're small, and you can't get a good look at the sportsbook TVs either. Since the lighting across the entire sportsbook is pretty dark, the eight desks set up for the racebook do at least include a lamp.
Right in the center of the sportsbook between some of the chairs is a wide pole, and the sportsbook was clearly built around it so despite how stupid it looks, it doesn't really get in the way.
Drinks at Planet Hollywood Sportsbook
Since free alcohol is no longer a given at casinos, you'll have to bet a lot of money just to obtain a single drink ticket. They're just a bonus at this point. The bets required are $50 for a sports bet and $20 for the horses. But, if you are friendly with either the cashiers or the cocktail servers, it shouldn't be too hard to talk your way into getting extras. A good rule of thumb is the less swanky the casino is, the easier it should be to drink in.
Casino at Planet Hollywood
If you're looking to gamble at PH, there's plenty to see and hear although the gaming floor itself is relatively small. Still, there are plenty of slots and you'll find all the standard table games you'd expect with reasonable betting minimums. PH also likes to use sex appeal for its games as there are stage dancers around the casino floor along with female dealers skimpily dressed.
Dining and Bars
The food options are easily PH's top sportsbook appeal. Immediately behind the sportsbook is a video poker bar. There's probably as much seating in there as the actual book, and you can see the TVs from most places. The bar also has a lot of TVs, and there is a full menu as well. If you want to just grab something quick, Earl of Sandwich is also right outside the sportsbook.
But the very best touch is the Pin-Up Pizzeria. You can get pizza by the slice and they are all jumbo slices. It is small and there's no tables or chairs, but it is brick oven style and smells amazing. It captures the ambiance of a New York pizzeria well. Where is it? Inside the sportsbook. There is a sign for its hallway entrance right next to the betting window.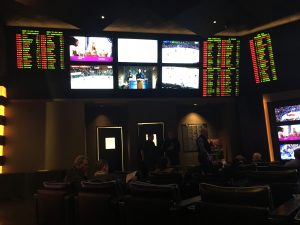 The reason this pizzeria is special because most people probably don't know it exists directly on Las Vegas Blvd. If you want to immediately access the sportsbook off the strip, just come in through the pizzeria and you're there in two seconds. No confusing signs, hallways, or crowds to negotiate.
There are numerous other drinking options around PH. There's a lot of restaurants in the Miracle Mile shops, along with the aforementioned Heart Bar lounge (which also has video poker) located in the center of PH. Then there's Shiver Frozen Cocktails right near one of PH's strip entrances along with Playing Field Lounge which is right near the sportsbook, and Extra Lounge Las Vegas, primely located by Gordon Ramsay Burger.
If you're looking for upscale dining, it is upstairs and secluded. There you have the choice between Strip House Steakhouse or the Japanese restaurant Koi.
Hotel at Planet Hollywood
Like the rest of PH, the standard rooms are solid. They're not as modern but there is plenty of space, and you can't go wrong with any of its majestic suites or penthouses. They guarantee you best room rates, have a flexible cancellation policy, and offer a discount to use its Pleasure Pool.
Planet Hollywood Sportsbook Rewards
Like most sportsbooks, there aren't too many rewards you can earn. You receive 20 cents back for every $100 you bet which you can use for food comps. But the main incentive for swiping your player's card is just in case you lose your ticket. If you've got a winner but can't find it, your bet number can be traced back to your player's card and you'll still get your payout assuming no one already found and cashed your ticket.
Wrap-Up
People like watching sports about as much as they like to eat and PH delivers multiple easy access food options one of which includes a cinch enter and exit to the sportsbook. It may be a little cramped, dark loud, smoky, and difficult to find your betting line, but because you got everything else it's forgivable enough.
Current 2020 Sports Betting Grade: B
Click Here for Our TOP 2023 USA Sports Betting Site!