An e-sport is defined as an electronic sport that involves a computer or console game and thanks to streaming sites such as Twitch.tv and Facebook Live many of these games are reaching unprecedented levels of popularity amongst young adults. According to recent reports, the average age for those who play videogames is an astonishingly-high 31 years old so it is no longer a market that only appeals to the youngest generation.
E-sports generally involve two or more players competing against each other in a certain game via the internet or an LAN and some of the games that are considered an e-sport include League of Legends, Hearthstone, Counter-Strike: Global Offensive, Heroes of The Storm, DOTA 2, Starcraft 2, Rocket League, PUBG and Call of Duty.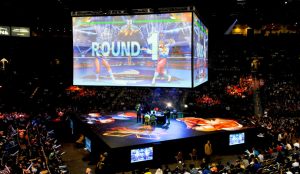 E-sports have gained popularity so dramatically over the last five years that one event can easily fill Madison Square Garden with fans from all over the world. The impact that e-sports has had on the gaming industry has been so enormous that even Las Vegas felt the need to get in on the action by building the Hyper X E-Sports Arena at The Luxor Casino which routinely hosts e-sports competitions.
One of the best ways to get yourself interested in a new sport such as e-sports is to place some wagers on the various major events that occur throughout the year and see if you enjoy it. It is clear that e-sports are here to stay and that they have some serious momentum behind them so it is certainly worth learning more about this fresh new betting market as we explore it a little bit deeper in the following sections.
How/Where Are Bettors Wagering on E-Sports?
If you wish to place a bet on an e-sport competition you can do so in a brick-and-mortar sportsbook or on an internet sportsbook. The biggest advantage of betting on e-sports via the internet is that you will find WAY more betting options as far as which games are being played compared to sportsbooks in places such as Las Vegas where they have only had three e-sports events approved for gambling over the last two years.
One website that allows you to bet on e-sports is Betway which currently offers bets on CS:GO, League of Legends, DOTA 2, and Starcraft events. Betway is not your only option, however, since websites such as Pinnacle, Bet365, William Hill, Ladbrokes, and Paddy Power all accept e-sports wagers for various games.
Many online sportsbooks will allow you to bet on the outcome of one individual match between two e-sports teams and you will also be able to bet on the outright winner of each tournament. Picking the outright winner out of a group of teams is obviously much harder than picking the winner of an individual match between two teams so the payout odds for picking the outright winners will always be much higher due to this increased level of difficulty.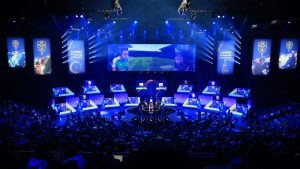 One the other hand, the biggest advantage to betting on e-sports in a brick-and-mortar casino is that you can be 100% certain you will be able to retrieve your money if you win your bet and you will receive your cash right after the event is finished. The internet can be a scary place to gamble if you do not do your due diligence by researching each site that you join and checking on who they are licensed by. In our opinion, you want to focus on joining an online sportsbook that is governed by either the UKGC (United Kingdom Gambling Commission) or the MGA (Malta Gaming Authority) because they have the best reputation for running clean and honest sites that take good care of their customers' money.
Why Are Bettors Wagering on E-Sports?
One of the reasons that Las Vegas casinos wanted to join in on the e-sports action and build the HyperX Arena is they thought that betting on e-sports would become one of the most popular betting markets in the world. They also figured that holding e-sports competitions in Las Vegas is a good way to get more bets to come in for those events, which is a phenomenon that the hockey team the Las Vegas Knights are proving to be true as we speak.
However, the e-sports betting industry has not taken off as quickly as some expected and one of the main reasons for this is because many e-sports fans are under the legal betting age of 21. Most of the professional video game players in the world are under the age of 25 so it makes sense that the fan base is also very young. Keeping this in mind, it's easy to see there is a good chance that e-sports betting could become a major sport betting market sometime in the next ten years once more of the fans become old enough to gamble legally.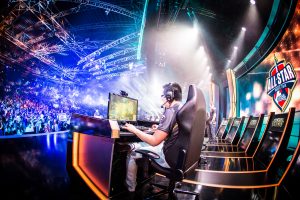 One of the great advantages of betting on e-sports is that it is a relatively new market compared to some major sports that were invented over 100 years ago. This means that the Vegas oddsmakers do not have as good of a grasp on the outcomes as they do in other major sports like football so there are a good amount of loose e-sports lines to take advantage of. These soft lines can potentially create a very profitable betting opportunity for those who pay close attention to each particular game and know a lot about each team that is competing. While these lines might be profitable they will never be TOO profitable since the maximum betting limit on e-sports events is generally quite low in comparison to other major sports.
The number one thing to remember is that betting on e-sports is meant to be a fun activity that you do with funds that you can afford to lose, much like in prop bets for other major betting markets. If you aren't having fun making e-sports bets for whatever reason then you might want to check out some of our other articles on various betting markets to see which one is potentially the best choice for you.
When Are Bettors Wagering on E-Sports?
As you might have imagined, there are a TON of e-sports events to wager on throughout the year since there are so many different games that are considered an e-sport. Whenever these major events are happening you should be able to easily find bets online for each match and outright winner on the days leading up to the event.
Each e-sport game will have multiple major tournaments per year and some of the more popular games such as Fortnite host an exciting world championship tournament with millions of dollars on the line every July. Some other extremely high-profile events that occur throughout the year are the International DOTA 2 Championships in August, the Call of Duty Championships in August, the League of Legends World Championships in October, the Battle.net World Championship Series in November, or the Capcom Cup in December.
While picking an outright winner in large open e-sports tournaments such as the Fortnite World Championship can be difficult due to the unknown contestants, there is certainly an edge to be found if you have been watching a lot of the head-to-head matches for certain games. If you see that one player or team clearly has more skill than another player or team that they are about to face off against then you have found yourself a prime e-sports betting opportunity that you should pounce on!
Click Here for Our TOP 2023 USA Sports Betting Site!