Using the theme of Mexico, Fiesta Rancho and Fiesta Henderson are owned by Station Casinos. Located in North Las Vegas, Fiesta Rancho relies on the business of its locals. There's nothing especially fancy about the casino or its small 100 room hotel, but we were pleased with its sportsbook.
Fiesta Rancho Sportsbook
First things first, Fiesta Rancho takes sports bets only. There is no action offered on horse racing. Instead, what you can do is create an account and download the Station Casinos sports betting app. Separate accounts are needed for the race and sportsbook, but setting up an account is easy, free, and can be done right inside the sportsbook. Once you are set up, you'll have access to every bet you could make in person.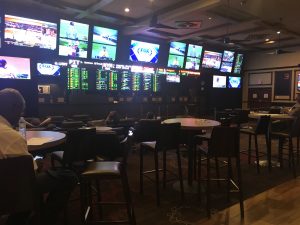 The app also offers live betting for some of the big games for sports bettors. Live betting is betting on games while they are in progress. Most of the betting apps offer some kind of live betting, but Fiesta Rancho, like most sportsbooks, does not offer live betting over the counter.
Size and Location
Finding this smoker friendly sportsbook is easy. There are signs for it right above one of the entrances in the free parking lot. What we were most impressed by was how secluded the sportsbook was. Not every sportsbook is designed this way, and when they aren't, it allows outer noise from the casino to be overheard particularly from the slot machines. Not here though. Unless you are watching right where the sportsbook begins, you won't have to tune out any distracting sounds.
Traffic and Viewing Ability
Built horizontally, Fiesta Rancho's sportsbook is spacious. In the back, seating consists of high tables and chairs. As you get closer to the front, seating is replaced by leather reclining chairs and they have wheels. At the very front are a couple rows of about 20 premium leather club chairs.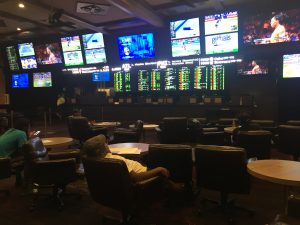 The betting board is in the center of the sportsbook. It can be read right behind the cashiers who are at the front of the sportsbook. Our biggest issue occurred here, as the betting board was difficult to read. Unless you are sitting in the front, you will almost certainly have to get up to see the lines.
While watching the games, there weren't any visual impairments and the sound quality was good, but none of the 20 TVs spread around this book are big screen. In fact, the two largest TVs were on the side walls.
We don't expect this sportsbook to fill up very often. It probably gets close to capacity during football season, the Super Bowl, and the NCAA basketball tournament, but apart from that we figure you'll be able to sit where you want.
Drinks at Fiesta Rancho Sportsbook
Drinks are no longer free inside sportsbooks. Now you need a drink ticket, and you can only get one by betting a required amount. It's $20 per ticket at Fiesta Rancho and that is the best you can do in any sportsbook. Go to any strip location and you'll have to bet at least $100 (and sometimes well upwards) just to get one drink. Being that this is a lower key local casino, it's probably not hard to sweet talk your way into extra drink tickets.
Casino at Fiesta Rancho
As it is a standard for all local casinos, Fiesta Rancho offers $5 blackjack 24/7 to go with numerous types of side bets. Fiesta Rancho provides a few different mixed table games, most notably High Card Flush and Pai Gow Poker.
In addition to the other expected games like roulette and traditional craps, you can also play Craps Fire Bet.
Dining and Bars
There is a wide variety of video poker at Fiesta Rancho, and there is a video poker bar just outside the sportsbook. You really can't see anything inside the book, but the bar has some of its own TVs. If you're not planning to bet but still want to drink while you watch, video poker is the way to go.
There are some quick bite options, but you have to take a short walk away from the sportsbook. If you want something a little more exquisite, besides the buffet there is Culichi Town. Here they offer Sinaloa style food. They open every day at noon and have live bands playing seven days a week.
Hotel at Fiesta Rancho
The hotel has discounts for government, military, and AAA members. There are also packages if you book in advance or reserve multiple nights. Since Fiesta Rancho is way up in North Las Vegas, we were hoping you could get a break and not have to pay a resort fee. There still is one, but its $15.99 + tax nightly fee is considerably cheaper than most Las Vegas hotels.
The hotel rooms themselves don't intend to impress. They're all under 300 square feet and there aren't any suites. But they start at $30 a night, and you can expect them to be priced well under $100 most nights of the week.
Fiesta Rancho Sportsbook Rewards
Nobody goes into the sportsbook because it'll rack them up a lot of reward points. There's very little giveback, so the only real benefit to swiping your player's card is to track your bet. By having your bet tracked, you guarantee yourself a payout in the event you lose a winning ticket.
Since something is better than nothing, it is worth noting that you receive $1 in comps for every 1,000 points you accumulate. The points accumulate slowly, and point accumulation is not just based on how much money you bet. For example, if you bet $1,000 on a game that will only net profit you $200 if you win, you will only earn 200 points.
Wrap-Up
We don't generally expect much from the lower key local casino sportsbooks, but Fiesta Rancho's wasn't half bad. There is plenty of space, comfortable seating, and there aren't any noisy distractions. Our only real gripes were the hard-to-read betting board and the fact you can't bet on horse racing. But if you don't bet the ponies and are only planning to make a couple bets anyway, these drawbacks won't bother you.
Current 2020 Sports Betting Grade: B
Click Here for Our TOP 2023 USA Sports Betting Site!