Located up in North Las Vegas and en route to Mount Charleston, you have to go further out of your way to get to Santa Fe Station than you do for most casinos. Once you get inside, the big rectangular gambling facility that takes after New Mexico is a bit underwhelming. However, out of all the Station Casinos, Santa Fe does have one of the finer and larger sportsbooks.
Santa Fe Station Sportsbook
When we first walked into this sportsbook, it reminded us of what Green Valley Ranch's (another Station Casino) looks like since it's so big, dark, and the seating arrangements are also constructed the same way. The only major difference was the picture quality for Santa Fe's giant screen TVs wasn't as sharp.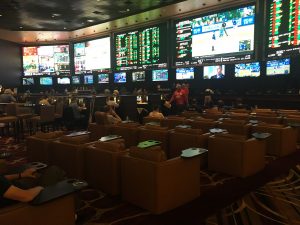 Station Casinos has an app for the race and sportsbook, but you need to create a separate account for each. Doing so is a simple process and be can done for free right inside. The betting limits are lower, but the app does allow sports bettors to do some live betting. Live betting is betting on games while they are in progress. It's usually only offered for select games, but this is better than nothing because you can't do it in person at all at Santa Fe Station.
Size and Location
The quickest way to enter this huge sportsbook would be to park in the garage. And as soon as you walk into the casino it's right there on your left across from the buffet.
Traffic and Viewing Ability
As most large sportsbooks are, this one was pretty busy. We anticipate it would be most nights of the week, and especially during football season and March Madness. But busy doesn't necessarily mean crowded or that anything is a nuisance. There's plenty of space to get a seat somewhere and there's more than enough cashiers to accommodate everyone quickly.
From the back to the front, seating goes like this: in the very back is VIP seating, which is just one long desk row with its own lamp and TV. When you get out into the regular seating, it starts with a long leather booth bench. It has a high back and stretches across the entire sportsbook.
If you sit on the sportsbook side of the bench (which is the right side), in front of you will be a bunch of high tables and chairs, and to their right are seven rows of about 35-40 premium leather club chairs. To the left of all this is more traditional racebook desk row seats with their own TV, and this actually constitutes most of the sportsbook's seating as it will easily hold over 100 people. Besides cigars, smoking is allowed in the sportsbook but there is a no smoking section.
There are giant screens for both sports and the horses, although the racebook's seemed to be louder. The betting board for sports bettors is split into two large screens, but they are easy to read as they are placed between TVs, directly in front of you. Below the giant screen TVs are six medium sized sports TVs and eight for the racebook. There are also several more TVs going along the side walls for each book.
Drinks at Santa Fe Station Sportsbook
A big part of any sportsbook's appeal is getting drunk while you watch the game. Drinks used to be given away for free whether you were betting or not, but now you need to make a minimum bet size to get a drink ticket. At Santa Fe Station, you must bet at least $40 if you are betting sports. Considering this is a local casino, this minimum is among the highest for an off-strip casino as the majority of them only mandate a $20 bet.
However, there is no minimum bet for the horse players. As long as you are seated in the racebook, cocktail servers will just come around. They will probably ask to see a betting slip, so if you are looking to hustle the casino for some free alcohol, just look around for an abandoned losing ticket. This won't take long—they are everywhere.
Casino at Santa Fe Station
Santa Fe has all the classic table games like roulette and craps, and Fire Bet side bets are now offered on their crap games as well. The mixed table game variety wasn't bad. They had Ultimate Texas Hold'em and Pai Gow Poker going with $5 minimums. Their biggest appeal was Double Deck Blackjack. Several tables were running with only a $5 minimum, and Double Deck is available around the clock.
Dining and Bars
Video poker goes great with sports especially if you're only interested in drinking and not betting.re only interested in drinking and not betting. Behind the sportsbook VIP seating is a really nice video poker bar and lounge. The tables and chairs are really spacious and there are a lot of TVs going around the bar.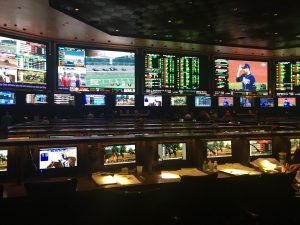 Foodwise, there was nothing at close range. That's not unusual for a sportsbook, but there was also nowhere quick you could walk to and come right back. It was surprising because we can't think of another Station Casino that doesn't have a food court or something like it. They have The Sports Grill, but even there you have to sit down at a place that is only open six days a week (closed Tuesdays).
Since there is nothing especially quick, Santa Fe Station does at least have some nicer restaurants to make up for it. The Charcoal Room is their steakhouse, and Leticia's Cocina and Cantina helps fill out the casino's Mexican theme.
Hotel at Santa Fe Station
Santa Fe Station charges a resort fee of $22.59 a night after tax. Some strip casinos have a resort fee that is almost double that number, but considering this is only a 3 star hotel, it's annoying there's a resort fee at all.
To make up for it, there are numerous ways to get 25% discounts. Two ways are by either staying for three nights or booking 21 days in advance. Since this hotel is primarily going to serve the locals, most people probably don't do either of these. All the hotels in town are always running some kind of promotion, so it's best to check their website for current offers.
Santa Fe Station Sportsbook Rewards
Race and sportsbooks aren't the way to go for racking up comps, but you do at least get something. For every 1,000 points you earn in the sportsbook you get $1. Points are accumulated by how much you'd win off of a particular bet, not the bet amount. For instance, if you bet $1,000 on a game that'll only net you $200 if you win, this bet will only earn 200 points. The comp system for the horse players tends to change, so just ask one of the betting clerks. For now, all we can tell you is betting horses earns rewards a lot faster since the racebook's edge is much greater.
If you know you aren't going to accumulate any worthwhile comps, one thing to still keep in mind is that swiping your player's card bet does at least provide you with protection because now your bet is tracked. Meaning, if you lose a winning ticket you will still get paid.
Wrap-Up
We liked it here. There are lots of visible TVs, the betting board is easy to read, and there are plenty of different places to sit. We would like to see them lower the betting minimum to obtain drink tickets, but we realize many of the sportsbook's patrons won't even care about that. Our final complaint is there aren't food options that are quick and close by, but otherwise, this is a good sportsbook.
Current 2020 Sports Betting Grade: A-
Click Here for Our TOP 2023 USA Sports Betting Site!