A short walk east of Las Vegas Blvd. and directly across from the MGM Grand parking garage, Hooters is a small cheap casino there to accommodate those trying to get more for less. One might figure it to be a total dump, but you can do a lot worse. Since it is never too crowded and right near the strip, you can expect a mix of tourists and locals. Its sportsbook doesn't have a ton to offer, but it does, in fact, allow you to bet sports.
Hooters Sportsbook
It is run by William Hill which means live betting is allowed. Live betting is betting on games already in progress and has generated a lot of action the last few years. It is not available for literally every game, but it is for the top major sports of NBA, NHL, NFL, and MLB. College sports games are limited, but it is featured for all of those major games.
There is no betting available for horse racing. This sportsbook is not comprised of vast seating row space with dozens of TVs. But there is room to sit with a bunch of tables and chairs in one section, with some extra standing counter space beside it. There are a handful of small TVs spread around, smoking is allowed, and a bathroom is in close proximity. There are up to four cashiers and beside them are pamphlets displaying all of that day's action along with upcoming events, futures, and whatever props.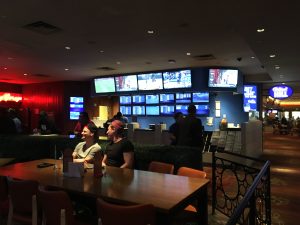 The actual day to day lines will match those of whatever you would find anywhere on the strip. Points and moneylines vary as the action comes in, but no one place is extra enticing or avoidable. If you are betting futures, the strip never offers anything that great as most of its bettors are tourists and not worried about the proper payout. If you are, try some local off strip casinos but it's no guarantee their futures will be much better.
To the right of the cashier is also a stage area and some VIP seating. Nothing was going on that afternoon, so this is presumably reserved for live music which would make for quite a distraction if you are there to watch a game.
Size and Location
Like the casino, this sports betting area is small and a book most bettors will just drop by. The music is constantly playing overhead, it is towards the back connecting directly to the free parking garage, and is right next to the casino floor allowing slot machine chirping to make this a relatively noisy environment.
Traffic and Viewing Ability
Since there isn't so much to look at, there isn't so much to prevent you from seeing it. During a popular sporting event like NFL Sunday you could get a decent crowd to show up, but since this book is apart from the strip madness it mainly works for betting, not watching. The betting boards are on eight or ten TVs behind the cashier.
Drinks at Hooters Sportsbook
This sportsbook makes no attempt to keep you inside the casino because the cocktail servers do not come by for drink orders, nor are drink tickets handed out no matter how much you bet. If you want to drink, you will have to play the slots, the table games, or video poker and there is a video poker bar available right beside the mean seating section.
Casino at Hooters
The casino consists of common table games, but not much else besides that. You will not be wowed by the casino, but the atmosphere is fun. Most table minimums are $5 and everyone in there just wants to have a good time inexpensively.
This is most evident by the existence of $1 blackjack tables. However, if you are thinking of using the martingale strategy (placing a bet and then keep doubling it till you win the amount of your original bet) know that the max bet thoroughly discourages this as it is only $200.
Dining and Bars
There is an outdoor restaurant in the very back of the casino along with the actual Hooters restaurant in the corner. Around are some other bars as well. The cocktail servers are nice, but there isn't much nearby food other than a Pizza Hut and a store that sells essentials.
Hotel at Hooters
Predictably, this is an older hotel, but the rooms are decent with modern furniture and the bathrooms are nice. Being that it is off the strip but only a short walk, Hooters can certainly serve well for value.
Hooters Sportsbook Rewards
Rewards are usually scarce at the sportsbook and William Hill is no different. You earn one point for every dollar you bet and every $5,000 you receive a $5 free play. If you are planning to bet at least $1,000 before a game or $500 in game, you are required to have an account. Note that this is a William Hill account that has nothing to do with Hooters.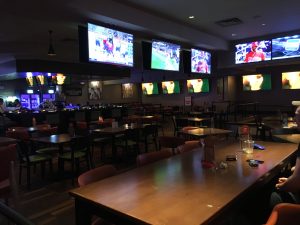 Regardless of the points or if you are betting these amounts, it is still a good idea to have an account and swipe your card for each bet because then it will be tracked. Meaning should you lose a winning ticket, all you have to do is provide your account number and you will still be paid out.
Wrap-Up
It's a bit difficult to rate this sportsbook because it is a sportsbook by definition, but relative to others it really can't compare. It is trying to be something like a sportsbook since there are TVs, places to sit, and is easy to get in and out of. But other than that, there is nothing going on here. Not much to eat, not much to drink, and it's noisy. With no incentives. it really only serves if you are just looking for a simple place to watch a game without having to deal with any of the tourist mania. There are not so many obstacles, but altogether Hooters' sportsbook output is below average.
Current 2020 Sports Betting Grade: C-
Click Here for Our TOP 2023 USA Sports Betting Site!